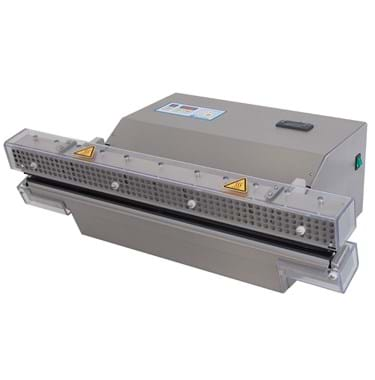 Products
Power Sealer Heatseal©
Powerful industrial constant heat sealer making rock-solid seals in laminates and multi-layer materials
Interested in Power Sealer?

We are more than willing to support you with your request or run a demo with your product / packaging
Power beast for sealing laminates & multilayer films
This robust stainless steel heat sealer produces a strong 12 mm profiled heat seal ideal for industries packaging parts or food in thick laminates or gusseted bags.
The outstanding seal performance is achieved by powerful pneumatic bi-active (top and down) heatseal bars which are activated by means of an electrical foot operation.
The Power Sealer Heatseal is equipped with an independently adjustable seal time and seal temperature, to optimize the setting for each film material. Sealtime can be stored in 9 sealing recipes, ensuring that every bag is sealed at the ideal (and stored ) sealtime.
Optionally the Power Sealer Heatseal can be equipped with vacuum/gas feature to reduce the volume of the package and safeguard the product.
Power Sealer advantages: 
Ideal for sealing extra thick laminated (gusseted) bags
Extra powerful 12 mm ribbed heatseal
Time controlled sealing together with digital temperature regulator for optimized operating comfort, ensuring a constant seal quality
Ability to pack products in both vacuum and/or MAP (modified atmosphere packaging)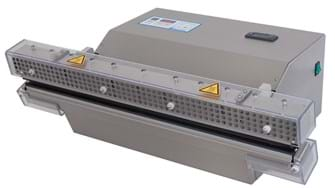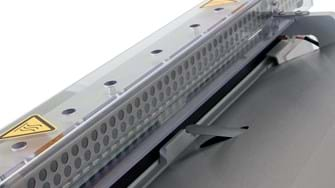 Power Sealer HS Benefits
Power Sealer Heatseal models: heavy-duty constant heat sealers with strong seal power (also available with integrated vacuum/ MAP system)
User-friendly operation
Digital control panel with repeat parameter recipe feature, foot pedal operated, flexible custom fit configuration
Adaptable to the characteristics of most modern film types
Strong configurable pneumatically driven heat seal bars suitable for sealing various (thick)/(laminated) film types (no polyethylene)
Reduces the package size + extends the shelf life of your product
When configured with integrated vacuum and gas flush system enabling MAP (Modified Atmosphere Packaging)
Maximizes production efficiency
Constant high quality crimped heat seal over the entire length of the bag, even during repetitive use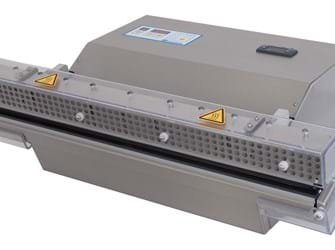 Audion Power Sealer Heat Seal version, strong sealer for industrial puposes.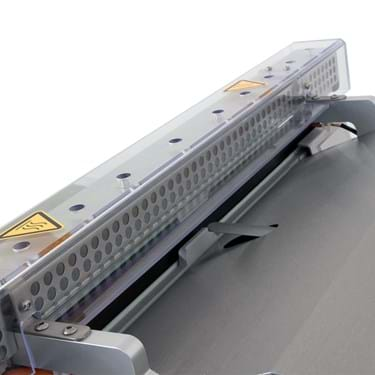 An integrated Vacuum and/or Gas flush system
All Power Sealer models can be configured with an integrated vacuum system (VAC PSR HS models).
Audion's Vacuum Power Sealer HS is equipped with a venturi pump enabling a powerful vacuum result ideal for operating in a continuous packaging process, reducing production time. The venturi pump is virtually maintenance free (operating without oil). The vacuum system can be combined with gas flush to create modified atmosphere packaging (MAP).
An integrated vacuum system can be used for:
Volume reduction of the package to save storage and shipment costs
Applying a modified atmosphere (MAP) to extend the shelf-life of food products
Prevention of oxidation of, for example, printed circuit boards or other delicate products.
Benefits
Audion Power Sealers Heatseal gives you the following benefits
Excellent seal integrity:

Sealing time can be set for every product (9 recipes). Independently the ideal seal temperature can be set in the digital temperature regulator (1 recipe). Especially suitable for sealing thick laminates, barrier bags, coated paper or other multi-layer materials.

Pneumatical bi-active seal bars:

Producing a powerful and equally divided 12 mm heat seal over the entire bag length.

Easy operation:

9 Seal time programs can be stored; seal temperature is independently controlled at separate display.

Low maintenance:

Designed for heavy duty operation / easy replaceable wearing parts (available from stock).

Extendable shelf life:

When optional vacuum /gas is integrated shelf life of products is extended.
Options
The following options are available to customize your Power Sealer to your working area
Optimized Vacuum / Gasflush process:

Various vacuum nozzle, filter, pumps and exhaust options.

Mobile adjustable support:

When combined with a frame, the machine can be used in horizontal and vertical sealing position and is infinitely adjustable in height. Extendable with various product support options such as worktable or bag support.

Printer/labeler options:

Provides your product with e.g. date, name and batch information.
Specifications
More specifications of the Audion Power Sealer 
Seal length:

720 mm

Seal width:

Ribbed 12 mm

Type of machine:

Heat sealer

Covering:

Stainless Steel

Pedal operated:

Yes

Type of film:

Thick laminates / thick rigid film types

Required air pressure connection:

> 6 Bar

Thickness of film:

2 x 300 micron
Everything-under-one-roof, match the Power Sealer Heatseal with Audion film
Click here
Explore your options
Optimize your Power Sealer Heatseal
Support stand:
A robust and configurable mobile frame is available to optimize sealing height (infinitely adjustable), sealing angle and maximize ergonomics. Can be extended with various extra product support options such as bag support table and work table.
Optimized vacuum / gas flush process
Integration of a venturi vacuum system will enable you to reduce voluminous packaging or extend the shelf life of food or erosion-sensitive products.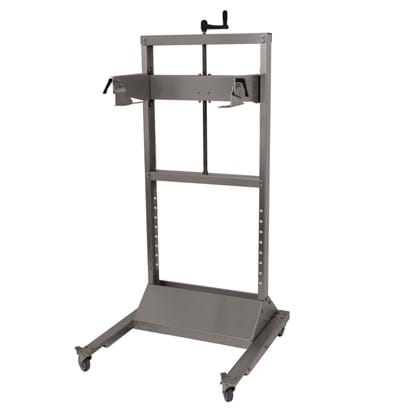 Discover our Power Sealer line:
This no-nonsense Power Sealer forms the solid basis of the renowned Power Sealer line. The outstanding 5 mm sealing performance is achieved by a pneumatic bi-active and time-controlled impulse sealing system. Standard vacuum feature integrated. Also available in Heat Seal configuration.
On top of the already outstanding performance of the Power Sealer, this model is validatable and generates an 8 mm temperature- and time controlled seal. The validation enables that critical seal variables like seal force, seal temperature and seal time are being controlled. 
The next step in the Power Sealer line is the Plus version. With its unique and most precise system of validation it meets todays' most stringent packaging requirements. 8 mm temperature- , time- and force controlled seal. Includes Audion Touch Techware.
Our flagship model in the Power Sealer line. Especially developed for dusty, humid or regulated (clean room) production environments. Highly advanced validatable impulse sealer. An 8 mm temperature-, time and force controlled seal. Includes Audion Touch Techware. Also available in Bag-in-box configuration.
The Power Sealer XL has the largest sealing length of the Power Sealer range. With a sealing length up to 2500 mm it can effortlessly provide your largest products with customized packaging or protective covers by means of an 8 mm seal. Optional validation: temperature-, time- and force controlled sealing. Also available in Bag-in-box configuration.
Unique steamsealer enabling bags to be sealed without electrical power supply. Instead, it uses pressurized steam to operate. suitable for explosive environments. 8 mm temperature controlled seal.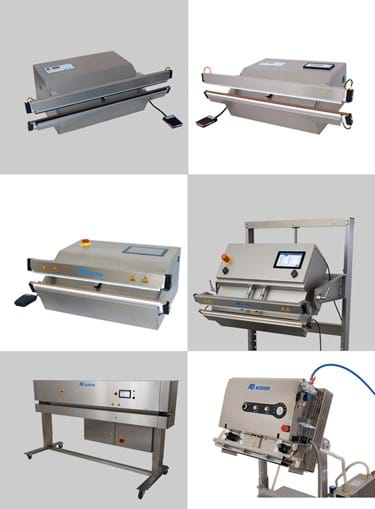 Let's have a chat
Do you want to know what the Audion Power Sealers can offer for your company? Please feel free to contact us as we are looking forward to explore together which packing solutions benefits you most.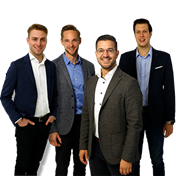 International Sales
Audion
Available in webshop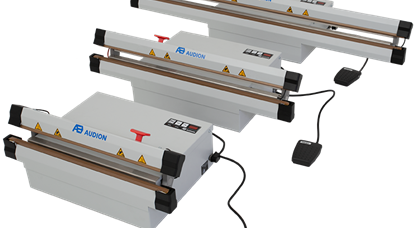 Industrial Sealmaster ISM
Powerful tabletop sealer for heavy duty application - electrically driven
Seal width:

5 mm (bi-active)

Seal length:

420 | 620 | 1020 mm

Type of seal:

Time controlled impulse seal

Powered:

Electric

Operating:

Digital panel to set sealing and cooling time/ 1 recipe

Validatable:

No

Vacuum & gas flush system:

No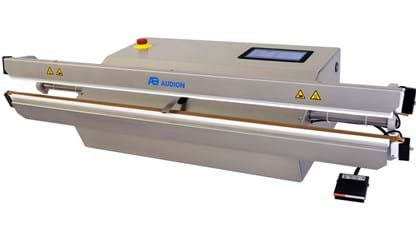 Power Sealer PLUS
High-end industrial validatable impulse sealer designed for most critical and heavy duty packaging applications
Seal width:

8 mm

Seal length:

520 | 720 | 1020 | 1320 mm

Type of seal:

Temperature-, time- and pressure controlled impulse seal

Powered:

Pneumatic (air)

Operating:

Touchscreen /50 pre-set recipes

Validatable:

Yes

Vacuum & gas flush system:

Yes, optional

Compatible with:

EN 868-5 | DIN 58953 | part 7 norms | ISO 11607-2 | ISO/TS 16775

Accuracy:

++++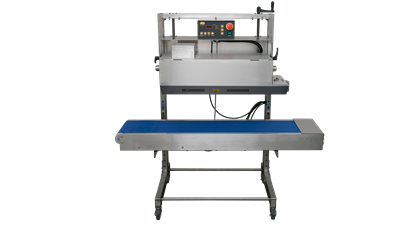 Vertical band sealer D 552 AVTS
Industrial stainless steel vertical band sealer for sealing of bags in vertical position
Seal width:

10 mm or optional 20 mm

Throughput:

10 meter/minute

Control panel:

Digital

Integrated printer:

Optional

Support stand:

Yes

Conveyor belt:

Yes

Max. bag weight:

10 kg