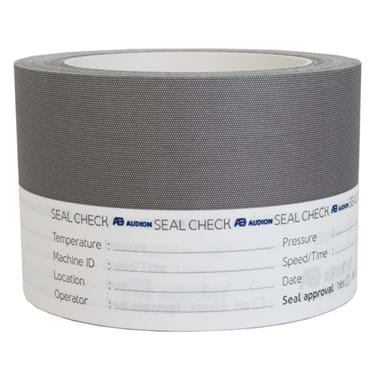 Products
Seal Check Roll
Seal indicator material for routine checking of seal integrity 
Interested in our Seal Check Roll?

We are more than willing to support you with your request or run a demo with your packaging.
Visual check of seal quality
In order to ensure safety of your product packed, the seal integrity should be regularly tested. This Seal Check Roll is designed to facilitate routine seal tests. 
The Seal Check Roll is partly black coated and partly pre-printed with data to collect in order to identify each seal. The black coated material simply identifies any defective areas in the seal. 
The seal check indicator should be placed between the film layers during sealing. By sealing the black coating along with the film, the seal becomes clearly visable and imperfections can easily be detected with the naked eye.
The lower part of the Seal Check allows you to register data about the seal (serie number machine, seal temperature, seal pressure, seal speed, operator, date, location, etc).
The Seal Check Roll carries 50 meters. The Seal Check sheet can be cut according to the  sealing bar length, to inspect the full length of the seal.
Suitable for:
Transparent films: PA/PE film laminates, PE, paper/PP medical bags used on Power Sealers, MSIDV, Audionvac and Speedpack
Sheets from the Seal Check Roll comply with EN 868-3 and ISO 11607-2 .
It allows you to track every seal to ensure product safety.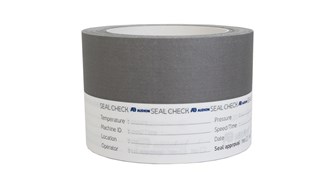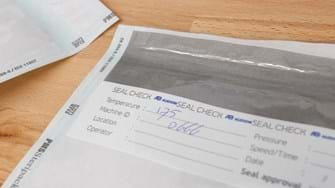 Verification & Calibration
Discover how Audion can support you in Seal Integrity Tests & Calibration services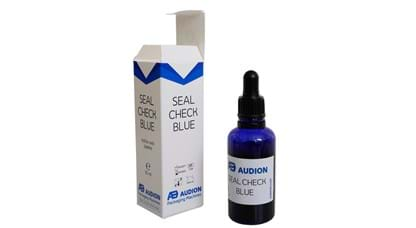 Seal check blue ink
Dye penetration test to investigate eventual channels or open seals.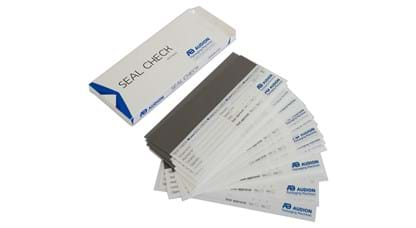 Seal Check Sheets
Seal indicator strips to check quality of seals
Let's have a chat
Do you want to know what the Seal Check Roll can offer for your company? Please feel free to contact us as we are looking forward to explore together which packaging solution will benefit you most.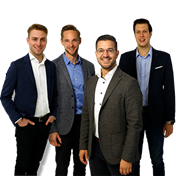 International Sales
Audion