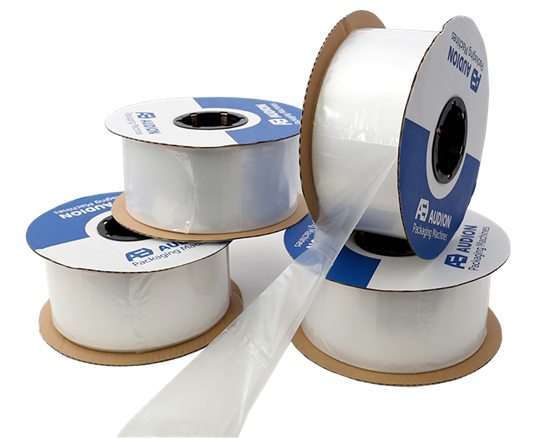 Audion SpeedBags® clear LDPE
High-quality pre-opened bags on roll. The bags are pre-perforated, closed at the bottom with a seal, and open on the upper side to be easily filled. SpeedBags are compatible with all automatic bagging machines using pre-opened bags on roll. Available in a wide range of sizes and film materials. Special sizes and materials available on request.
Product information
Audion SpeedBags® clear LDPE
High-quality pre-opened bags on roll, produced in our manufacturing plant in Germany. Suitable for all automatic bagging machines. SpeedBags® are directly available from stock or can be produced specifically to your customized wishes.
SpeedBags® can be used on virtually all automatic bagging machines that use pre-opened bags on a roll, such as Speedpack Tabletop 300 and Speedpack 400 series by Audion Packaging Machines, Rollbag ™ Baggers by Clamco Packaging, Autobag Baggers by Automated Packaging Systems and MAX™ Baggers by Sharp Packaging.
Speedpack is a registered trademark of Audion Packaging Machines, Rollbag is a trademark of Clamco Packaging, Autobag is a registered trademark of Automated Packaging Systems, MAX is a trademark of Sharp Packaging Systems.
Each bag on the roll has an open end for easy insertion of the product, a bottom seal and a perforation between the bags for separating the bag from the roll after being filled (manually or automatically).
The strength and clarity of SpeedBags® make it ideal for retail and industrial applications, such as parts packaging.
Audion is committed to providing the highest quality poly bags in a variety of sizes, styles and materials all to fit your specific packaging requirements.
A Complete Solution!
Audion's SpeedBags® offer the perfect complement to our Speedpack Tabletop 300 and Speedpack 400 bagging machines. Audion's Speedpack packaging machinery is available in several configurations and can be customized for each line of industry, running from SpeedBags® or from tubular film, making bags in line and being capable of changing bag lengths for each product to be packed.
Discover Audion's flexible film solutions and experience the extra value of combining SpeedBags® or our Audion tubular film with the Speedpack series. All being produced at our manufacturing site in Germany.
Note: All bags with bag lengths of >120 mm are produced with small air relief punch. In case your product requires hermetically closed bags, these can be reconized by an H at the end of the article number.
If the desired size or bag features (Venthole/Hermetically closed) are not available in the webshop, we can provide you with custom-made SpeedBags® for optimal packaging of your product. Please contact Audion for a quote.