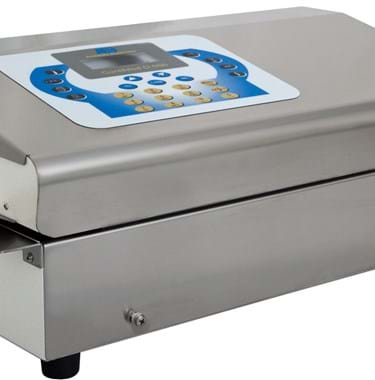 Products
Contimed D 666 MPCV
Advanced validatable rotary sealer with integrated 9 dots matrix printer
Interested in our D 666 MPCV?

We are more than willing to support you with your request or run a demo with your packaging.
Validation, Traceability, Printing - all-in-one!
This validatable rotary heatsealer consistently seals multi-layered sterilization pouches like paper/PP, aluminium/PE, pre-formed sterile barrier systems and uncoated Tyvek® (not suitable for single plastic films like PE, PP). The 15 mm multiline seal is fully monitored and controlled on seal temperature, seal speed and seal force (alarm stop). Throughput 10 mtr/minute. 
The integrated alarm-function operates with a temperature accuracy of ± 1%, compliant to sealing requirements of EN 868-5, DIN 58953-7.
The integrated 9 dots matrix printer provides the pouches with required production data like date, expiry, operator, batch code, seal temp, seal force, seal speed and pouch ID. Optionally an extra label printer can be connected, operating simultaneously. A USB port facilitates process data to be stored and processed.
The D 666 MPCV fully complies to the validation requirements of ISO 11607-2 and the corresponding guidelines ISO/TS 16775. 
Its operation and simple set-up (through an easy-to-read digital display and membrane keypad) require only minimal operator training to pack any product safely, quickly and reliably.
To sum up:
Validatable - Full control of all critical process parameters
Integrated printer & USB-port
Fast 10 mtr/min. throughput speed
Ideal for both delicate and heavy-duty packaging operations 
Alarm stop - Tolerance +/-5°C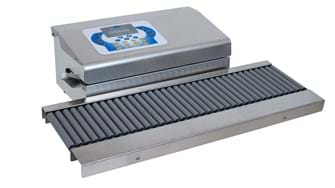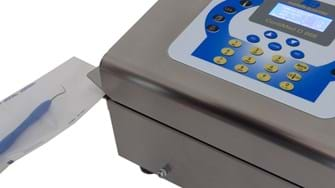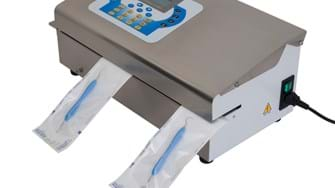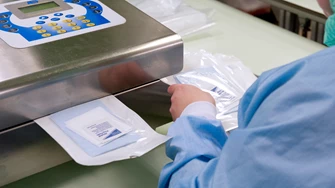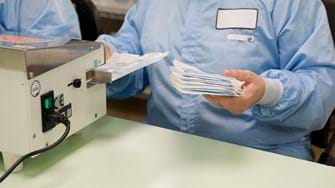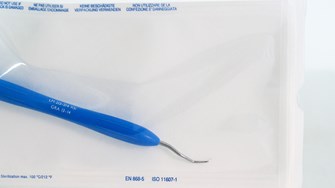 Benefits
The Contimed D 666 MPCV gives you as an end-user the following benefits:
Validatable:

Full control of all critical process parameters.

Adjustable seal temperature:

Seal temperature can be adjusted from 0 - 200°C (± 1% accuracy).

Safety and quality controlled:

Temperature alarm (temperature accuracy ± 1%), temperature tolerance +/-5°C, pressure alarm tolerance +/-20 N (default), speed alarm tolerance - 0,7 m/min. /+0,5 m/min. (default).

Extra wide seal:

Wide multiline seal (15 mm).

Automatic alarm stop:

The machine stops automatically when sealing parameters are out of tolerance range.

Fast throughput speed:

10 meter/min.

Adjustable infeed guide:

Free edge over the seal 0-30 mm.

Integrated printer:

9 dot matrix (1 line).

Wide connectivity:

COM port RS 232 facilitates connection of extra label printer, bar code scanner or a PC.

Interface:

Integrated USB port and RS 232 port allow recording and export of critical process parameter data.

HMI:

LCD display (2 lines for 16 characters) with membrane keyboard and buzzer.

Stainless steel top cover

For hygienic cleaning.

Compact design:

Ideal for tabletop packaging applications.

Easy-to-use

Requires minimal operator training.
Options
The following options are available on the Contimed D 666 MPCV: 
Worktable:

Provides bag support for heavier bags, facilitating a more efficient sealing process. Stainless steel, +/- 480 mm (OT D66 M).

Rollertable:

For supporting heavier products during sealing. Stainless steel, plastic rollers with bearings, +/- 800 mm. (RT D66M).

(Re)-Calibration:

Audion provides calibration services for our validatable sealers. The critical process parameters (seal temperature, seal force, seal time/speed, etc.) are measured with traceable measuring devices and a calibration certificate will be issued.

IQ/OQ:

The purpose of the Installation Qualification and Operational Qualification is to establish documented evidence that the packaging equipment is correctly installed, operates according to requirements, and performs safely.
Specifications
Please see below more specifications of the Contimed D 666 MPCV: 
Product:

D 666 MPCV

Type of machine:

Band sealer, Semi automatic

Model:

Tabletop

Seal width:

15 mm multiline seal

Seal temperature:

0 - 200 °C (accuracy: +/- 1%)

Seal temperature alarm:

Setting range 0-200 °C; Tolerance +/-5°C; Accuracy +/-1%

Throughput speed:

10 meter/minute (fixed)

Seal speed tolerance:

Min. 9.3 meter/min - Max. 10.5 meter/min

Seal force:

100 N (default setting)

Seal force tolerance:

Min. 80 N - Max. 120 N

Seal length:

Unlimited

Control panel:

Membrane keyboard with keys and buzzer, LC display with 2 lines for 16 characters

Communication interface:

COM port RS232 / USB port

Covering:

Epoxy housing, stainless steel top cover

Knife:

No

Type of film:

Medical Pouches: paper/PP, Tyvek®, Paper bags (EN 868-4), alu laminate, PA/PE, PP (OPP/BOPP), no single PE!

Thickness of film:

2 x 100 micron

Compatibility:

ISO 11607-2 / ISO/TS 16775 / EN 868-5 / DIN 58953-7

Type of Package:

Bag, Pouch

Pedal operated:

No

Branche/Application:

Life science (Pharmaceutical, Medical, Healthcare) | high-tech (parts/components)

Weight:

20 kg

Dimensions:

222 (H) x 554 (W) x 270 mm (D)

Power supply:

115/230 V – 1 P – 50/60 Hz

Power consumption:

600 W

Acoustic emission level:

<70 (dB(A)
Everything-under-one-roof, match the Contimed with Audion film
Click here
This makes our machine unique
We work together with you in providing the best quality packaging machines to help you grow your business.
User-friendly interface
This model is operated by means of a user-friendly digital panel, enabling you to program the optimum packaging settings. This enables a consistent and reliable packaging result while saving production time and reducing product failure.
Traceability of sealing parameters
Control and monitor all process parameters, such as seal temperature, seal force and speed. All critical process parameters are recorded and can be exported to a USB-stick to diagnose any faults within the packaging process. 
Production Consistency
The integrated alarm feature will inform you when the seal temperature is outside of tolerance (+/- 5°C). By having consistency on your production batches you remain assured of the best packaging quality that follow the set requirments of your field.
Cleanroom Compatible
The validatable D 666 MPCV can be deployed in sterile environments and cleanrooms to perform consistent, reliable packaging productions. Its robust stainless steel housing is easy-to-clean including the digitial membrane control panel. 
Calibration, Verification and Validation Services for our Sealers
The Audion validatable machine models require calibration, verification and validation services on a regular basis. Audion offers a wide range of instruments and solutions that enable users to test and verify their packaging machines and seals, in order to meet the high market demands. These include: 
Seal Integrity Test (SIT) as a service which includes seal check, dye penetration test and peel test
Calibration as a service (incl. Calibration Certificate) certifies the preciseness of the sealing parameters of the packaging machine
Validation documents:
Installation Qualification (IQ) ensures that the machine is in good condition and functionality, and is calibrated 
Operational Qualification (OQ) optimizes the machine to create quality seals with customers packaging materials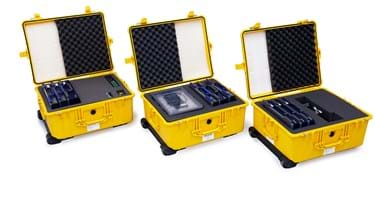 Explore our options
Other related solutions to fit your needs:
Work Table
The optional stainless steel work table improves the efficiency of your packaging process. The work table will guide your pouch from start to finish and guarantees the product will be sealed in a straight line. Heavier products can benefit more from the optional roller table
Roller Table
Heavier products that cause excessive tension on the seal due to dragging and require more guidance during the sealing process can add a convenient optional roller table. A straight seal is guaranteed and the operator keeps the hands free for feeding the next product.
Audion Factory Calibration
Audion provides professional calibration services for our validatable sealers. The critical process parameters (seal temperature, seal force, seal time, cooling temperature) are measured with traceable measuring devices and a calibration certificate will be issued.
IQ/OQ
Installation qualification (IQ) and Operational qualification (OQ) scripts are mandatory within the pharma/medical industry due to the high-quality sealing demands. Our team of experts will conduct multiple tests with different scenarios with your pouches to determine that our machine complies to the necessary packaging demands.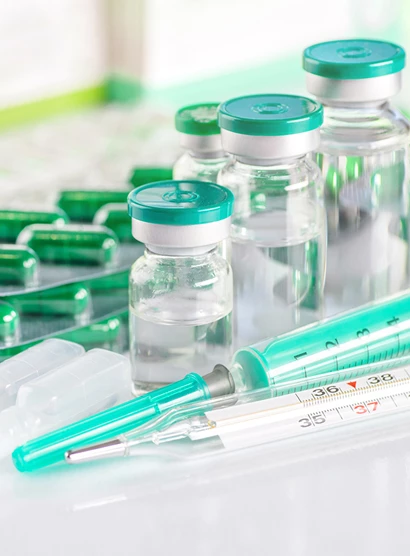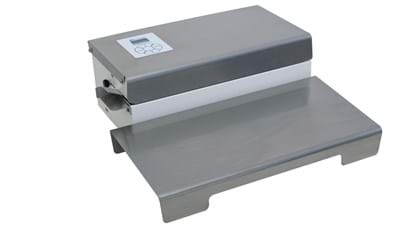 Contimed D 662 MV
Rotary medical sealer with complete control of sealing parameters
Validatable:

Yes

Seal width:

12,5 mm multiline

Throughput:

8 meter/minute (fixed)

Control panel:

LCD, 2 lines, membrane keyboard

Interface:

USB port

Integrated printer:

No

Conveyor belt:

Optional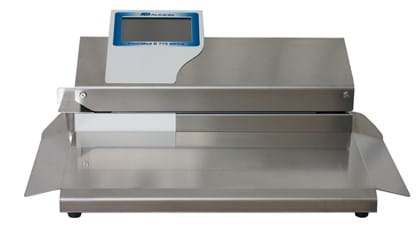 Contimed D 775 MPCV
Modernes medizinisches Durchlaufsiegelgerät mit integriertem 2-Zeilen-Drucker, optimierte Konnektivität
Validierbar:

Ja

Breite der Dichtung:

15 mm Multiline-Dichtung

Durchsatz:

3 bis 13 Meter/Minute (einstellbar)

Bedienfeld:

Touchscreen, Rezeptspeicher mit 24 Siegeln

Schnittstelle:

3x USB /2x RS232 /1xEthernet/1x PS2/1xVGA

Integrierter Drucker:

18-Punkte-Matrix, 2 Zeilen

Förderband:

Nein
Verfügbar im Webshop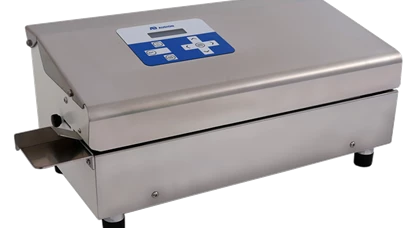 Contimed D 660 V
Validatable compact stainless steel rotary sealer suitable for sealing single layer PE or PP
Validatable:

Yes

Seal width:

9 mm high profile knurled seal

Throughput:

8 meter/minute (fixed)

Control panel:

LCD, 2 lines, membrane keyboard

Interface:

USB port, RS-232 port

Integrated printer:

No

Conveyor belt:

Optional
Let's have a chat
Do you want to know what the Contimed D 666 MPCV can offer for your company? Please feel free to contact us as we are looking forward to explore together which packaging solution will benefit you most.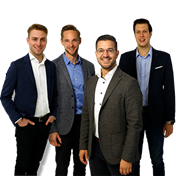 International Sales
Audion