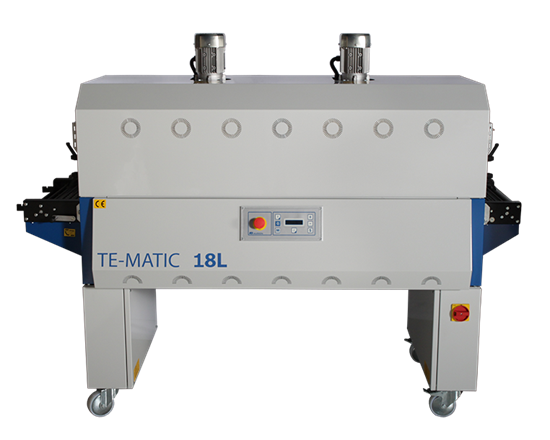 TM 18L Shrink tunnel
Large double chamber shrink tunnel ideal for shrink wrapping larger size products or packingseveral small products at extra high speed (max. 29 m/min). The controllable shrink temperature and conveyor speeds guarantees an excellent shrink result and professional presentation of your product.
Produktinformation
TM 18L Shrink tunnel
The Audion TM 18L shrink tunnels feature extra length when compared to our standard TM 18 model and are perfect for shrink wrapping larger size products or pack a multitude of small products at high speed. The extra shrink length accommodates an eventual longer shrink time at a faster pace for film requiring lower shrink temperature: ultimate flexibility creating the perfect package for your product/film combination.
Due to precise temperature and speed controls of the Audion TM series the Audion TM 18L double chambers  are perfect for shrinking a wide range of films, from the lightest polyolefin to the toughest polyethylene films.
Shrink tunnels like the TM 18L will mostly be paired with an automatic L sealer or side sealer. Pairing these machines is a piece of cake an can be done quickly. Resulting in a complete reliable packaging line communicating and cooperating well together, achieving the perfect package.