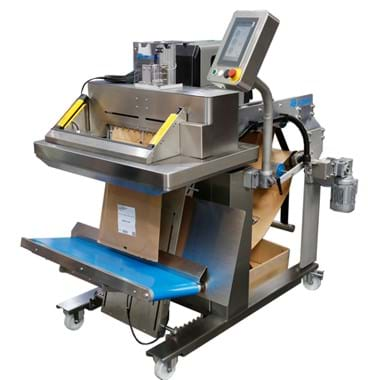 Products
Speedpack Order fulfillment Paper Bags
The most sustainable way to boost your order fulfillment output
Interested in our Speedpack Order fulfillment Paper solution?

We are more than willing to support you with your request or run a demo with your packaging.
Paper bagger that boosts your output
You no longer need to pack your mail orders in expensive carton boxes that take up too much space. Improve your fulfillment efficiency while operating with the sustainable Speedpack Paper Bags solution.
A sophisticated mail order fulfillment solution fully built to the robust and high quality standards that Audion stands for to withstand rigorous manufacturing environments in fulfillment and maximize uptime. A compact user-friendly paper bagger that allows you to reduce the number of manual packing stations and increase your throughput velocity by 5x.
Speedpack 400 Paper Bags works from fan-folded paper bags from a box. A label printer with applicator installed above every next paper bag to be loaded provides a clear and steady print of shipping details on every new bag. The superior easy load system with special designed grippers allow for easy bag loading after which the bag is closed through a reliable and powerful 8 mm seal, ensuring your product to arrive with your customer safely.
This special order fulfillment solution is a complete and richly equipped bagger, including all features needed for sustainable paper bagging in order fulfillment. A product support discharge conveyor provides steady support during filling and sealing and discharges the sealed bag to the next station. The 7"colour touchscreen features a user-friendly interface with clear prompts. The sophisticated PLC accomodates job storage, batch counting, packaging statistics and log-in levels. All together a complete solution equipped with all features you would require for a steady and reliable order fulfillment bagging process.
Start to operate Speedpack and give a boost to your productivity and profitability while bagging from pre-made paper bags.
Sustainable paper-operated bagging solution
Reduce filling and packing time
Increase your productivity and profitability
Cycle speed up to 10 bags
User-friendly, ease of use
Various printing and labelling options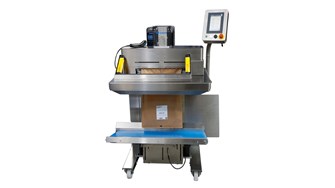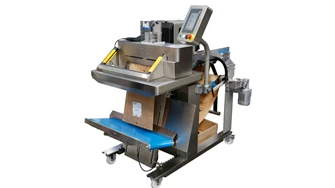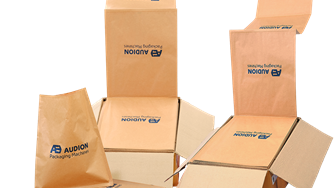 Why Speedpack Order fulfillment Paper Bags suits your business...
Maximize your uptime with this fast compact packaging machine.
Keep the Planet in Mind
Pack your products easy, fast and with the planet in mind. This Speedpack is fully operating from pre-made paper bags that are 100% recyclable. It stands for a sustainable way of bagging, without any compromise to efficiency. Audion Packaging Machines has never been greener than it is now: not only do we provide right-sized bagging solutions that minimize any spilling of poly mail material (operating tube film made of up to 80% recycled material), from now on we also provide paper solutions to reduce the environmental impact in packaging!
Trusted Safety & Reliability
Operating the Speedpack for order processing is an experience that everyone wants to have. The many safety sensors and high-end off the shelf components make it work fun, fast and solid. Start creating happy employees, save on labor costs and reduce changeover downtime. There is no packaging machine which is more compact, stylish and easy to work with than Speedpack. Your Order fulfillment model is fully provided with the most effective and efficient options for use in warehouses ready to roll in minutes. Happy packing!
Connecting Flexibility
Create more customer satisfaction in less time, with the countless options that are standard integrated in the Order fulfillment version. A worry free technology to fit seamlessly into your production process. Your Speedpack Order fulfillment bagger is delivered ready to use. Just connect your conveyor and discharge options to maximize your packing flexibility even more.
Elevated Performances
E-Commerce and Order fulfillment are booming. Currently there is a lot of low-hanging fruit that you can take advantage of. With Speedpack Order fulfillment Paper version you have the best of the best. State-of-the-art technology to increase your production and justify it. This machine is not like anything else. It's a class of its own. Sleek, solid and reliable. Don't settle for less if you want to make progress and increase your profitability.
Maximize your Product Protection Process
Your products are worth caring for. At Audion we know, getting your product fast and undamaged at your customers is your first priority. 
Speedpack Order fulfillment solutions designed to operate in rigorous fulfillment environments to work 24/7, under heavy duty circumstances. And at the same time they create your perfect package with care and in high quality.
Speedpack Order fulfillment Paper Bag is exclusively designed for operating 100% recyclable pre-made paper bags
Paper bags are made of strong recyclable curbside paper
Designed to speed up the packaging process in an optimized sustainable way
Built with our planet in mind, using durable high-quality components
Equipped with full package of features designed for order fulfillment
Optimization of existing labour and work space
Designed following Audion's ongoing innovation 
A real positive impact on your efficiency
How can we help you boost your business?
Let's get in contact.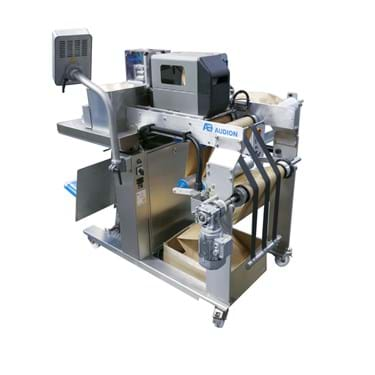 Benefits
Working with Speedpack Paper Bagging & Printing creates the following benefits
Sustainable bagging:

Make you customer smile by delivering a smart compact and sustainable paper bag.

More speed, less downtime, increased output:

Big and small products are packed faster and easier with pre-made paper bags. Getting things done in less time keeps you up and running to grow your business.

Clear 7" color touchscreen:

Our in-house designed and programmed color touchscreen helps you to navigate quick and clear through the seal settings and allowing you to store up to 100 bagging recipes. Featured with built-in self-help diagnostics.

Innovative technologies - Happy people:

Satisfied staff and returning customers who give your company a positive boost. Simply by working with patented and proven efficient machines like Speedpack. Say no to worry and go for an Audion Speedpack solution. The easy, reliable and new golden standard of packaging.

High-end PLC:

The integrated PLC accommodates job storage, batch counting, packaging statistics, log-in levels and a built-in seal-help diagnostics for troubleshooting.

A complete solution:

Speedpack Order fulfillment Paper offers a full solution integrating all features possibly needed in fulfillment industry. An inline print solution, product support conveyor, easy bag load system. All included, ready to go. Besides it is user friendly and environment friendly. You win in every way!

Get noticed, take the lead:

Only the best is good enough. Show who you are and what you stand for by using an Audion Speedpack, designed from high-quality components only. Environmentally friendly (packaging) materials customized to your needs.

Compact and mobile design:

The compact body has only a minimal footprint in the packaging area, is easy to maneuver and ready to be placed in almost every place.

Attractive pricing and fast ROI:

Increasing output, more revenue and fast ROI making the Speedpack very attractive.
Options
Don't settle for less when building or expanding your packaging line. With Speedpack 400 Paper Bagging you create value instead of spending profits on more staff. We completed this state-of-the-art bagger for you by integrating a full option package.
Eventually, additional options are available such as:
(Extra) discharge conveyor integration:

(Automatic) discharge and transport conveyors help you to easy up the process. Work faster and smarter to bring your package to a next level. Extra discharge conveyors available as option.

Special Engineering:

Special projects and options added to your Speedpack is not a problem. Just tell us what you prefer. The Audion R&D team helps you to create your perfect package.
Specifications
Speedpack 400 Order fulfillment Paper is designed to meet the highest demanding environments. We designed this solution from our wide experience of implementing packaging solutions within warehouses all over the world.
Type of machine:

Compact floor model paper bagger using pre-made paper bags (fan-folded)

Film Type:

Pre-made paper bags (fan-folded)

Cycle speed:

Up to 10 bags/minute (depending on bag size, paper thickness, product feed)

Bag width:

50 - 400 mm

Bag length:

110 - 600 mm

Seal width:

8 mm

Seal technology:

Bi-active impulse seal

Thickness of paper:

100 - 120 gr/m2

Opening between sealing bars:

150 mm (180 mm on request)

Working height:

875 mm (adjusted height is possible and optional)

Recipe storage:

Max. 100 recipes

Required external air pressure:

6 bar, 200-500 Nl/min

Voltage:

230 V-1ph-50 /60 Hz (different voltages available)

Consumption:

1600 W
Everything-under-one-roof, match the Speedpack 400 with Audion film
Click here
Explore your Options
From our wide experience in E-commerce solutions we have already selected the best features that have real impact to your efficiency. All are integrated in the Speedpack Orderfulfillment Paper, excelling on power & control. For special requirements and to create your ultimate integrated e-fulfillment solution Audion's R&D team will be able to design customized engineering.
Sustainable Bag Presentation
Whether you prefer a uniquely printed label applied onto the bag, or a direct thermal print, all is already included. And every order is packed in fully recyclable paper bags made of curbside paper material. Never again you have to use expensive and far too voluminous carton boxes. So no customer frustration, your products are delivered in the most sustainable way.
User-friendly Operation
A high-class bag- and printing solution, including a full package of features: clear and user-friendly 7 inch touchscreen & integrated Audion software for quick access to packaging recipes. Operation easiness by the Easy load bag openers which square the bag open for ease of product loading and support of heavier products. Integrated sensors automatically detect the bag if ready to receive product and guarantee extra safety for the operator. A full solution creating a happy operator and happy customer.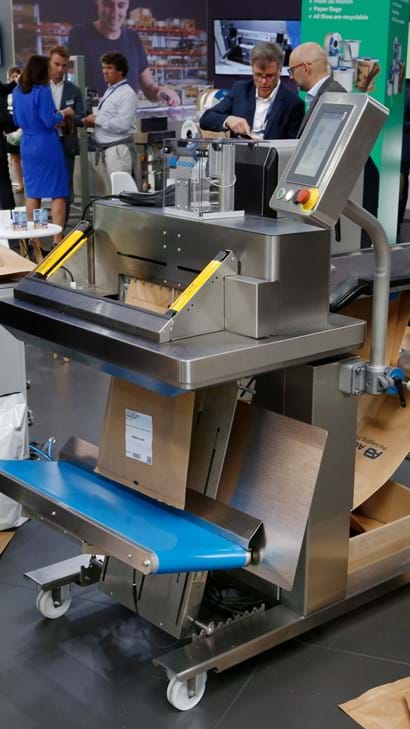 Let's have a chat
Do you want to know what the Speedpack Order fulfillment Paper Bags can offer for your company? Please feel free to contact us as we are looking forward to exploring together which packing solutions benefit you most.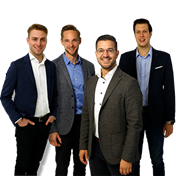 International Sales
Audion
This may also interest you: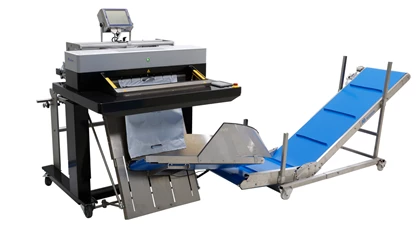 Speedpack 550 Orderfulfillment
Advanced bagger integrating full options for optimized orderfulfilment performance and full flexibility
Type of machine:

Floor standing

Seal length:

120 - 550 mm

Type of film:

Tubular film/ bags-on-roll

Cycling speed:

Up to 10 bags/minute (tubular)/ up to 20 bags/minute (bags-on-roll)

Bag length:

430 - 800 mm

Powered:

Pneumatic air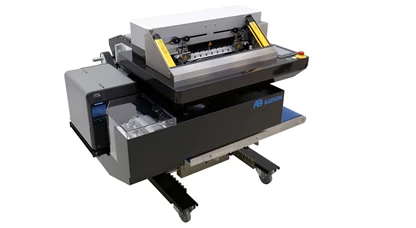 Speedpack 400 Orderfulfillment
Complete bagging & printing system increasing efficiency and lowering material costs in order fulfilment
Type of machine:

Floor standing

Seal length:

50 – 400 mm

Type of film:

Tubular film/ bags-on-roll

Cycling speed:

Up to 10 bags (tubular)/ up to 20 bags (bags-on-roll)

Bag length:

300 – 600 mm

Powered:

Pneumatic air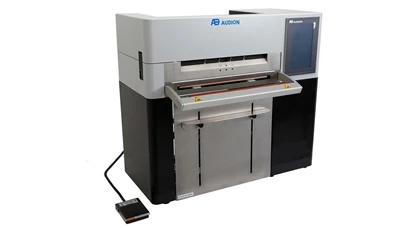 Speedpack 300 Tabletop
Industrial all-electric tabletop bagger designed for high productivity bagging, optimizing labour and warehouse space
Type of machine:

Table top

Seal length:

300 mm

Type of film:

Bags-on-roll

Cycling speed:

up to 40 bags/minute

Bag length:

80 – 500 mm

Powered:

Electric