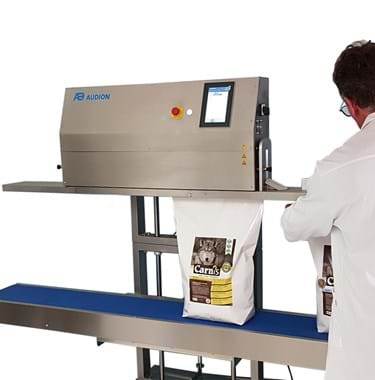 Products
D 549 AVTS
Industrial heavy-duty band sealer configurable to seamlessly fit into your production line
Interested in our D 549 Band Sealer?

We are more than willing to support you with your request or run a demo with your packaging
Industrial band sealer with superior seal performance 
This robust stainless steel band sealer is especially designed for continuously vertical sealing of larger bags made of thicker film material. It can be supplied with a motorized or mechanical support for adjusting the seal height to the proper bag length and a conveyor, all to offer you a high-performance and user-friendly industrial packaging solution.
By using PTFE belts, almost all modern packaging materials can be sealed, such as laminates, polyethylene, polypropylene and cellophane. The sealing temperature is adjustable up to 250°C.
Touch screen with pre-set seal parameter recipes:
The digital control panel (Audion Touch Techware) easily stores recipes for every product re. specific throughput speed, sealing temperature and even machine height (with optional motorized support). Up to 50 seal recipes can be stored, facilitating to have the proper seal recipe available for each product.
High throughput speed and flexible configuration:
Bags are sealed upright at a maximum speed of 20 meters/minute. Further, the adjustable large maximum flap length above the seal allows you to seal header card bags.
A wide range of options is available to create the ideal fit with your product and your local production environment!
To sum up:
Configurable to your local production environment
Adjustable throughput speed - can be synchronized with existing production line
Adjustable sealing head and conveyor belt height (mechanically or motorized adjustment)
Ergonomic operation- small/light bags can be fed from above the bag-inlet
Easy-to-use Audion Touch Techware control panel (can store up to 50 recipes providing the pre-set process variables)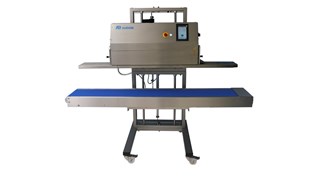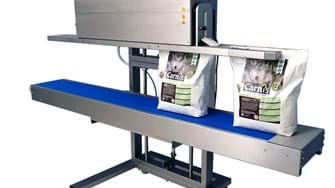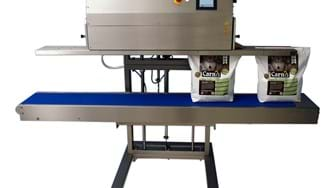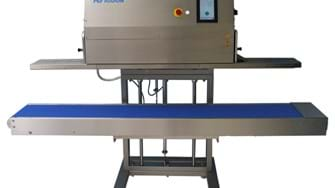 This makes our machine unique
We work together with you in providing the best quality packaging machines to help you grow your business
Speed combined with excellent seal quality
The D 549 can seal bags continuously at an adjustable speed of up to 20 metres per minute. Even thicker (paper) laminates are no problem, thanks to the powerful seal pressure offered by this industrial band sealer.
Ergonomic packaging ensuring ultimate user comfort
Your products can be fed onto the low-loading conveyor from above. This allows you to maintain an ergonomic posture without having to lift above your waist, significantly reducing production time and employee fatigue.
Engineered to maximize your product safety
Select from various standardized configurable options to create a safe package with the best presentation for your product, while meeting requirements of your product and/ or the film type of your package. 
Rapid operation switch when packaging varying bag sizes
By pre-programming the ideal settings for every product in up to 50 sealing recipes, you always have the right settings at hand to quicly can quickly continue production. Even the ideal machine height can be set in the programm when combined with an optional motorized support.
Continuously fulfilling your packaging requirements
The main feature enabling both the rapid continuation of production when sealing different sized bags and minimalized production losses, is the standard equipped Audion Touch Techware. Sealing temperature, cooling, throughput speed and machine operation height can all be adjusted to meet a variety of packaging applications, film types and bag sizes. The ideal settings for each bag-size / film type can be stored in up to 50 unique seal parameter recipes including the machine height when combined with a motorized support.
Your Audion D 549 packaging solution is capable of producing high-quality hermetic seals in a wide range of pouch and bag materials, with consistency and repeatability and with a respectable production speed of up to 20 meters per minute. 
D 549 AVTS will continuously produce a safely, quickly and presentably packaged end result combined with the highest possible level of user comfort and efficiency.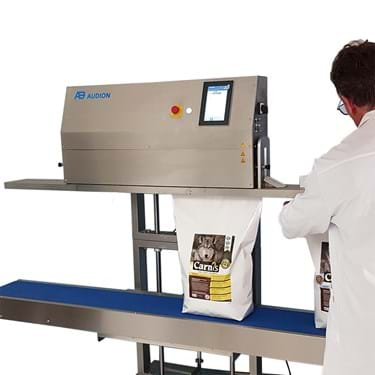 Benefits
The Audion D 549 Band sealer gives you the following benefits
Perfect fit:

Wide variety of standardized options and accessories, such as motorized support and conveyor available.

Fast throughput speed:

Up to 20 meters per minute.

Extra flap length:

flap length of up to 135 mm, ideal for sealing bags with a carrying handle or header card.

Stainless steel body:

Easy to clean industrial-grade machine.

User-friendly:

Minimal operator training needed.

Adjustable height of the machine:

Adjustable in accordance to the conveyor belt.

Ergonomic operation:

Small and/or light bags can be fed from above (the bag inlet).

Digital control panel:

The Audion Touch Techware is user-friendly and allows you to program ideal machine settings in up to 50 recipes.

Cool down function:

When switching off the machine an automatic cooldown function starts.

Airtight seals:

Strong 12 mm seal, professional presentation.

Seal belts:

High quality PTFE bands facilitate the sealing of almost all modern film materials.

Conveyor belt speed:

Can be adjusted/synchronized to your infeed or outfeed conveyors.

Usage and maintenance:

Easy to use and low maintenance required.

Functioning:

Industrial-grade machines.
Options
The following options are available on the Audion D 549 band sealer
Extra seal width:

20 mm wide seal (useful when sealing packages with a punchhole or eurolog).

Double heating elements:

For sealing paper laminates, aluminum laminates or gusset bags. Further, adding double heating elements allows you to speed up the sealing process without losing seal quality.

Cutting device:

Cuts away the spare film above the seal.

Various frame options:

Mechanical or motorized support stand to adjust the sealing height of the machine.

Conveyor belt options:

Mechanical or motorized conveyor - height adjustment.

Printer features:

An inkjet printer can be added to supply your bag with coding.

Alternative power supply:

115V version instead of standard 230V (different plugs available).
Specifications
More specifications of the Audion D 549 Band Sealer
Seal length:

Unlimited

Seal width:

12 mm (20 mm optional)

Max seal temperature:

250 °C

Min. bag length:

103 mm

Max. bag length:

1208 mm

Max. bag weight:

25 kg

Product infeed:

From right to left

Type of machine:

Continuous sealer, Semi automatic

Covering:

Stainless Steel

Knife:

Optional

Type of film:

Cellophane, Laminate, Ready Made Bags, PP (Polypropylene), PE (Polyethylene)

Thickness of film:

2 x 300 micron (min. 2 x 20)

Type of package:

Bag

Sealing speed:

Max. 20 meter per minute

Conveyor belt height:

Min 475 mm / Max 975 mm

Voltage:

230 V

Frequency:

50 – 60 Hz

Power:

2200 W

Dimensions:

1450 L x 607 W x 1555 H mm

Machine weight:

300 kg
Everything-under-one-roof, match the D 549 with Audion film
Click here
Explore our options
Customize your D 549 band sealer for optimized implementation in your production
Optimized hygiene and product presentation
By implementing the automatic cutting device the excess film above the seal can be cut. This actively reduces the chance of dirt/dust accumulating in the bag opening and guarantees the best possible product presentation.
Motorized support stand and conveyor
The flexible D 549 offers the possibility to be installed directly over your existing conveyor system or to install it on a mechanical or an automatic/motorized support frame. This enables you to configure the ideal custom solution to boost your production output.
Extra seal power for complexer films
Double heating elements can be mounted when sealing thick paper laminates or aluminum laminates. Above all, by choosing for double heating elements the throughput speed can be higher without loosing seal quality, ensuring a strong and airtight seal at all times.
Extra wide seal
When your packages are fitted with a punch hole or eurolog requiring a wider seal than the standard 12 mm, the D 549 can be supplied with a 20 mm seal. The extra seal width ensures more strength around the hole and provides a safely packed end result.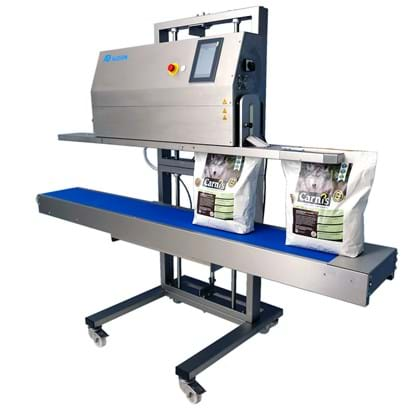 Let's have a chat
Do you want to know what the Audion D 549 Band Sealer can offer for your company? Please feel free to contact us as we are looking forward to explore together which packing solutions benefits you most.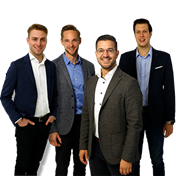 International Sales
Audion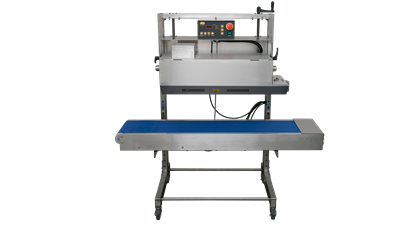 Vertical band sealer D 552 AVTS
Industrial stainless steel vertical band sealer for sealing of bags in vertical position
Seal width:

10 mm or optional 20 mm

Throughput:

10 meter/minute

Control panel:

Digital

Integrated printer:

Optional

Support stand:

Yes

Conveyor belt:

Yes

Max. bag weight:

10 kg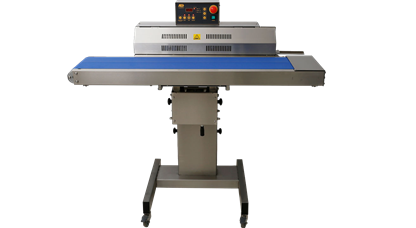 Horizontal band sealer D 552 AHS
Industrial stainless steel horizontal band sealer for sealing of bags in horizontal position
Seal width:

10 mm or optional 20 mm

Throughput:

10 meter/minute

Control panel:

Digital control panel

Integrated printer:

Optional

Support stand:

Yes

Conveyor belt:

Yes

Max. bag weight:

10 kg
AVM 190
Compact vertical form fill and seal machine producing bags from flat film at high speed
Type of machine:

Floor standing

Seal length (min-max):

50-190 mm (mag width); 50-300 mm (bag length)

Type of film:

Flat film

Cycling speed:

up to 100 bags/min

Bag length (min-max):

50-300 mm

Powered:

Pneumatic air