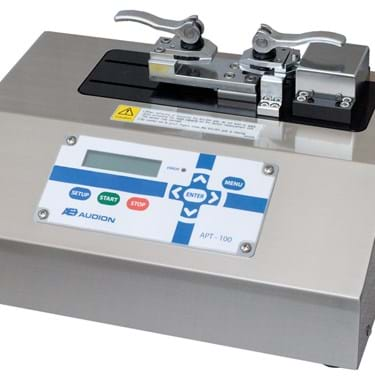 Products
Audion Peel tester
To verify tensile strength of seals made on peelable bags
Interested in our Peel Tester?

We are am more than willing to support you with your request or run a demo with your packaging.
Ensure extra safety: tensile strength verification on seals 
The APT 100 is a peel tester for measuring the tensile strength of the seals made on various packaging material, including medical bags.
The APT 100 is designed to perform peel tests following the ASTM F88/F88M as well as the EN868-5. The machine clamps a specimen and pulls the seal apart, measuring the tensile strength with load cell. The data are collects the data 100 times per second and presents the result with maximum strength and/or average strength.
All data can be transferred to PC and printed out as peel test report for your validation processes.
Especifically designed for testing (preformed) sterile barrier systems, conforms to the requirements of EN868-5 Annex D or ASTM F88.
The test result is clearly presented on PC screen in colored graphic chart
Pass/fail judgment on average strength or maximum strength
Configurable judgment criteria
Also measures seal width according to your own definitions of seal strength
Peel test report with your own company logo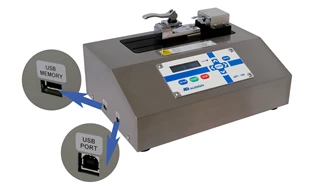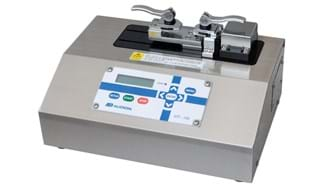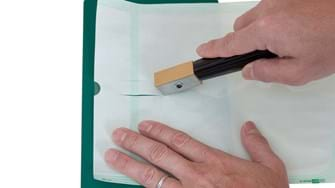 This makes our machine unique
We work together with you in providing the best quality packaging machines to help you grow your business.
User-friendly interface
This model is operated by means of a user-friendly digital panel, enabling you to program the optimum peel test settings. By testing your packaging material, make sure that your pouch meets the sealing requirements and market demands. This will guarantee a consistent and reliable packaging quality, saving production time and reducing product failure.
Seal Integrity
Audion peel tester can check the seal integrity of your pouch, which is part of the support during your seal quality inspection. Using test kits, our service engineer will run various tests and the machine will issue a (digital) test report. The generated report will visualize and indicate if the seal strength is sufficient and meets the customer demands. Doing regular verification of your seal quality is an important part of the quality control.
Ensure consistent quality
Once the peel tests are performed, the data will visualize the quality level of the seal. Evaluate on a daily basis if you are using the most  suitable sealing parameters for your pouches and their integrity. If necessary, adjust the parameters on your packaging machine. By integrating verification through the peel tester APT 100 companies in pharmaceutical and medical industry will minimize the risk of errors.
Cleanroom Compatible
The peel tester machine is feasible in sterile environments and cleanrooms. Once the peel testing processes has finished, export the data via cable or USB to the PC / Laptop. The content can then be analyzed for various purposes. Pharmaceutical and medical companies can benefit from this service by tracking and tracing their seal quality, and avoid errors.
Calibration, Verification and Validation Services
The Audion validatable packaging machines require calibration, verification and validation services on a regular basis. Audion offers a wide range of instruments and solutions enabling users to test and verify their packaging machines and seal integrity, in order to meet the high market requirements.
Available verification instruments include:
ATM (Audion Temperature Meter): to verify the seal temperature
AFMR (Audion Force Measurement Ring): to verify the seal force of a validatable industrial sealer and to adjust the sealer in accordance with the measured values (Power Sealer and MSIDV)
ASPM (Audion Seal Pressure Measurement): to verify the seal pressure realized by compressed air (vacuum chambers and Speedpack) and to adjust the machine in accordance with the measured values
AVLM (Audion Vacuum Level Measurement): to verify the vacuum pressure
Seal Integrity Test (SIT) as a service which includes: 

 

 
Seal check according to ISO 11607-2 (to check intact seal for a specified seal width)
Dye penetration test according to ASTM F1929 (to check no channels or open seals)
Peel test according to EN 868-5 Annex D (to check tensile strength of seal)
Audion Factory Calibration (incl. Calibration Certificate): (Re-) calibration executed by certified engineers certifies the preciseness of the critical sealing parameters of the packaging machine. Reference standards calibrated under ISO17025 accreditation
IQ/OQ Check:
Installation Qualification (IQ): an Audion service engineer inspects the packaging machine in your operating environment, checking the following aspects: correct installation, functionality, specifications, critical process parameters and documents. Includes training & certificate.
Operational Qualification (OQ): an Audion engineer tests and will register seal integrity of your bag(s) in a test plan. Includes determination of sealing parameters, tolerances, acceptable criteria and worst case testing.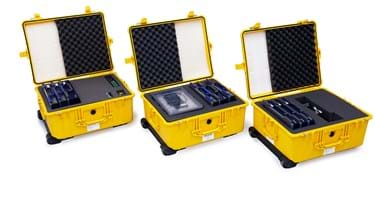 Technical features
The Peel Tester APT 100 gives you as an end-user the following benefits:
Maximum measuring force:

100,0 N

Measuring unit:

N, Kgf, Lbf

HMI:

User-friendly digital panel

Programs:

5 recipes

Security:

Operator / Administrator registration

Measuring accuracy:

+/- 0,2 % of full scale

Data transfer interface:

USB cable & USB stick

Test data storage:

120

Specimen material thickness range:

30 – 200 micron (per clamping layer)
Measuring settings
The following settings are available on the APT 100: 
Peel origin (starting position):

10mm or 25mm

Pass/fail judgment:

Average strength or Maximum strength

Peel speed:

200 mm/min. or 300 mm/min.

Test end detection:

Auto or Manual
Specifications
Please see below more specifications of the APT 100: 
Machine size (H x W x D):

200 x 370 x 270 mm

Power supply:

AC 100-240V, 1 ph, 50/60Hz

Power consumption:

9 W

Machine weight:

Approx. 8kg

Max. measuring force:

100 N

Measuring unit:

N, Kgf, Lbf

Increments:

0,1 N

Sampling rate:

100 data/ second

Measuring accuracy:

+/- 0.2% of full scale

Specimen material thickness range:

30 – 200 micron (per clamping layer)

Data export:

USB cable or USB memory
Explore our solutions
Other related services to fit your needs
Sample Cutter for APT 100
A twin blade cutter for easily cutting out 15mm wide specimen for peel tests. The blades are fixed on the sides of an anodized aluminum block. The sharp blades are covered by the plastic protection plate which prevents damaging the blades as well as injuring your fingers. To use the cutter, simply press the blades against the sealed material on the cutting mat. The cutter comes together with a 140 x 228mm cutting mat, 10 spare blades and a blade replacing tool.
Audion Factory Calibration
Audion provides a range of calibration services for our extensive range of validatable sealers that are being used in the Medical and Pharma markets as well as certain high-tech industries. Regular user verification and the recommended yearly re-calibration ensure that validatable sealers keep delivering the required seal quality.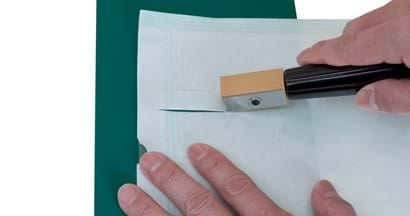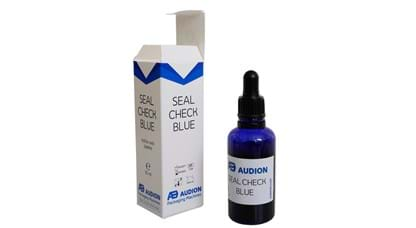 Seal check blue ink
Dye penetration test to investigate eventual channels or open seals.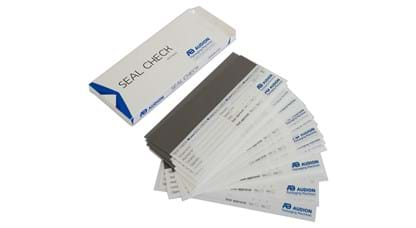 Seal Check Sheets
Seal indicator strips to check quality of seals
Let's have a chat
Do you want to know what the Peel Tester can offer for your company? Please feel free to contact us as we are looking forward to explore together which packaging solution will benefit you most.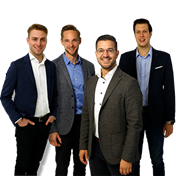 International Sales
Audion