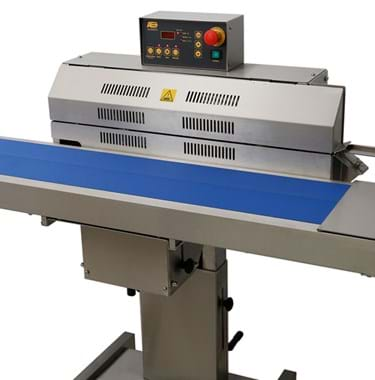 Products
Stainless steel horizontal band sealer 
Designed for heavy duty bag sealing where power, speed and convenience are a must
Interested in our D 552 AHS band sealer?

We are more than willing to support you with your request or run a demo with your packaging
Versatile band sealer popular for its reliablity, speed and ease of use
The Audion D 552 AHS is a versatile stainless steel band sealer that hermetically seals your bags lying in a flat position. The high throughput speed, together with the powerful heating elements makes this band sealer an ideal packaging solution for optimising your packaging efficiency.
The sealing unit is height-adjustable and tiltable up to 30° to keep your free-flowing products safely inside the bag. The integrated conveyor is also height-adjustable, independently from the sealing unit. Further, the conveyor can be pulled forward to support longer bags up to 400 mm.
The easy to use digital controller and display enables precise temperature setting and monitoring and also features an automatic cool run that is designed to protect the seal belts for higher durability. These PTFE belts enable you to hermetically seal polyethylene, polypropylene, cellophane, paper, aluminum and other laminates.
To summarize your benefits:
Easy digital control of sealing parameters
Adjustable seal pressure for different bag materials
Conveyor belt speed can be adjusted / synchronized
Adjustable conveyor height
Adjustable sealing head, tilting max. 30 degree
Convenient infeed plate to prepare the bag before sealing
Automatic cool down function
Optional printer available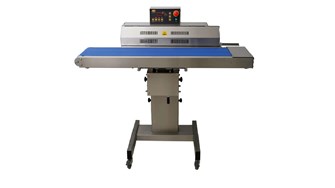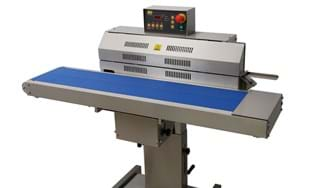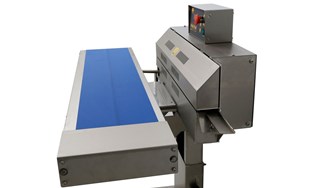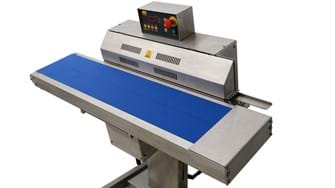 This makes your machine unique
We work together with you in providing the best quality packaging machines to help you grow your business
Robust and user-friendly by design
Designed with a heavy-duty construction that combines ease of use with ultimate performance and reliability.
Seamless addition to your production process
Low-maintenance conveyor belt enabling continuous durable high throughput sealing.
Engineered to maximize your product safety
Select from the wide programm of configurable options to create the best and most reliable packing and presentation for your product.
Easy-to-maintain
All wearing parts are easily replaceable with parts available from Audion stock.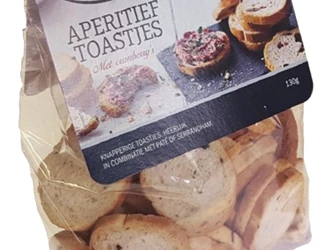 Stainless steel band sealer working in inclined position.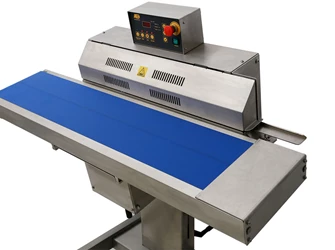 Horizontal bands sealer with Videojet printing option.
Plug and Play
The industrial quality of Audion D 552 horizontal band sealer lies in its robust stainless steel housing combined with its simplicity and comfort of use.
The digital control panel accomodates to easily adjust the seal parameters to the requirements of your bags (e.g. throughput speed, sealing temperature and cooling fan).
Both the sealing head and the conveyor are quickly and easily adjustable in height to ensure the best position for both your products and your operator.
The optional printer allows you to add personalised text and/or data directly to the packaging. Your product is then immediately ready for use, storage or transport to the next step in the supply chain. Click on the button below to watch the printer option in action: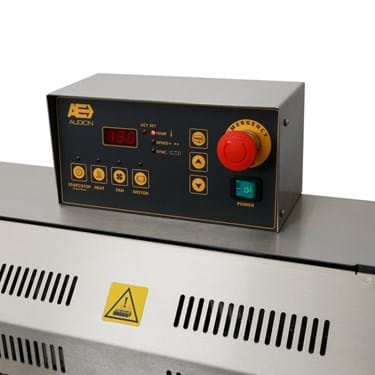 Benefits
The Audion D 552 AHS band sealer gives you the following benefits
Stainless steel body:

Easy to clean industrial-grade machine.

Plug and play:

Fast warm-up time.

Easy to use:

Minimal operator training required.

Versatile adjustment:

Both the sealing head and the conveyor belt can be adjusted to suit both the product and the operator.

Digital control panel:

Easily setting of speed, cooling (by fan), seal temperature etc.

Temperature control:

Precise temperature setting from the control panel and automatic cool-down function.

Continuous quality:

Makes strong and durable airtight 10 mm or 20 mm seals.

Easy to maintain:

(Wearing) parts are easily and quickly replaced with parts mostly available from Audion stock.
Options
The following options are available on the Audion horizontal band sealer 
Extension of the axes:

For extra flap length above the seal (65 mm up to 100 mm).

Conveyor direction:

Left-right version.

Extra seal width:

20 mm (useful for bags with eurolog).

Double heating elements:

For sealing paper laminates, aluminum laminates or gusset bags. Further, adding double heating elements allows you to speed up the sealing process without losing seal quality.

Printer option:

Inkjet printer for adding personalized text, counter, date, expiry date, pictures and logos of JPG or BMP format and barcodes / QR codes.

PTFE protect programm:

Enables you to keep the machine on the set seal temperature whilst temporarily not sealing bags. Prevents the PFTE belts from burning.

Spare parts kit:

All wearing parts in a convenient set.
Specifications
More specifications of the Audion D 552 AHS band sealer
Seal length:

Unlimited

Seal width:

10 mm (or optional 20 mm)

Max. bag weight:

10 kg

Conveyor width:

250 mm, sliding forward up to 90 mm for extra supprt of longer bags

Throughput speed:

Max. 10 meter per minute

Seal temperature:

max. 250 °C

Type of machine:

band sealer, continuous sealer, semi automatic

Covering:

Stainless steel

Dimensions:

1350 (L) x 575 (W min) / 675 (W max) x 1120 (H min) / 1320 (H max)

Type of film:

Cellophane, Laminate, Ready Made Bags, PP (Polypropylene), PE (Polyethylene)

Thickness of film:

2 x 200 micron (min 2 x 20)

Type of package:

Bag

Voltage:

230 V – 16 A

Frequency:

50 – 60 Hz

Power:

1100 W

Weight:

93 kg

IP value:

IP20
Everything-under-one-roof, match the D 552 with Audion film
Click here
Explore your options
Customize your D 552 AHS to your needs
Extra flap length above the seal
To create extra space needed when sealing bags with header cards or carrying handles
Left/Right configuration
Enables seamless integration within your production line running from left to right
Double heating elements
Creating additional heating time needed to seal laminated paper bags with a strong and airtight end result
PTFE Protect
For longer lifetime of PTFE belts the heating elements will be retracted when the machine is not in use.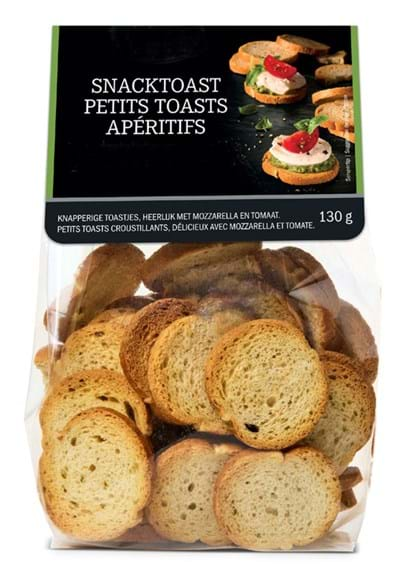 Let's have a chat
Do you want to know what the Audion D 552 horizontal band sealer can offer for your company? Please feel free to contact us as we are looking forward to explore together which packing solutions benefits you most.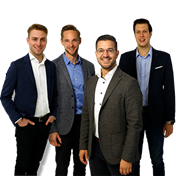 International Sales
Audion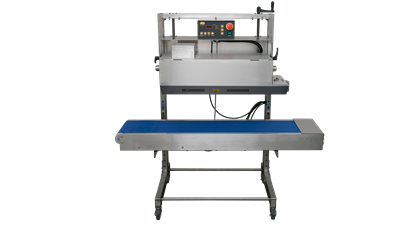 Vertical band sealer D 552 AVTS
Industrial stainless steel vertical band sealer for sealing of bags in vertical position
Seal width:

10 mm or optional 20 mm

Throughput:

10 meter/minute

Control panel:

Digital

Integrated printer:

Optional

Support stand:

Yes

Conveyor belt:

Yes

Max. bag weight:

10 kg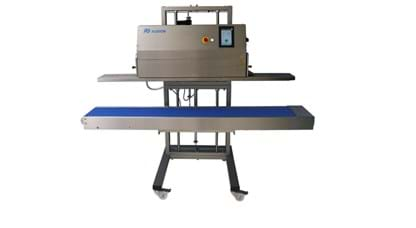 Vertical band sealer D 549 AVTS
Heavy duty stainless steel industrial band sealer, configurable for optimized integration
Seal width:

12 mm or optional 20 mm

Throughput:

20 meter/minute

Control panel:

Audion Touch Techware

Integrated printer:

Optional

Support stand:

Optional (mechanical/motorized)

Conveyor belt:

Optional

Max. bag weight:

25 kg
Available in webshop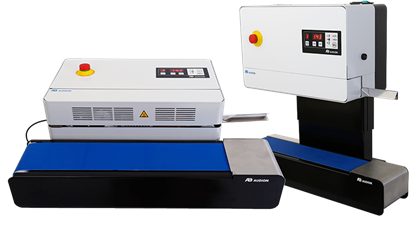 D 545
Compact tabletop vertical/horizontal band sealer for sealing ready-made bags
Seal width:

10 mm

Throughput:

10 meter/minute

Control panel:

Digital

Integrated printer:

No

Support stand:

AV: Yes, tabletop support / AH: No

Conveyor belt:

Yes

Max. bag weight:

5 kg