Products
Speedpack 550 Hybrid
The ultimate bagger for versatile and reliable automatic bagging, enhancing your productivity 
Let's have a chat

We are more than willing to support you with your request or run a demo with your packaging.
Innovative automatic bagger increasing efficiency and lowering material cost
This flagship bagger integrates innovative bagging technology and an impressive list of features and benefits to optimise your packaging process and flexibility.
Speedpack 550 delivers high speed, versatile and reliable packaging, operating either bags on roll or tubular film. Ultimate flexibility is gained with the integrated bag maker assembly, facilitating bag length variation on-the-fly resulting in significant material saving.
The impressive cycling speed ensures your products being packed at least 5 x faster compared with manual packing, optimising existing labor and warehouse space.
Speedpack 550 features the latest technology, integrating an high-end PLC for reliable and sophisticated control of your packaging process. All controlled from the user-friendly 7"touchscreen, integrating the latest software.
By implementing Speedpack you are ensured of the most versatile bagging solution compared to other baggers in the market. It can be fully customized to your products and working environment. A wide range of options can be mounted, such as f.i. printers, funnels, bag supports, product detection sensors, handshake, feeding or product discharge conveyors.
Speedpack 550 is packed with innovative technology that takes your packaging process to a next level.
Go Big with Speedpack Hybrid 550 and profit from the benefits:
Experience ultimate flexibility
Increase your operators output
Communicate with an ERP system and various coding systems
Pack in batches or next-bag-out
Enjoy advanced technological innovation
Realize labor & material savings. Fast, Easy and Safe.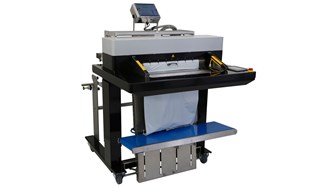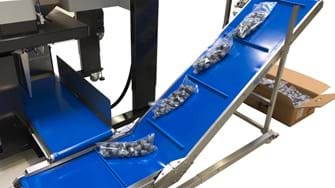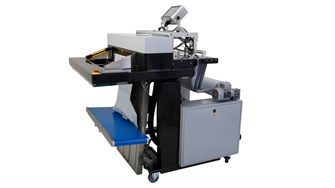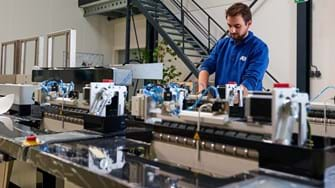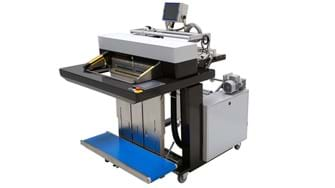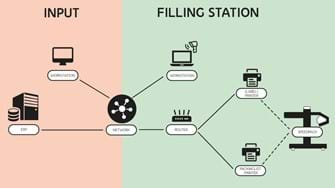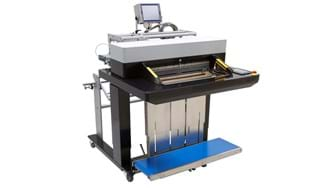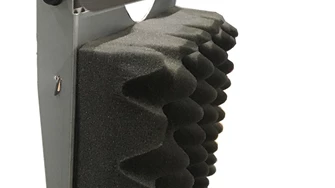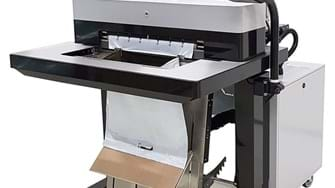 This makes our Speedpack Hybrid 550 unique
Innovation upgraded from the original: bigger, better, faster and stronger
Advanced Technological Innovation
When innovation is part of your DNA, you can't deny the urge to improve your machines continuously.
Speedpack Hybrid 550 is the most versatile and technologically advanced hybrid packaging machine Audion has produced so far.
Its distinctive design radiates quality, ease of use and confidence.
Featuring a solid and modular design it is easy to integrate a wide list of smartly designed options to customize your packaging solution to your ideal local situation. Always with the intention of making your packaging process run even better.
With Speedpack, we celebrate innovation, while you celebrate your return on investment.
Generate Significant Savings
Speedpack Hybrid 550 has been designed with the latest technology. Every component has been selected with great care, ensuring maximum reliability.
The working frame is electrically adjustable, for easy integration with connecting conveyors.
The bag support discharge conveyor will be automatically adjusted to the bag length selected. All kind of human intervention is minimized, generating a maximum saving in labor cost. Only one operator is needed for loading the bag which can be automatically printed with information and opened in front of the operator for loading the product. After having sealed the bag it can be automatically discharged.
Strong Machine, Big Results
Minimize your total cost of ownership with Speedpack. Thanks to innovative and advanced technology operating sophisticated systems.
The modular and highly customisable design has been designed using the latest packaging technology and advanced engineering.
Speedpack is custom designed to meet the unique packaging needs of our customers.
From initial design, through prototyping, simulation and testing, up to optimal operation in the field. Speedpack, with all its technology, delivers better, faster, more targeted packaging solutions. These enable you to increase your throughput, improve quality, reduce downtime and improve your ROI.
Audion designs to achieve the max. So go for the best, go for an Audion.
Ultimate Flexibility
Speedpack Hybrid excels in flexibility and user-friendliness.
Being as flexible as possible pays off for you and your customers. Enjoy the benefits of full connectivity and a user-friendly packaging machine.
Many (integrated) safety, counting and weighing systems can be used in numerous roles, including robot control, in-feed and out-feed quality control and traceability.
Speedpack is designed to reach the ultimate degree of customization.
The degree of application and integration into the customer's processes is well-balanced in relation to the requirements and the degree of sophistication.
This way, each customer has his own configuration tailored to his packaging needs.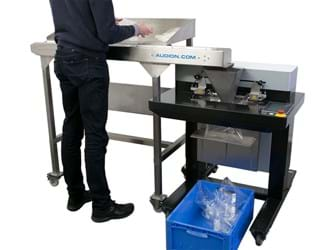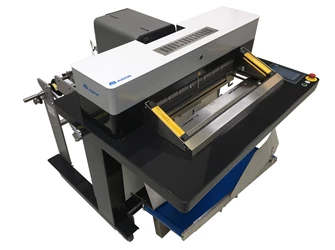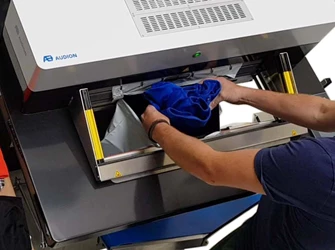 Incl. labeler + discharge conveyor
Think Big, Grow Your Business
Start simplifying your processes and reducing your costs today.
For yourself and your customers.
Speedpack has a proven track record and is known as a high-end bagging solution for many branches. Including yours.
Growing a business in a tough period means making choices. Instead of cutting down on staff to create savings, integrate a Speedpack.
Different types of cost savings are a fact when you integrate a Speedpack into your processes.
Labor costs
Material costs
Shipping costs
Fast Return on Investment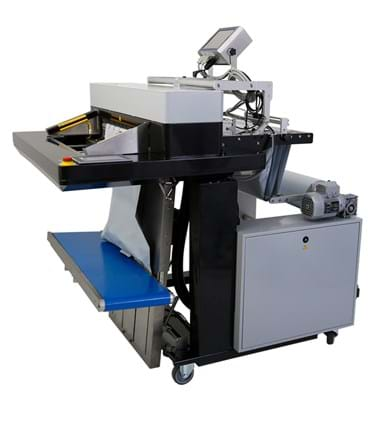 Benefits
Working with the Speedpack Hybrid 550 allows you to have the following benefits:
Unlimited bag length or the ease of using SpeedBags:

Get the best of both worlds and choose whether you want to fill super fast with ready made bags or go for unlimited bag length with tube film.

Easy Load system:

The easy to load opening helps you to bag your products fast and easily. The convenient bag opening square can easily be filled with shoebox sized products.

Accurate sealing temperature:

Be sure of a safe and secure seal. Time, pressure and temperature can be set for every type of product. Your perfect seal is always at your fingertips.

Ceramic sealing bars:

Time is money. That is why Speedpack is integrated with ceramic sealing bars. These start up in less than a minute. So you get straight to pack and don't waste time on warming up the machine.

Savings per package:

Using tubular film, you are always able to create the right-sized packaging. Your savings grow per package, while you cut down the waste. This means that your film rolls last longer, you produce less waste, your products have the perfect packaging size and it is much cheaper than one-size bags.

Bagsize change "on the fly":

Choose your desired bag length to make the right fit for every product. This principle is a real moneysaver.

Motorized adjustable working height:

Electrical adjustment of the working height, ensuring the ideal fit to your operator and local environment.

High-end PLC and software:

The integrated PLC accomodates job storage (50 recipes), batch counting, packaging statistics, log-in levels and a built-in seal-help diagnostics for troubleshooting.

User-friendly software:

The colour 7"touchscreen is easy to set up. Different user levels are integrated. In this way the machine can be operated by everyone while settings stay protected and only accessible to those with higher level authority.

Easy storage:

This model is equipped with wheels for extra mobility. A compact design that fits in every situation.

Robust and Reliable:

Speedpack proves itself over and over. This technologically advanced packaging machine can stand the most challenging environments.
Options
The wide availability of option to optimise to your local situation is what Speedpack Hybrid 550 makes unique. Choose your option to create more output and a fast ROI
Printing and Labelling:

To apply a (unique) label directly on the outside of every next bag. Taking into account the wishes and designs of the customer.

Support and Discharge conveyor:

An (automatically) in height adjustable support and discharge conveyor supports the bag during sealing. Finally the closed bag will be automatically discharged by the conveyor to its next destination without any interaction of the operator. Great ergonomic advantages!

Handshake for communication:

When using an external dosing system, a handshake makes sure you are able to connect with features such infeed lines and conveyors.

Traffic light:

Always in control with your process. A traffic light tells you the working status of your machine. When something is jammed or when the machine is not able to create a perfect package, you can see this from a distance. This option helps you to reduce valuable stoptime.

Photocell options:

Whether you prefer a photoelectric sensor to detect hands or products or to start a sealing cycle. There are several options to optimise any kind of automation.

Bag support:

Various support tables are available, all can be modified to fit your packaging and bag supporting needs per product.

Product presentation:

Enabling maximum flexibility in bag presentation like a hang hole, euro hole, chainbags and printed film.

Funnels:

For some product loading it is recommended to use a funnel. Various sizes and models are available to create your perfect package.

Error signal:

Integrating the Speedpack to an automatic line is easy and safe. The error signal warns you and communicates with the feeding line when something is going on.

Various sealbar and sealwidth options:

Whether you prefer the standard 1,5 mm sealwidth (heat), or go for a 8 mm seal width (impulse), various sizes widths and bars are available. All designed to create a good bag presentation and to ensure a reliable seal.

More models and versions - Bags-on-Roll and Stainless Steel:

Versatility is Speedpack. The various models and versions are designed to fit in every process. Whether you are in a cleanroom, warehouse, packing parts or working in the food branche.

Operation panel on an extended arm:

The touch panel has been fixed at an extended arm. In combination with some feeding systems this option is recommendable in order to operate the machine easily.
Specifications
Explore the specifications of the Speedpack 550
Type of machine:

Compact floor model for form fill sealing from tubular film or bags on roll

Cycling speed (tubular film):

10 bags/minute (depending on bag size)

Cycling speed (bags on a roll):

up to 30 bags/minute (depending on bag size)

Seal width:

1,5 mm

Bag length:

120 - 900 mm

Bag width:

120 - 550 mm

Working Height:

Electrically adjustable working height from 926 to 1126 mm

Opening between sealing bars:

240 mm

Infeed dimensions:

Max horizontal 550 mm - Max depth 240 mm

Types of film:

Tubular film to create bags on demand/ pre-opened SpeedBags

Type of package:

Bags and chain bags

Recipe storage:

Max. 50 recipes

Outside dimensions (L x W x H):

1560 x 1144 x 1489 (+200) mm (depends on configuration)

Required external air pressure:

6 bar, 200-500 Nl/min

IP value:

IP20

Voltage:

230 V-1ph-50 /60 Hz

Consumption:

3000 W

Directives / norms:

EMC Directive, Standards 2006/95/EC, 2004/108/EC, EN-ISO-12100
Everything-under-one-roof, match the Speedpack 550 Hybrid with Audion film
Click here
Explore your Options
Customize your Speedpack packaging solution. Make it work to fit your process. At Audion we are always willing to help and advise you.
Safety Light Curtain
Safety matters! This option only starts the sealing when it is safe. Even when you quickly want to add an additional product. Your hands are always safe.
Film end Detection
This sensor detects when the roll of film is nearly empty and stops the Speedpack Hybrid in order to allow a changeover to a new roll of film. This prevents spilling products over the floor when working in automatic mode.
Carrying Handle
This option provides a nice carrying handle in each bag. Ideal for e-fulfillment market and consumer business. This feature can eventually be switched off when not needed.
Printing or labelling the bag
Both thermal printer and label printer are available to provide your packaging with product information, barcodes, addresses or a colored logo. With a label printer or thermal transfer printer you can print via a label or directly on the bag. Set it up for a unique print (next-bag-out) or go for a batch.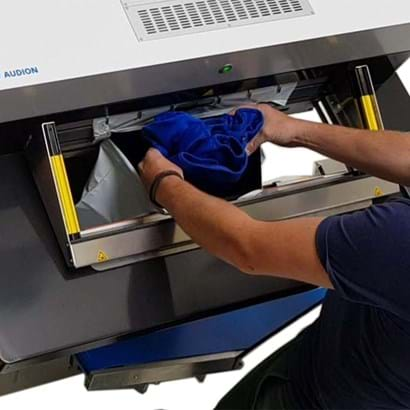 Our Speedpack 550 Hybrid in use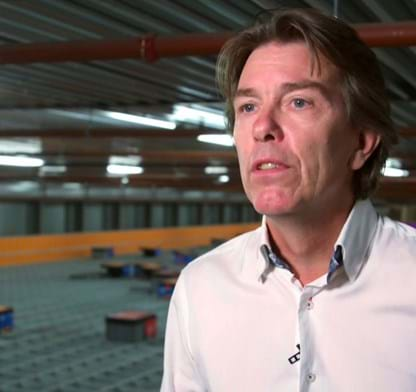 Was looking for a way to automate the labor-intensive manual packaging process of web orders.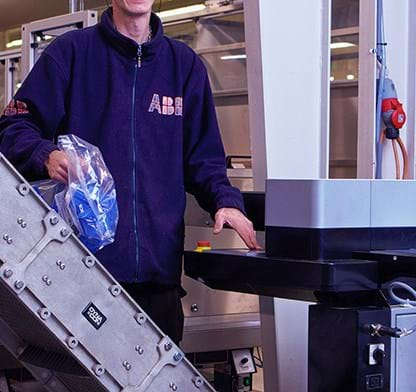 How to pack several installation boxes in a LDPE perforated bag printed with a white square.
Let's have a chat
We are always willing to help you with information or run a demo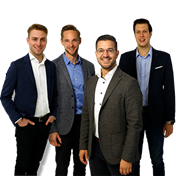 International Sales
Audion
This May Also Interest You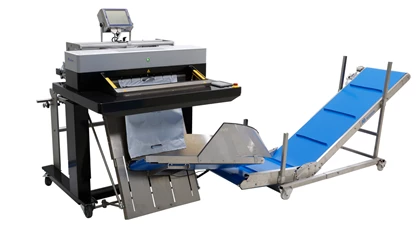 Speedpack 550 Orderfulfillment
Advanced bagger integrating full options for optimized orderfulfilment performance and full flexibility
Type of machine:

Floor standing

Seal length:

120 - 550 mm

Type of film:

Tubular film/ bags-on-roll

Cycling speed:

Up to 10 bags/minute (tubular)/ up to 20 bags/minute (bags-on-roll)

Bag length:

430 - 800 mm

Powered:

Pneumatic air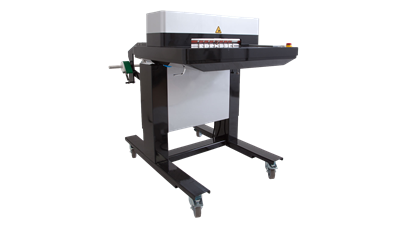 Speedpack 400 Hybrid
Most flexible and innovative bagger creating variable bag length, optimizing existing labour and warehouse space
Type of machine:

Floor standing

Seal length:

50 – 400 mm

Type of film:

Tubular film/ bags-on-roll

Cycling speed:

up to 20 bags/min (tubular)/ up to 60 bags/min (bags-on-roll)

Bag length:

50 – 800 mm

Powered:

Pneumatic air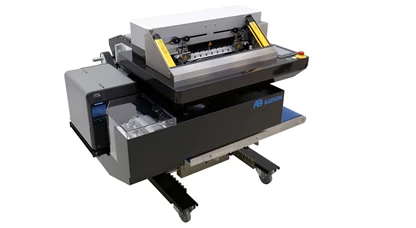 Speedpack 400 Orderfulfillment
Complete bagging & printing system increasing efficiency and lowering material costs in order fulfilment
Type of machine:

Floor standing

Seal length:

50 – 400 mm

Type of film:

Tubular film/ bags-on-roll

Cycling speed:

Up to 10 bags (tubular)/ up to 20 bags (bags-on-roll)

Bag length:

300 – 600 mm

Powered:

Pneumatic air