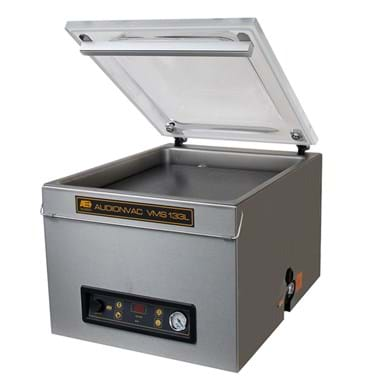 Products
Audionvac VMS 133L
More packaging capacity in one of the most popular compact vacuum packaging machines worldwide
Interested in our Audionvac VMS 133 L?

We are more than willing to support you with your request or run a demo with your packaging
When usable chamber volume is Key
If you need more space in your table top vacuum chamber the Audion VMS 133L is the machine. We have increased the dimensions of this powerful tabletop vacuum chamber, being of the most popular vacuum packaging machine (Audionvac VMS 133) worldwide.
The effective length of the L version is 90 mm longer than the standard VMS 133. The total effective length of the VMS 133L is 460 mm, enabling you to pack longer products or increasing your packaging capacity when choosing a 2nd (optional) sealbar at the back.
Same benefits as the beloved Audionvac VMS 133 but than with more usable chamber volume to pack even the largest products.
To sum up:
1 sealbar (front): 420 mm
Optional extra sealbar (back)
Powerful 16 m3/h vacuum pump
Double seal (2 convex seal wires)
Time controlled with 1 program memory
High lid
High volume deep drawn stainless steel vacuum chamber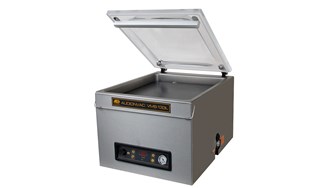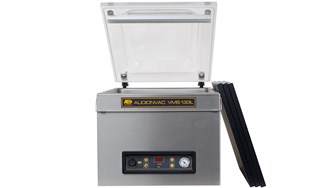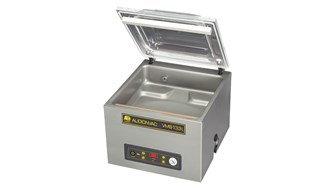 This makes our machine unique
We work together with you in providing the best quality packaging machines to help you grow your business
High quality convex seal wires
This ensures residue being pressed out from between the film layers of the bag during the seal process and limits the risk of leakage. The convex seal wires of Audion empower a strong seal resistance thanks to round shape, facilitating easy separation of the residue.
For larger products and higher output
When you require a higher output or pack larger products, the VMS 133L is the answer, offering much more volume, capacity, working faster and more efficiently thanks to volume in combination with the optional second seal bar (front-back). 
Reliable, durable and stainable
In today's world, everyone relies on their products. It is crucial that equipment functions with highly efficient performance. When they fail to do so, it can lead to the customer being exasperated. Therefore Audion offers a warranty period of 3 years on the Audionvac VMS 133L. Spare parts are easy and widely available. This guarantees a safe and reliable function of your product for now and for the future.
Plug and play
During the design of Audionvac VMS 133L we placed our users at the centre. This resulted into a professional vacuum machine, industrial grade, with ease of installation and operation. Operators don't need an extended training as the machine and the way the software is being built up speaks for itself – plug and play. Noise level and energy consumption of the Audionvac VMS 133L are reduced to a level hard to beat, all being in favour of the end-user.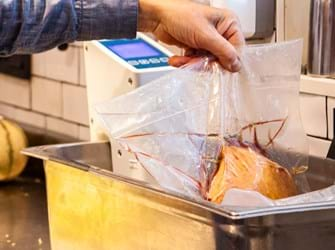 Audionvac vacuum packaging machine used by Famous Dutch chef, Alain Caron.
Premium technology with more volume
The Audionvac VMS 133L has deep drawn stainless steel vacuum chamber with a stainless steel exterior and transparent high lid.
Standard richly equipped with: 
Time control with a 1 program memory
Seal bars easily removable for cleaning and maintenance purposes
16 m3/h vacuum pump
1 seal bar (front): 420 mm, optional extra sealbar (back)
Maintenance friendly and easy to clean construction
Double seal (2 convex sealing wires)
Insert plate included for a faster cycle and product adjustment
3 year warranty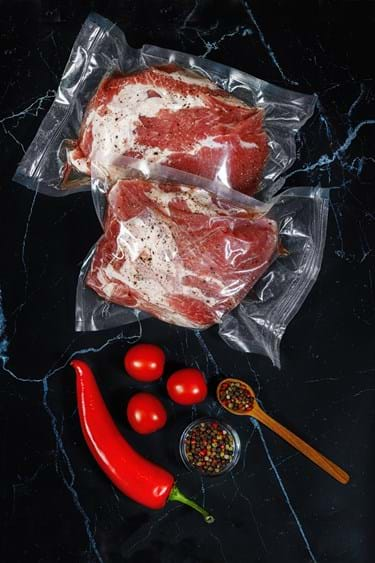 Benefits
The Audionvac VMS 133L gives you the following benefits
Optimum hygiene:

Standard double seal (2 wires); convex (round) sealing wires for safer sealing results.

Time control:

To set the time for vacuuming and seal cycles for a constant and guaranteed end result.

Fast cycle:

Insert plate is standard included, to create a faster cycle and/or to create a better product positioning.

Ease of use:

User friendly digital control panel, plug and play.

Vacuum pump:

16 m3/h vacuum pump for a fast packaging cycle.

Maintenance friendly:

Easy pump maintenance and cleaning program; seal bar is easily removable for cleaning and maintenance.

High lid:

High transparent lid, increases your capacity and package size flexibility.

Chamber:

Stainless steel easy to clean deep chamber - for medium sized packages.

Customizable:

Your VMS 133L can be configured with several standard available options, to get the best fit to your product.

Warranty:

3 years.
Options
The following options are available on the Audionvac VMS 133L
Cut-off seal:

Cut-off seal consists of one 3,5 mm convex seal wire and one 1,1 mm round cutting wire to easily tear off the residual plastic.

Wide seal:

8 mm flat seal for a more aesthetic and professional sealing result.

Second seal bar:

An extra seal bar can be added in the back of the chamber, for getting extra packaging capacity.

Sensor control:

The vacuum cycle will stop when the exact end vacuum level has been reached. In this way a constant and guaranteed vacuum is reached.

Inclined plate:

For packing liquids and powders. The bag can be positioned in a certain angle ensuring that the product stays at its place.

Trolley:

A compact trolley equipped with swiveling castors with brakes, ideal to move the vacuum machine.

Alternative power supply:

100V-1P-50/60Hz | 115V-1P-60Hz | 220V-1P-60Hz
Specifications
More specifications of the Audionvac VMS 133L
Seal bar front:

420 mm (standard)

Seal bar front-back:

420 / 420 mm (option)

Seal width:

2 x 3,5 mm double seal (convex sealing wires)

Effective chamber size (LxWxH):

460 x 420 x 180 mm

Pump capacity:

16 m3/h

Digital control panel:

1 program memory

Machine cycle:

20 – 40 sec

Chamber material:

Stainless steel chamber and transparant lid

Housing material:

Stainless steel

Type of film:

PA/PE, vacuum bags

Thickness of film:

2 x 150 micron

Power supply:

230V-1P-50Hz (standard)

Power consumption:

0,6 kW

Weight:

65 kg

Machine dimensions (LxWxH):

616 x 493 x 440 mm
Everything-under-one-roof, match the Audionvac VMS with Audion film
Click here
Explore our options
Customize your Audionvac VMS 133L to your needs
Cut-off seal
Cut-off seal, to easily tear off the residual film for optimized hygiene.
Wide seal
8 mm wide seal for an aesthetic and professional result.
Sensor control
Vacuum packaging machines equipped with Sensor control calculate when the pre-set percentage has been achieved. This guarantees a constant end vacuum of your package. Always. Especially recommended when packing various types of products with different volume.
Seal configurations
Optimize your vacuum packaging operations by adding an additional seal bar to have two seal bars (front-back) and increase your output.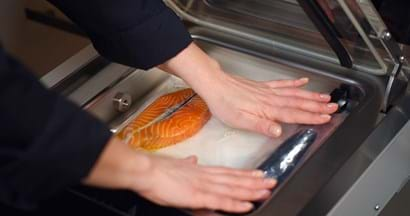 Let's have a chat
Do you want to know what the Audionvac VMS 133L can offer for your company? Please feel free to contact us as we are looking forward to exploring together which packing solutions benefit you most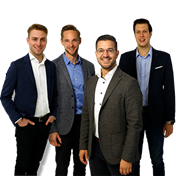 International Sales
Audion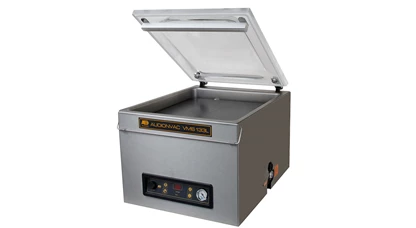 Audionvac VMS 133L
Large, 1 program memory table top vacuum chamber with high lid and optional second seal bar
Pump capacity:

16 m3/h

Seal length:

420 mm (front) + optional 420 mm (back)

Chamber size:

460 x 420 x 180 mm

Chamber type:

Deep

Chamber material:

Stainless steel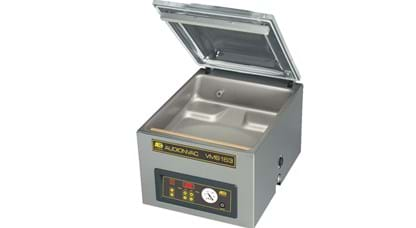 Audionvac VMS 163
Large, digital controlled 10 program memory table top vacuum chamber with high lid and optional second seal bar
Pump capacity:

21 m3/h

Seal length:

420 mm (front) + optional 420 mm (back)

Chamber size:

460 x 420 x 180 mm

Chamber type:

Deep

Chamber material:

Stainless steel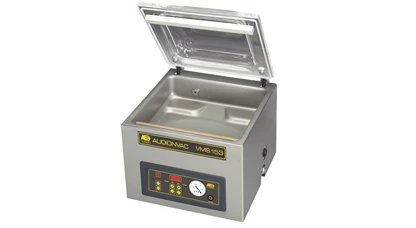 Audionvac VMS 153
Digital controlled 10 program memory table top vacuum chamber with high lid and optional second seal bar
Pump capacity:

21 m3/h

Seal length:

420 mm (front) + optional 420 mm (back)

Chamber size:

370 x 420 x 180 mm

Chamber type:

Deep

Chamber material:

Stainless steel