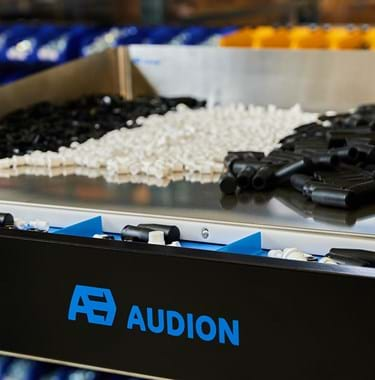 Products
Optimizer with conveyor system
Convenient sorting table combined with an
infeed conveyor system fitted with deviders
Interested in our Optimizer?

We are more than willing to support you with your request or run a demo with your packaging.
Boost your packaging process with speed, convenience and output
The Audion Optimizer with discharge conveyor is designed to maximize your workflow in both operator convenience and output performance. This solution enables you to increase your production speed while making packaging easier and safer. 
The optimizer consists of a sorting table on which the product can be placed and a conveyor belt with divider sections. On the sorting table you can place a collection of equal or different products to sort for packing. By sliding the correct amount of the/each product into the separating sections of the conveyor, you are able to quickly and easily assemble the correct quantities or sets for packaging.
You can operate the machine while standing or sitting on a high chair in fron of the Optimizer. Once the operator has manually filled the conveyor sections, the conveyor automatically deposits the products into a funnel. 
The Speedpack automatically closes the bag when a set number of filled sections are counted.
You can use the standard built-in photo cell counting function (which counts only filled sections and not the number of products in the section) in two ways. If you are working with sets of multiple quantities/products, the filled sections are counted. If you want to count by product, you can place one product in each section.
To sum up:
Boosts the pace and quantity of your packaging process
Spacious sorting table and infeed conveyor with dividers - allowing a collection of one or more products to be sorted for packing
Counting function via built-in photo cell function - counts only filled sections
Automatic start of the sealing process on the Speedpack - per section or after counting the preset number of sections
Ergonomic operation while standing or sitting on a high chair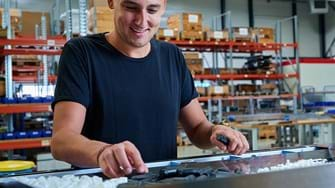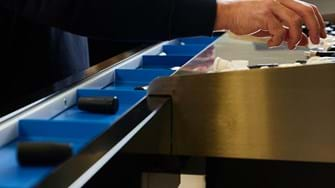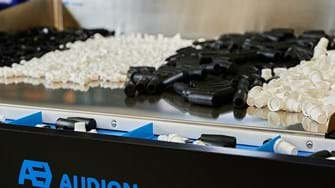 This makes your machine unique
We work together with you in providing the best quality packaging machines to help you grow your business
Optimized workflow
The convenient sorting table combined with a discharge conveyor allows you to increase your packing speed and output quantity considerably.
Easy kit composition
You can sort a collection of the same product for packing but also place multiple items on the sorting table for quick and easy kit composition.
Counting function
The built-in photo cell function counts only product-filled conveyor belt sections. Here you can choose whether to count the product (1 product per section) or per package (each filled section).
Semi-automatic operation
After manually sorting and filling the conveyor sections, once a filled section is detected, packaging is started immediately or a preset number of sections can be selected before a package is sealed by your speedpack.
Operation of the Optimizer with conveyor:
The operator manually fills the conveyor sections which are running to the photocell.
The conveyor automatically dispenses the product into the funnel (excluded).
When the set number of filled sections has been counted, the Speedpack Hybrid automatically seals the bag.
The speed and timing of the optimizer can be adapted.
Maximum speed: 10 cycles per minute (fixed funnel)
Maximum speed: 15 cycles per minute (accumulated funnel)
Maximum speed: 30 cycles per minute (in combination with a Highspeed machine and accumulated funnel)
Automatic discharge conveyor:
The discharge conveyor with dividers automatically drops your product into the bag. hen the desired quantity has been reached (no manual activation needed).
Conveniently assemble kits:

Spacious sorting table for sorting different parts of a kit or for sorting a single product by quantity.

Counting and sorting table:

The convenient table can be used to count a single product or to assemble kits of different products.

Ergonomic operating posture:

Operator can stand or work in front of the machine or sitting on a high chair.

Optimized workflow:

Once a filled section is detected, packaging is started immediately or a preset number of sections can be selected before a package is sealed by your speedpack.

Counting function:

The photo cell only counts filled sections. To count the product, place one item per conveyor section or count per package through each filled conveyor section filled with multiple products/kits.
Options
The following options are available to customize your Optimizer:
Height adjustment:

Optimizer adjusted to working height of Speedpack: 400 SPKH/SPKR Heatseal: WH 875 or 775 mm - 400 SPKH/ SPKR Impulse seal: WH 875 only.

Direction of conveyor:

Running from right to left (left to right is standard) - ETO (Engineered to order)

Product setup:

The Optimizer will be optimized to your product(s).

Packaging:

Protective packaging for transport.
Specifications
More specifications of the Audion Optimizer
Type of machine:

Sorting table with flighted discharge conveyor

Markets:

Electronics, parts, automotive, personal care, automotive, toys, hobby and handicrafts, healthcare
Explore our options
Customize your Table Optiweigh Counter to your needs
Working height:
The working height of the Optimizer will be adjusted to our Speedpack. Our account managers will advise you about the possible working heights of Speedpack in various versions.
ATBI Discharge Conveyor
Audion intermittent discharge conveyor belt to boost your packaging process.
Direction of conveyor:
If required the conveyor direction (standard from left to right) can optionally be running from right to left (on ETO basis).
Product setup:
In our factory a test is performed with your product(s) to program the most appropriate machine settings for optimal packaging quality.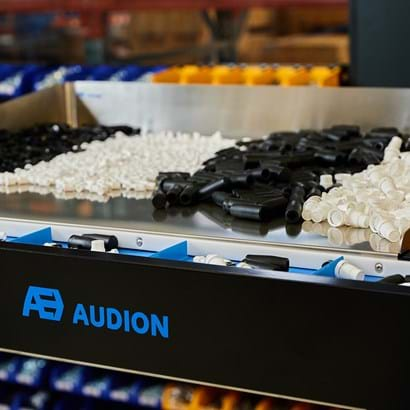 Lorem ipsum dolor sit amet