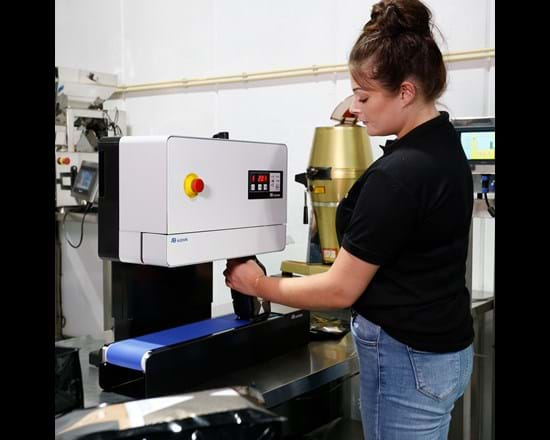 D 545 Bandsealer
The D 545 bandsealer is a flexible continuous bandsealer available in both vertical and horizontal design. Made in Germany, standing for high quality and durability. This band sealer has a temperature controller with a digital readout and includes an automatic cool down function. The integrated conveyor belt is adjustable accommodating larger products. The throughput speed of 10 meters/minute make the D 545 ideal for implementation in medium-duty packaging in food and non-food.
Product information
D 545
The D 545 series are Audion's most compact professional band sealers, made in Germany - when reliability matters!
D 545 AV Continuous vertical band sealer - to pack powdery or liquid products
Ready-made bags are sealed standing up, which is ideal for solid, powdery, or liquid products that would spill out lying flat. The sealing head is electrically adjustable in height (from the conveyor) to flexibly suit different sized bags.
Maximum bag length: 430 mm
Seal position: max. 45 mm between seal and top of the bag
D 545 AH Continuous horizontal band sealer - to pack narrow or flat products 
Ready-made bags are sealed lying flat, which is ideal for thin or flat products that cannot stand vertically and would fall over. The integrated conveyor belt is adjustable in height (to accomodate thin/thick packages) and can be pulled forward (up to 70 mm) for larger products (see photos). This convenient feature allows you to seal package batches of different sizes.
Almost all modern film types (including laminates) are effortlessly provided with a reliable, high-quality 10 mm seal.