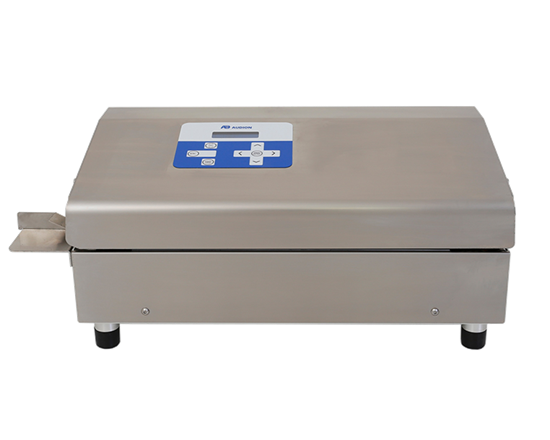 Contimed D 660
This tabletop stainless steel band sealer (non-validatable) seals PE, PP, PA/PE, header cards and other heat sealable alu laminate pouches. The D 660 produces a strong 9 mm seal and the digital LCD display facilitates adjustment of seal temperature and seal temperature alarm. Speed: 8 mtr/minute. Integrated cooling (for sealing PE). Compatible to DIN 58953-7.
Product information
Contimed D 660
This cost-effective rotary sealer offers high user convenience. The D 660 produces a 9 mm knurled seal with a throughput of 8 mtr/minute. An alarm on temperature can be set to ensure correct seal temperature. Seal temperature can digitally be adjusted up to 220°C with an accuracy of ± 1%. The D 660 integrates automatic seal pressure adjustment to adjust the seal to various film thicknesses (85N seal pressure).
The D 660 generates an excellent seal quality. Together with the durable easy-to-clean stainless steel housing, this rotary sealer offers a compact, cost-effective packaging solution for sealing PE, PP, PVC, multilayered pouches, medical bags (Tyvek®) or bags with header cards. 
For additional convenience you can expand the D 660 with accessories like a conveyor belt or roller table to support the products and optimize the packaging process. This keeps your hands free to directly feed the next pouch into the machine.
Advantages:
High level of user-convenience
Fast throughput-speed (8 mtr/min)
High-quality 9 mm knurled seal
Automatic seal pressure regulation
Energy saving cool-run function (to be initiated when production has completed)
Compatible to DIN 58953-7 and EN 868-5