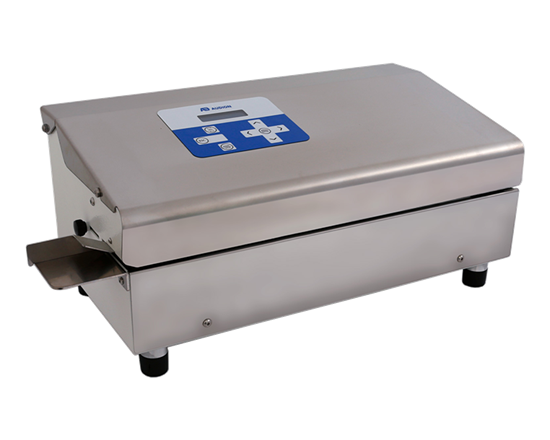 Contimed D 660 V
This validatable medical rotary sealer offers full control of all critical process parameters and conforms to validation requirements of ISO 11607-2 and its guidance ISO/TS 16775.  Full traceability of all critical process parameters is ensured by integrated USB port. An RS-232 serial port makes it possible to connect a label printer. The D 660 V produces a reliable 9mm high profile knurled seal, conform EN 868-5 and DIN 58953.
Product information
Contimed D 660 V
This validatable rotary sealer offers high user convenience. Alarms on seal temperature, seal pressure and speed can easily be set and monitored through the digital control panel. The USB port together with the RS-232 serial port allow for data recording and processing through USB and connection to label printer.
The D 660 V produces a reliable 9 mm high profile knurled seal and a throughput of 8 mtr/minute. Together with the easy-to-clean stainless steel housing, this rotary sealer offers a compact, cost-effective packaging solution for sealing PE, PP, PVC, multilayered pouches (PA/PE), medical bags (uncoated Tyvek®) or bags with header cards. An integrated cooling function is available for processing Polyethylene pouches. 
For additional convenience you can expand the D 660 with accessories like a motorized conveyor belt, roller table or work table to support the products and optimize the packaging process. This keeps your hands free to directly feed the next pouch into the machine.
Advantages:
Validatable (suitable to operate within the central sterile supply department CSSD)
Throughput-speed (8 mtr/min)
High profile 9 mm knurled seal
Automatic seal pressure regulation
Compatible to ISO 11607-2, ISO TS 16775, EN 868-5 and DIN 58953