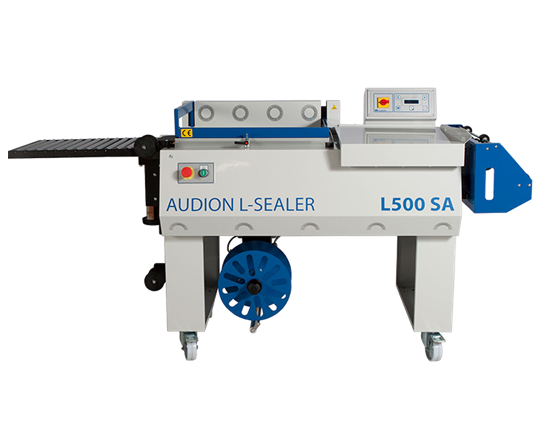 L 500SA
This semi automatic L-sealer can be used to pack your products in a fast, safe, and presentable way. Often used in combination with a TE-Matic shrink tunnel. Compared to the traditional L-sealers, the L series of Audion provide higher outputs as well as consistently strong seals. Possible to operate with polyethylene and polyolefin centrefold film.
Product information
L 500SA
The Audion L 500SA is a semi-automatic L-sealer equipped with an automatic pack discharge conveyor. The automatic seal cycle facilitates even greater productivity. Combine it with one of the Audion shrink tunnels and you are ready for the future. Packaging speed up to 1500 packs per hour*.
This reliable L-sealer offers your business high packaging capacity. It is equipped with a user-freindly LCD control panel. Not only you can store several programs to repeat the same packing cycle but you can also monitor and get machine information. This allows easy and accurate monitoring of all machine operations, such as the status of the machine and the number of packs produced by an electronic pack counter.
*The stated speed can change according to the product size, the pack collation and the type of film used.