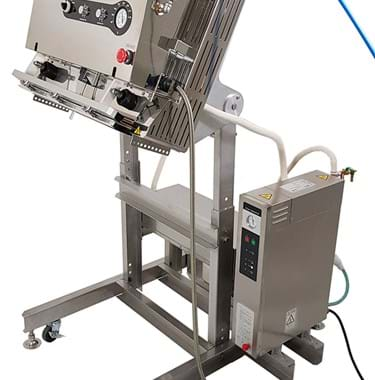 Products
Power Sealer EX
Explosion-proof steam impulse sealer for packaging in hazardous environments
Interested in our PSR EX?

We are more than willing to support you with your request or run a demo with your packaging
Steam sealer to safely pack explosion sensitive products
Audion Power Sealer EX (explosion proof)
A unique steam-driven impulse of sealer enabling bags to be sealed without electrical power supply. Instead, it uses pressurized steam to heat the sealing bars, hereby avoiding any rsk of ignition.
Safe operation:
This industrial steam sealer is equipped with an Air PLC controller on which you easily set the process variables. The sealing process is started by pressing the foot pedal, after which pressurized steam is supplied to the sealing bar. During the sealing process, the steam is brought under pressure in the sealing tube on the lower sealing bar. The sealing temperature corresponds to the pressure of the steam supply, ensuring your package to be safely sealed with a powerful 8 mm seal.
Optimized workflow:
The Audion Power Sealer EX optimizes your packaging process, as products no longer need to be moved from the hazardous area to a safe zone for packing, but can be safely packed at the production site. This reduces the required workspace and saves valuable production time.
Customized packaging solution:
This Audion packaging machine is configurable as "sealing-only' or vacuum sealer and as tabletop model or mounted on a convenient mobile support.
To sum up:
Explosion-proof steam powered sealer operating without electric supply
Available with vacuum system
Easy to operate Air PLC controller (seal time, vacuum time)
Convenient foot operation
Configurable with optional support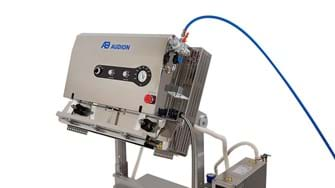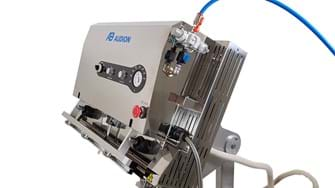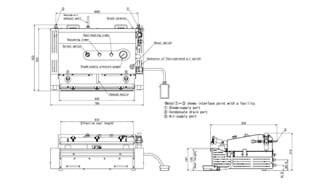 This makes your machine unique
We work together with you in providing the best quality packaging machines to help you grow your business
Providing safety and consistent high performance
The absence of a required power supply actively prevents the risk of (static) electricity sparking an explosion. The machine operates and heats its seal bar by means of pressurized steam instead.
Consistent high seal quality
With a constant steam pressure, the associated seal bar temperature is also constant. As a result, all seals are of equally high quality, even when sealing thick and/or laminated film types.
Tailored to your production requirements
This tabletop packaging solution can be configured for 'sealing only' or as a vacuum sealer. Vacuum sealing allows you to reduce the package size and prevents product movement inside the bag. If required, you can also mount the machine on an optional mobile support for extra flexibility.
Practically maintenance-free
This steam sealer features a stainless steel AISI 304 housing that is easy-to-clean. Since the mechanism is driven by pressurized steam, there are few wearing parts, making this device almost maintenance-free. When fitted with a vacuum system, only cleaning is sufficient.  
On-site preparations required for your Power Sealer EX
Before you can install your steam impulse sealer and benefit from an explosion-proof packaging solution, please take into account this steam sealer requires the following systems to properly function:
Steam pressure regulator - To adjust the pressure supply of pressurized steam to the sealer.
Pressure gauge - To check the pressure of pressurized steam at the interface point.
Steam separator to collect residual moisture
Steam supply valve - To stop the steam supply after a sealing cycle.
Bypass valve - To dispose of initial air and water left from the previous operation inside the piping and drain, etc.
Safety valve - Needed when primary steam pressure is more than 1.0 MPa.
If you do not (yet) meet the above requirements, please contact our  sales department for customized advice and available solutions.
Note: The steam generator shown on the picture (attached to the support) is for demonstration purposes only. Steam generators need to be installed outside the hazardous environment.
Benefits
The Audion PSR EX gives you the following benefits
Explosion-proof:

Operates without electrical supply - uses compressed steam instead.

Easy-to-maintain:

Stainless steel easy-to-clean housing and low maintenance required.

Saves production time:

Can pack your products directly within a hazardous environment.

Guaranteed product protection:

Constant steam pressure ensures a high-quality seal after each cycle.

Minimal operating training required:

Easy to operate Air PLC controller to set seal time / vacuum time and foot operated.
Options
The following options are available on the Audion PSR EX
Support:

Enables machine height and sealing angle adjustment.

Worktable:

Supports (heavier) bags to facilitate having both hands free during the sealing process.

Extended nozzle:

Extended nozzle 240 mm (only for 800 / 1000 VAC PSR EX ).

Steam pressure generator:

To be quoted based on your individual packaging requirements.

Piping system from steam generator to steam sealer:

To be quoted based on your individual packaging requirements.

Shipment packaging:

Protection for transportation.
Specifications
More specifications of the Audion PSR EX
Type of machine:

Steam sealer

Seal length:

610 mm / 800 mm / 1000 (mm)

Seal width:

8 mm

Seal system:

Steam impulse / single side seal

Vacuum system:

Vacuum ejector (VAC PSR EX models only)

Control system:

Air PLC controller (time and temperature controlled)

Pneumatic supply:

0.55 MPa

Steam supply:

0.3 – 0.8 MPa (depending on required sealing temperature)

Steam flow:

Over 10 kg/h

Vacuum time:

Approx. 1 – 20 seconds (VAC PSR EX models only)

Max. seal temperature:

Approx. 130 – 175 °C (Corresponding value from the saturated vapor pressure)

Heating time:

Approx. 1 – 20 seconds

Cooling time:

Approx. 3 seconds (fixed)

Compatible with:

Explosion zone 1 (class 1, division 1) zone 2 (class 1, division 2 and ATEX
Everything-under-one-roof, match the Power Sealer EX with Audion film
Click here
Explore our options
Customize your PSR EX to your needs
Vacuum Power Sealer EX
Enables to vacuum your products to reduce the overall package size and/or prevents movement of (sharp) products inside the bag that could damage the film
Ergonomic and flexible work posture
By mounting this tabletop steam sealer on a mobile support (optionally with a work table), you can adjust both the machine height and the sealing angle. This provides more flexibility to adjust the machine perfectly to your product and the operator's ideal working position.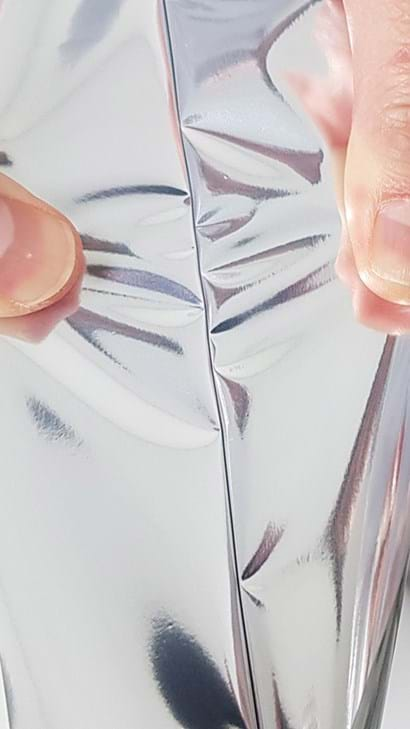 Discover our Power Sealer line:
This no-nonsense Power Sealer forms the solid basis of the renowned Power Sealer line. The outstanding 5 mm sealing performance is achieved by a pneumatic bi-active and time-controlled impulse sealing system. Standard vacuum feature integrated. Also available in Heat Seal configuration.
On top of the already outstanding performance of the Power Sealer, this model is validatable and generates an 8 mm temperature- and time controlled seal. The validation enables that critical seal variables like seal force, seal temperature and seal time are being controlled. 
The next step in the Power Sealer line is the Plus version. With its unique and most precise system of validation it meets todays' most stringent packaging requirements. 8 mm temperature- , time- and force controlled seal. Includes Audion Touch Techware.
Our flagship model in the Power Sealer line. Especially developed for dusty, humid or regulated (clean room) production environments. Highly advanced validatable impulse sealer. An 8 mm temperature-, time and force controlled seal. Includes Audion Touch Techware. Also available in Bag-in-box configuration.
The Power Sealer XL has the largest sealing length of the Power Sealer range. With a sealing length up to 2500 mm it can effortlessly provide your largest products with customized packaging or protective covers by means of an 8 mm seal. Optional validation: temperature-, time- and force controlled sealing. Also available in Bag-in-box configuration.
Unique steamsealer enabling bags to be sealed without electrical power supply. Instead, it uses pressurized steam to operate. suitable for explosive environments. 8 mm temperature controlled seal.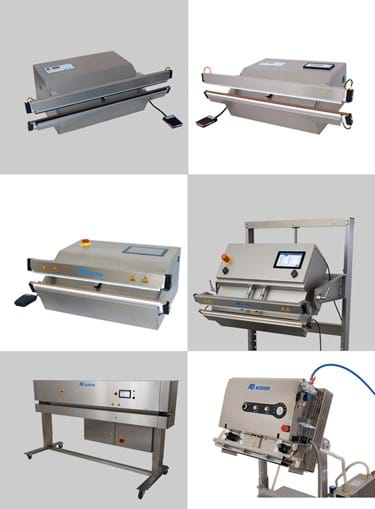 Let's have a chat
Do you want to know what the Audion PSR EX can offer for your company? Please feel free to contact us as we are looking forward to exploring together which packing solutions benefit you most.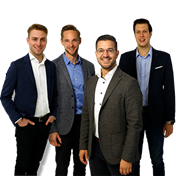 International Sales
Audion