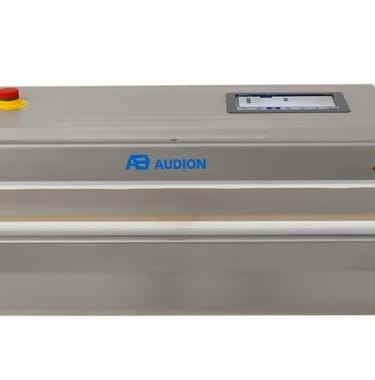 Products
Power Sealer PLUS
World's most advanced validatable impulse sealer - when ultimate control of critical seal parameters is of paramount importance 
Interested in the Audion PSR PLUS?

We are more than willing to support you with your request or run a demo with your packaging
When it comes to most precise validation, the PLUS is unmatched!
Discover our Flagship Power Sealer PLUS: a pneumatic bi-active impulse sealer with excellent and worry-free performance. Unique and accurate seal validation control software is integrated. The in-house designed Audion Touch Techware meets the most stringent packaging requirements in pharma and medical markets.
Power Sealer PLUS ensures the highest level of seal integrity: precise control of all critical seal parameters with most accurate tolerance measurements. This ensures each seal to be 100% reliable even during intensive use. Alarms can be set when seal temperature, seal force, effective seal time or cooling time come beyond tolerance. 
The user-friendly Audion Touch Techware integrates the advanced Audion Temperature Controller and a clear HMI touchscreen for pre-setting 50 recipes and precise control of the critical seal parameters. Batch and cycle information can be stored and downloaded.
The Power Sealer PLUS stands for an uncompromised packaging experience. Audion designed various specific options to finetune this impulse sealer to your specific packaging environment.
Your Power Sealer PLUS advantages:
World's most accurate and precise validation compared to other validatable sealers in the market
Optimization of your production workflow by means of a user-friendly HMI control panel
Independant control of all critical process parameters
All our PLUS series impulse sealers are compatible with EN 868-5 and DIN 58953, part 7 norms. Our PLUS series impulse sealers also fully comply with the ISO 11607-2 and ISO/TS 16775
Maximizing your output with minimum production failures/waste
Foot pedal activation
Excellent customer service available for both certified (re)-calibrations and delivery of most (wearing) parts directly from stock.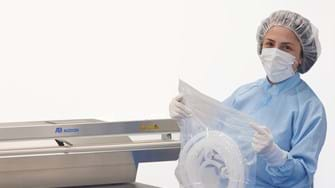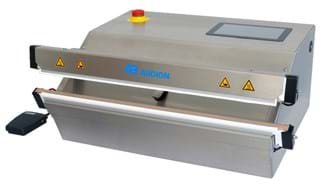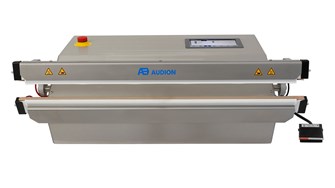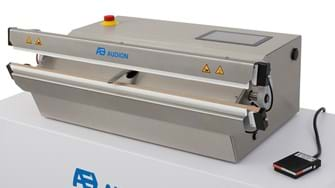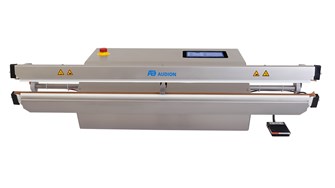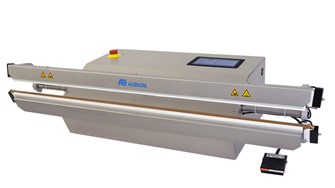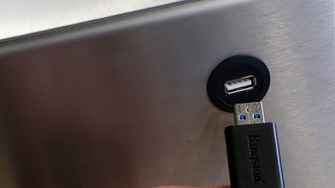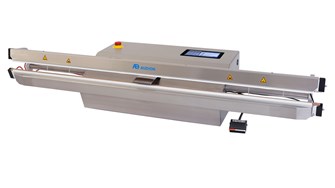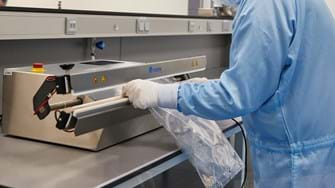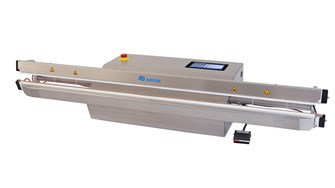 This makes your machine unique
We work together with you in providing the best quality packaging machines to help you grow your business
Richly equipped as standard
The robust stainless steel housing, solidly mounted sealing bars and Audion Touch Techware make this packaging solution the most advanced tech magic in its class, reaching the highest degree in validation and seal integrity.
Combine user-friendliness with ultimate control
Ultimate quality assurance of every seal, easily monitored and controlled on the HMI Touchscreen. Most precise and accurate control of all critical seal parameters, including alarm functions and data logging. 
Wide selection of options for the best fit
From the wide experience in medical and pharma market we innovated an extensive list of options to customize your Power Sealer to the ultimate fit to your product and packaging environment.
Ergonomic packaging
Do you prefer a tabletop model or the Power Sealer being mounted on a mobile support? By mounting the Power Sealer on the sturdy stainless steel mechanical or motorized support you ensure yourself of an optimized packaging posture. Adjustable height of the sealer can be set in the sealer's recipe (motorized support).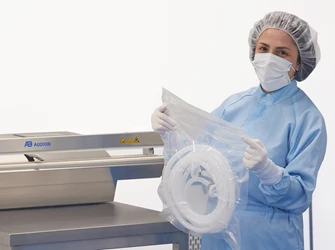 Heavy duty sealer with 8 mm seal and integrated Audion Touch Techware.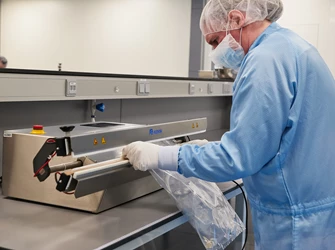 The Power Sealer Plus is designed for packaging in the medical, pharmaceutical or high tech industry.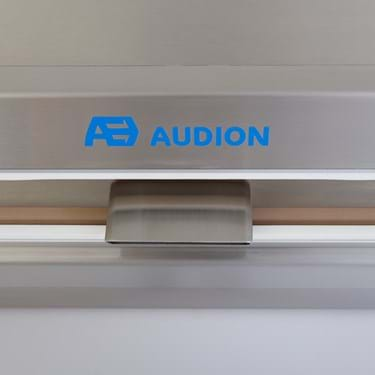 An integrated Vacuum and/or Gas flush system
All Power Sealer PLUS models can be configured for 'sealing only' or with an integrated vacuum system.
Audion's Vacuum Power Sealers PLUS are equipped with a venturi pump enabling a powerful vacuum result which is ideal for operating in a continuous packaging process and reduces production time. The venturi pump is virtually maintenance free (operating without oil).
The vacuum system can be combined with gas flush to create modified atmosphere packaging (MAP) which apart from enabling the best possible presentation also extends the shelf life of food products, sterilizes medical equipment and minimizes the change of metals oxidizing when packaging e.g. print plates. 
An integrated vacuum system can be used for:
Volume reduction of the package to save storage and shipment costs
Applying a modified atmosphere (MAP) to extend the shelf-life of food products
Prevention of oxidation of, for example, printed circuit boards or other delicate products.
Benefits
The Power Sealer PLUS gives you the following benefits
Most advanced validation:

The validation function integrated in the Audion Touch Techware ensures the highest accuracy of validation. It most precisely monitors and controls all critical sealing parameters: seal temperature, seal time and seal force (precisely measured by 1N). Tight tolerance settings make PSR PLUS unmatched when compared to other packaging solutions.

Powerful 8 mm seal:

The solid bi-active pneumatic sealing bars effortlessly seal most modern film types and can be adjusted to handle thicker bags or bags with side gussets if needed.

Consistent seal quality:

Audion Temperature Control system integrated, ensuring consistent seals even during intensive operation.

Data transfer:

The USB port enables you to download batch information of critical seal-parameters

Protected seal cycle:

No errors can be tolerated. Therefore an integrated 3 level log-in (operator, supervisor and administrator protected seal cycles) comes standard in the Power Sealer PLUS.

Full efficiency:

The Audion Touch Techware helps you to minimize errors, minimize waste & maximize your productivity and cost saving

Quick set for every product:

Quickly adjust to other product/film types and dimensions by means of stored recipes (max. 50 recipes)

Easy to maintain:

Wearing parts are easily replaced and widely available. The stainless steel covering facilitates hygienic convenience.
Options
The following options are available on the Power Sealer PLUS
Optimized vacuum and gasflush:

Integrated vacuum/gasflush system with various nozzle, powder/liquid filter, pumps (Venturi 11 m³ / 20 m³ or side channel pump 85 m³ (Busch)) and exhaust options.

Automatic height adjustment during the vacuum process:

Provides better seal and vacuuming results when packing large bags. The machine automatically descends during the vacuum process, preventing tension on the bag and allowing vacuuming closer to the product.

Configurable seal bars:

Various seal bar configurations like twin seal, 10 mm seal, 5 mm seal, silver plated sealwire etc. to make the best fit to your product/film type.

Bag stretchers:

Bag stretchers ensure that the bag is stretched, to prevent folds in the seal.

Cleanroom solutions:

Various clean room solutions are available to optimize a safe and clean packed product e.g. silicone poor machine, ESD, external exhaust options etc.

External control box:

Provides the ability to control the machine externally (e.g., for use of the PSR PLUS IP65 in a cross-flow cabinet).

Hygiene & visual presentation solutions:

Cutting device, partical ejection system and quick cleaning system for powder filter etc.

(Motorized) mobile support:

To optimize sealing height, sealing angle and maximize ergonomic advantages. Various extra product support options available. When operating the electrical support the sealing height can be set in the sealer's recipe.

Heavy Venturi pump:

When using larger bags, a more powerful pump will improve the vacuum capacity. When mounting the larger pump, the piping, valve and hosing in the machine will also be adjusted.

External Venturi Pump:

Mounted on support frame or attached to machine body (backside). Prevents contamination of the interior of the machine and allows easy access for cleaning purposes.

High capacity side channel Busch pump:

Provides a high suction capacity (85 m³/h) ideal for extra large bags and/or vacuum packaging powders. Powerful and fast vacuuming of a big air volumes in a short time span and a low vacuum level end result. Optional ATEX-certified version available.

User level administration:

User level registration, access rights and user registration can be protected by passwords to keep full control over the seal integrity of your packing processes.

Calibration service:

Audion provides calibration services for our validatable sealers. The critical process parameters (seal temperature, seal force, seal time/speed, etc.) are measured with traceable measuring devices and a calibration certificate will be issued.

IQ / OQ:

The purpose of the Installation Qualification and Operational Qualification is to establish documented evidence that the packaging equipment is correctly installed, operates according to requirements, and performs safely.

Water cooled sealing bars

Faster cooling of the seal bars which shortens the seal cycle for a higher production quantity and improved seal quality.

Thick film configuration:

Special rubbers and machine adjustment to ensure an optimal seal pressure even for thicker films.

Set of wearing parts:

Convenient set for quickly replacing the PTFE, rubber and seal wire to do easy maintenance. To guarantee an optimal sealing result, also after regular use.
Specifications
More specifications of the Audion Power Sealer PLUS
Seal length:

520, 720 1020 and 1320 mm

Seal width:

8 mm

Validation feature:

Seal force, seal temperature and seal time can be monitored, controlled, built-in alarm function, unmatched and most precise and accurate tolerances

Film thickness:

2 x 20 micron - 2 x 300 micron

Audion Touch Techware:

High-end validation software with integrated Audion Temperature Controller (ATC), uniquely designed by Audion to meet the most stringest requirements in validatable packaging environments

Operation:

Digital control panel, touchscreen HMI, 50 recipes

Type of seal:

Temperature-, time- and force controlled impulse seal

Seal recipes:

Up to 50 recipes can be stored (including machine height when combined with motorized support)

Data logging:

Batch information of critical seal-parameters can be downloaded (USB stick)

Foot operation:

Yes

Configurable to customer specific requirements:

Yes

Film type:

Suitable for sealing various modern film types including thick films and special laminates

Covering:

Stainless steel covering AISI 304

Classification:

2006/42/EC Machine Directive, 2014/30/EU EMC-Directive; RoHS 2011/65/EU, 2015/863; EN-ISO 11607-2, EN-ISO 12100, EN-ISO 4414, EN-ISO 14118, EN-IEC 60204-1
Everything-under-one-roof, match the Power Sealer TC with Audion film
Click here
Explore your options
Customize your Validatable Power Sealer PLUS to your unique requirements
Tailored packaging solution
Whether you are packing delicate products, food or you are packing products in a cleanroom, Audion customizes your Power Sealer to the requirements of your industry to ensure a safe , ergonomic and most efficient production (such as exhaust options or an electrostatic discharge function).
Audion (re)-calibration services
A professional calibration of your machine being executed in our factory by our certified team of engineers. During calibration the critical process parameters (seal temperature, seal force, seal time/speed, etc.) are measured with traceable measuring devices giving you the guarantee of the highest standards of seal integrity for your customers. A calibration certificate will be issued.
Optimized configurable frame
A robust and configurable frame is available to optimize sealing height (infinitely adjustable), sealing angle and maximize ergonomic advantages. Various extra product support options available. When operating the electrical support the ideal sealing height for each product can be set in the sealer's recipe.
Maximized control and monitoring
In addition to all critical seal parameters, user-level registration can also be provided. For example, access rights and employee registration can be protected by passwords to keep full control over the seal integrity while minimizing production errors.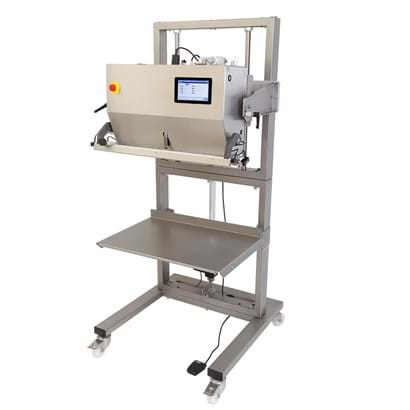 Discover our Power Sealer line:
This no-nonsense Power Sealer forms the solid basis of the renowned Power Sealer line. The outstanding 5 mm sealing performance is achieved by a pneumatic bi-active and time-controlled impulse sealing system. Standard vacuum feature integrated. Also available in Heat Seal configuration.
On top of the already outstanding performance of the Power Sealer, this model is validatable and generates an 8 mm temperature- and time controlled seal. The validation enables that critical seal variables like seal force, seal temperature and seal time are being controlled. 
The next step in the Power Sealer line is the Plus version. With its unique and most precise system of validation it meets todays' most stringent packaging requirements. 8 mm temperature- , time- and force controlled seal. Includes Audion Touch Techware.
Our flagship model in the Power Sealer line. Especially developed for dusty, humid or regulated (clean room) production environments. Highly advanced validatable impulse sealer. An 8 mm temperature-, time and force controlled seal. Includes Audion Touch Techware. Also available in Bag-in-box configuration.
The Power Sealer XL has the largest sealing length of the Power Sealer range. With a sealing length up to 2500 mm it can effortlessly provide your largest products with customized packaging or protective covers by means of an 8 mm seal. Optional validation: temperature-, time- and force controlled sealing. Also available in Bag-in-box configuration.
Unique steamsealer enabling bags to be sealed without electrical power supply. Instead, it uses pressurized steam to operate. suitable for explosive environments. 8 mm temperature controlled seal.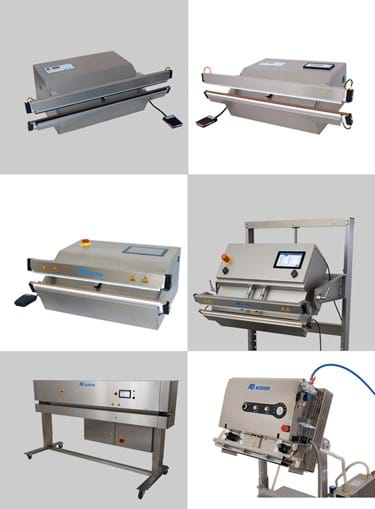 Let's have a chat
Do you want to know what the Audion Power Sealer PLUS can offer for your company? Please feel free to contact us as we are looking forward to exploring together which packing solutions benefit you mos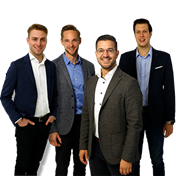 International Sales
Audion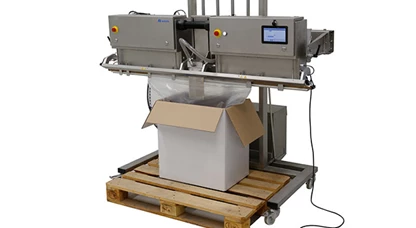 Vacuum Power Sealer PLUS IP65 Bag-in-box
For bag-in-box packaging operations that require complete quality control, high sanitation and excellence in vacuum results
Seal width:

8 mm

Seal length:

1720 mm

Type of seal:

Temperature-, time-, and pressure controlled impulse seal

Powered:

Pneumatic (air)

Operating:

Touchscreen /50 pre-set recipes

Validatable:

Yes

Vacuum & gas flush system:

Yes, standard

Compatible with:

EN 868-5 / DIN 58953 / part 7 norms / ISO 11607-2 / ISO/TS 16775

Accuracy:

++++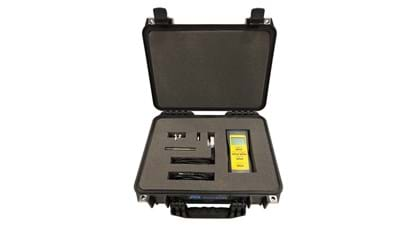 Audion Force Measurement Ring
Device to verify the sealforce on Power Sealer, MSIDV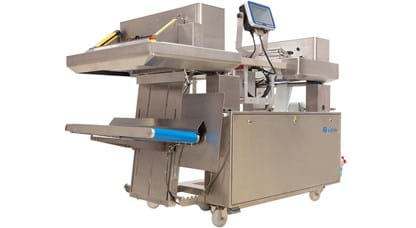 Speedpack 400 High Speed Medical
Validatable medical stainless steel bagger creating sterilization bags of any length at exceptional speed
Type of machine:

Floor standing

Seal length:

50 – 400 mm

Type of film:

Tubular film/ bags-on-roll

Cycling speed:

up to 20 bags/minute (tubular)

Bag length:

110 - 800 mm

Powered:

Pneumatic air