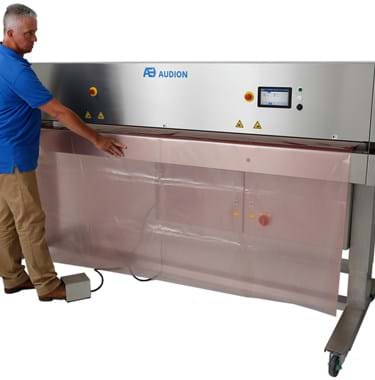 Products
Power Sealer XL
The XL Power Sealer Beast designed for making long and controlled hermetic seals
Interested in our Power Sealer XL?

We are more than willing to support you with your request or run a demo with your packaging
When product size and seal quality are a challenge
The robust Power Sealer XL is designed to make hermetic 8 mm seals up to 2500 mm length without any concession to seal integrity. Ideal for protecting your largest products with protective film covers to ensure a safe and secure storage or transport within the supply chain.
This pneumatically operated Power Sealer XL seals most modern film types like PE, aluminum laminated and antistatic film types up to 400 micron. The integrated temperature controller ensures that every seal is made at the same temperature, creating the same reliable seal result, even during intensive operation.
Available in 2 models: PSR XL and PSR XL PLUS (fully validatable: sealing process parameters are monitored for deviation making this an ideal machine for medical, pharma, and other critical packaging applications.)
The optional vacuum system (standard equipped with a powerful and almost maintenance-free 20m3 Venturi pump) is ideal for applications requiring vacuum or modified atmosphere packaging (MAP) of bulk products. This also enables you to minimize the package size and transport/storage costs and to optimally preserve and prolong the quality of your products.
Your Power Sealer XL benefits:
Well suited for sealing extra long film lengths of custom bags and protective coverings
Large seal opening (45 mm)
Temperature controlled sealing ensuring consistent seal results
Audion Touch Techware integrated: to set up to 50 recipes for each different product /film combination
Suitable for integration in validated processes (XL PLUS)
Excellent Audion services available for both certified (re)calibrations, maintenance and spare parts.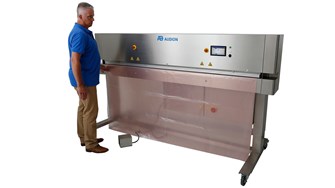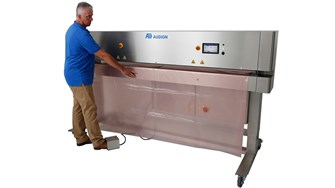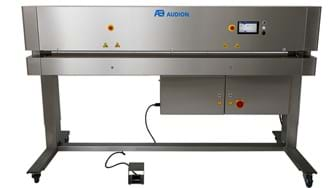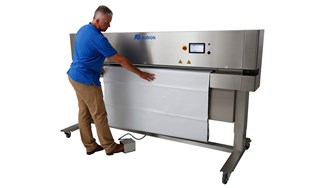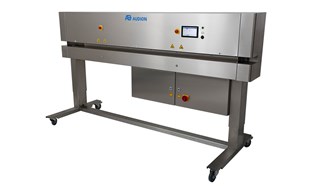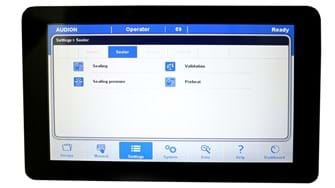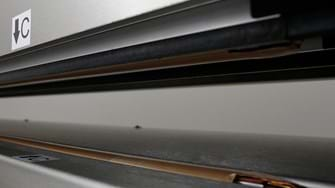 This makes your machine unique
We work together with you in providing the best quality packaging machines to help you grow your business
Guaranteed ultimate seal integrity
Extra long bi-active sealbars produce a consistent 8 mm seal over the entire lenght of up to 2500 mm.
Robust and user-friendly by design
Special heavy-duty construction to facilitate intensive use and ultimate performance and reliability.
Uniquely embedded technologies
When combined with validation option, sealing temperature, sealing time and seal force can be controlled, monitored and recorded, realizing a seal integrity of 100%.
Minimizes transport costs and storage space
Extra powerful Venturi pump integrated within the optional vacuum system creating a perfectly fitted protection for your product(s) and reduces the package size.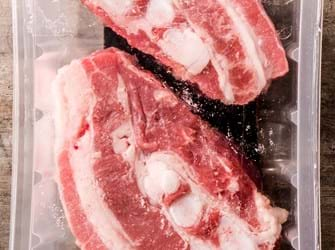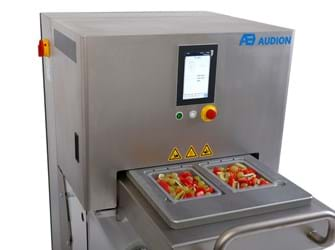 Instruction video how to change molds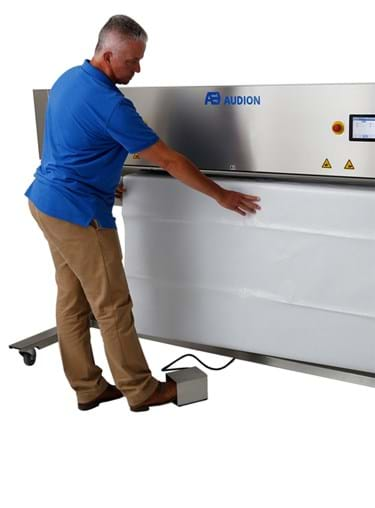 An integrated vacuum and/or gas flush system
Both PSR XL and PSR PLUS XL can be configured for "sealing only" or with an integrated vacuum system.
The Audion Vacuum Power Sealer (PLUS) XL is equipped with a 20m3 Venturi pump and extra wide vacuum nozzle enabling a powerful vacuum result, ideal for operating in a continuous packaging process, reducing production time. The pump is virtually maintenance free (operating without oil). 
The vacuum system can be combined with gas flush to create modified atmosphere packaging (MAP). The gas flush system ensures safe and quality-controlled packaging of all kinds of products, enabling extended shelf life of food and non-food products and actively prevents the change of metals oxidizing of e.g. electric equipment and devices. 
An integrated vacuum system can be used for:
Volume reduction of the package to save storage and shipment costs
Applying a modified atmosphere (MAP) to extend the shelf-life of food products
Prevention of oxidation of, for example, electrical appliances and metal parts
Benefits
The Audion Power Sealer XL gives you the following benefits
Powerful 8 mm seal:

Suitable for sealing most modern film like PE, anti-static film (to make reliable (extra large) bags and sleeves).

Excellent seal integrity:

The pneumatic bi-active sealing bars produce a powerful and evenly distributed seal pressure at each sealing cycle to ensure a hermetic seal, even during repetitive use.

Protected seal cycle:

No errors can be tolerated. Therefore an integrated 3 level log-in (operator, supervisor and administrator protected seal cycles) comes standard in the Power Sealer XL.

Optimized output:

Large lengths of film can be efficiently sealed at once, reducing production time and providing a representative and reliable protection of your products.

Most advanced validation:

The optional validation function that is integrated in the Audion Touch Techware reaches the highest degree of validation. It most precisely monitors and controls all critical sealing parameters such as seal temperature, seal time and seal force (precisely measured by 1N). Tight tolerance settings make Power Sealer PLUS XL unmatched when compared to other XL packaging solutions.
Options
The following options are available on the Audion Power Sealer XL
Integrated vacuum / gasflush system:

Reduces package size and/or preserves and extends the shelf life of food or erosion-sensitive products using a virtually maintenance-free powerful built-in 20m3 Venturi pump (if needed in combination with MAP)

Pneumatic cutting device:

Enables you to remove the rest film above the seal preventing contamination inside the bag opening

Barcode scanner:

Allows you to quickly scan the ideal seal parameter recipe when sealing different film types / thicknesses

Calibration certificate by Audion:

Performed by skilled Audion service engineers in our in-house calibration facility (only available for Power Sealer PLUS XL models)

Set of wearing parts:

Convenient set for quickly replacing the PTFE, rubber and seal wire to do easy maintenance. To guarantee an optimal sealing result, also after regular use.
Specifications
More specifications of the Audion Power Sealer XL
Seal length Power Sealer XL:

2500 mm

Seal width:

8 mm

Easy-to-operate Audion Touch Techware:

Equipped with integrated Audion Temperature Controller (ATC)

Critical seal parameter recipes:

Up to 50 recipes can be stored

Downloadable batch information:

Batch information of critical seal-parameters can be downloaded (USB stick)

Foot operation:

Yes

Configurable to customer specific requirements:

Yes

Film type:

Suitable for sealing various modern film types including thick films and special laminates

Covering:

stainless steel covering

Classification:

2014/35/EU Low Voltage Directive, 2006/42/EC Machine Directive, 2014/30/EU EMC-Directive, RoHS 2 2011/65/EU Directive; EN-ISO 11607-2, EN-ISO 12100, EN-ISO 4414, EN-ISO 14118, EN-IEC 60204-1
Everything-under-one-roof, match the Power Sealer XL with Audion film
Click here
Explore our options
Customize your Power Sealer (PLUS) XL to your needs
Optimized Vacuum / Gasflush process
Integration of a venturi vacuum system will enable you to reduce voluminous packaging or extend the shelf life of food or erosion-sensitive products.
Extra seal comfort
A convenient work table supports the weight of longer (slim) objects, leaving the operator's hands free to guide the film straight between the seal bars.
Audion (re)-calibration services
Professional calibration combined with excellent factory machine to calibrate your new or operational validatable sealer and guarantee the highest standards of seal integrity for your customers.
Ultimate hygiene & visual presentation
A pneumatic cutting device is recommendable to minimize dirt or dust inside the bag opening. The residual film above the seal will be cut in this way, creating a nice, clean and straight appearance.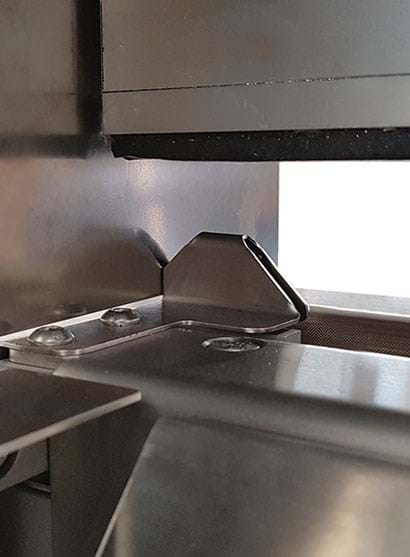 Discover our Power Sealer line:
This no-nonsense Power Sealer forms the solid basis of the renowned Power Sealer line. The outstanding 5 mm sealing performance is achieved by a pneumatic bi-active and time-controlled impulse sealing system. Standard vacuum feature integrated. Also available in Heat Seal configuration.
On top of the already outstanding performance of the Power Sealer, this model is validatable and generates an 8 mm temperature- and time controlled seal. The validation enables that critical seal variables like seal force, seal temperature and seal time are being controlled. 
The next step in the Power Sealer line is the Plus version. With its unique and most precise system of validation it meets todays' most stringent packaging requirements. 8 mm temperature- , time- and force controlled seal. Includes Audion Touch Techware.
Our flagship model in the Power Sealer line. Especially developed for dusty, humid or regulated (clean room) production environments. Highly advanced validatable impulse sealer. An 8 mm temperature-, time and force controlled seal. Includes Audion Touch Techware. Also available in Bag-in-box configuration.
The Power Sealer XL has the largest sealing length of the Power Sealer range. With a sealing length up to 2500 mm it can effortlessly provide your largest products with customized packaging or protective covers by means of an 8 mm seal. Optional validation: temperature-, time- and force controlled sealing. Also available in Bag-in-box configuration.
Unique steamsealer enabling bags to be sealed without electrical power supply. Instead, it uses pressurized steam to operate. suitable for explosive environments. 8 mm temperature controlled seal.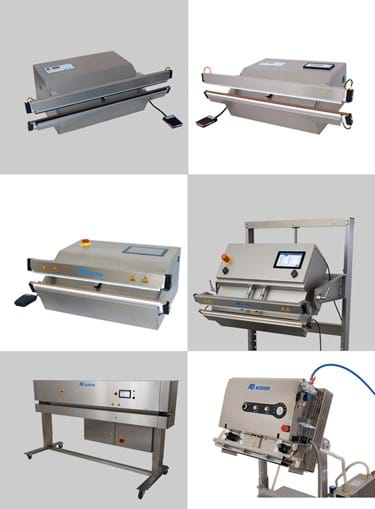 Let's have a chat
Do you want to know what the Audion Power Sealer XL can offer for your company? Please feel free to contact us as we are looking forward to exploring together which packing solutions benefit you most.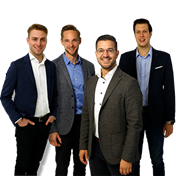 International Sales
Audion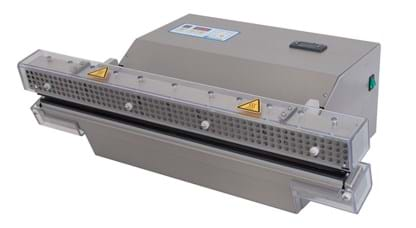 Power Sealer HS
Powerful industrial constant heat sealer for heavy duty applications
Seal width:

12 mm - crimped

Seal length:

720 mm

Type of seal:

Heat seal

Powered:

Pneumatic air

Operating:

Digital control panel/ 9 pre-set seal time recipes

Validatable:

No

Vacuum and Gasflush system:

Yes

Compatible with:

EN-ISO 12100: 2010 / 4414:2010 / 14118:2018; EN-IEC 60204-1:2018

Accuracy:

++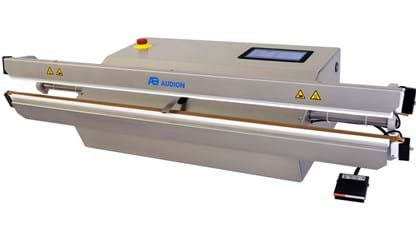 Power Sealer PLUS
High-end industrial validatable impulse sealer designed for most critical and heavy duty packaging applications
Seal width:

8 mm

Seal length:

520 | 720 | 1020 | 1320 mm

Type of seal:

Temperature-, time- and pressure controlled impulse seal

Powered:

Pneumatic (air)

Operating:

Touchscreen /50 pre-set recipes

Validatable:

Yes

Vacuum & gas flush system:

Yes, optional

Compatible with:

EN 868-5 | DIN 58953 | part 7 norms | ISO 11607-2 | ISO/TS 16775

Accuracy:

++++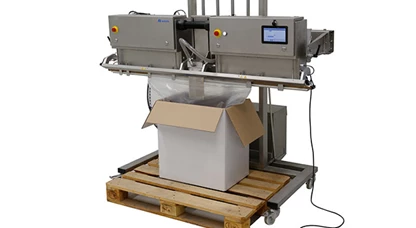 Vacuum Power Sealer PLUS IP65 Bag-in-box
For bag-in-box packaging operations that require complete quality control, high sanitation and excellence in vacuum results
Seal width:

8 mm

Seal length:

1720 mm

Type of seal:

Temperature-, time-, and pressure controlled impulse seal

Powered:

Pneumatic (air)

Operating:

Touchscreen /50 pre-set recipes

Validatable:

Yes

Vacuum & gas flush system:

Yes, standard

Compatible with:

EN 868-5 / DIN 58953 / part 7 norms / ISO 11607-2 / ISO/TS 16775

Accuracy:

++++