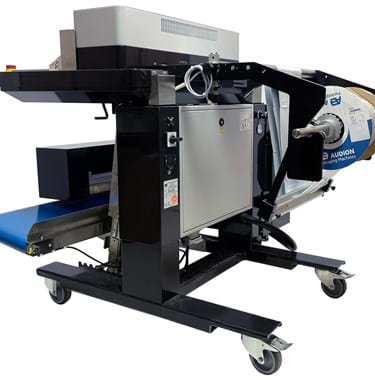 Products
Speedpack 400 Bags-on-roll
Realize growth by optimizing labour and warehouse space
Interested in our Speedpack Bags-on-Roll solution?

We are more than willing to support you with your request or run a demo with your packaging.
Speedpack Bags-on-Roll to boost your output
Now everybody can pack fast in less warehouse space! With Speedpack Bags-on-Roll it is easy. Reduce the number of manual packing stations and increase your throughput velocity by 5x. Every company benefits Speedpack.
This bagger operates from SpeedBags or (pre-opened bags on roll) and features a compact design. It is assembled with high quality off-the-shelf components and it is designed to withstand rigorous manufacturing environments and maximize uptime.
The 7"colour touchscreen features a user-friendly interface with clear prompts. The sophisticated PLC accomodates job storage, batch counting, packaging statistics and log-in levels. 
Start to operate the Speedpack and give a boost to your productivity, and profitability.
Speedpack can be customized up to your local manufacturing environment. Various options are available to optimise and automate your packagfing process.
The many advantages of the Speedpack Bags-on-Roll open up interesting opportunities to increase your efficiency in many ways.
Reduce filling and packing time
Increase your productivity and profitability
Cycle speed up to 60 bags/minute
Wide customizing options available for your product
No operating experience level necessary
User-friendly, ease of use
Various printing and labelling options
Stop waiting and start packing.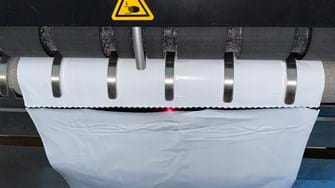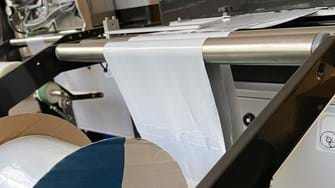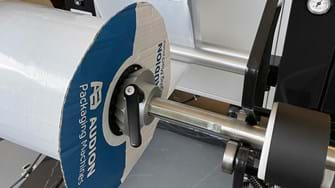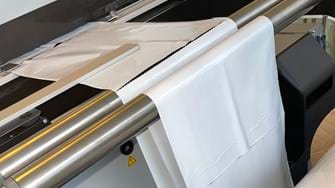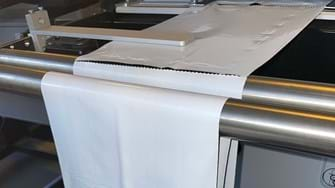 Why Speedpack Bags-on-Roll suits your business...
Maximize your uptime with this fast compact packaging machine.
Fast, Flexible and always a Fit
By integrating a Speedpack into your process, you know that you can immediately benefit from a wide range of options such as a printer, conveyor or various funnels for loading your products. This means that this speed beast can always be configured to fit seamlessly into your packaging process.
1,2,3 Ready (made-SpeedBags)
Start-up and start packing. This machine is designed to set up high volumes in no-time, whether you run batches or uniquely labelled bags. It boosts your output and increases revenue. This Bags-on-Roll version is popular because of the processing speed which is high as it runs from per-opened bags on roll (SpeedBags).
Custom Made for Every Process
Pack your products easy, fast and with the planet in mind. With Speedpack you can. To fit almost all processes the Speedpack family is equipped with a wide variety of options to choose from. The innovative technology inside, together with the 7"color touchscreen with user-friendly interface helps you to pack with extra speed. And when special wishes are required, we are more than happy to design your custom made option. At Audion we love to solve your challenges
Available from Stock
Speedpack Bags-on-Roll increases your productivity together with the handy ready-made SpeedBags. Besides the versatility of Speedpack, operating SpeedBags also has its advantages: SpeedBags are competitively priced and available in several sizes and versions such as clear film, recycle material film, duplex film or mailer film. From now on you will never miss anything again.
Maximize your Product Protection Process
Your products are worth caring for. At Audion we know, getting your product fast and undamaged at your customers is your first priority. 
Speedpack Bags-on-Roll models are a rough diamond. They are designed to operate in rigorous manufacturing environments, under heavy duty circumstances. And at the same time they create your perfect package with care and in high quality.
Speedpack Bags-on-Roll is exclusively designed for pre-opened Bags on roll
Designed to speed up the packaging process
Built with our planet in mind
Equipped with a wide variety of (standard) safety options
Optimization of existing labour and work space
Designed following Audion's ongoing innovation 
A real positive impact on your cost efficiency
Wide variety of bag presentation options
How can we help you boost your business?
Let's get in contact.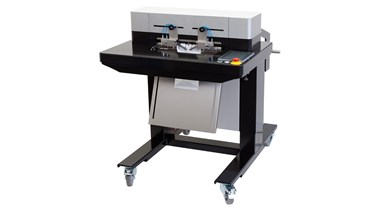 Benefits
Working with Speedpack Bags-on-Roll creates the following benefits
More speed, less downtime, increased output:

Big and small products are packed faster and easier with the ready-made SpeedBags. Getting things done in less time keeps you up and running to grow your business.

Clear 7" color touchscreen:

Our in-House designed and programmed color touchscreen helps you to navigate quick and clear, storing the ideal recipes (max. 50) for each product batch. Featured with built-in self-help diagnostics .

Innovative technologies - Happy people:

Satisfied staff and returning customers who give your company a positive boost. Simply by working with patented and proven efficient machines like Speedpack. Say no to worry. This is the easy, safe and new golden standard of packaging.

High-end PLC:

The integrated PLC accomodates job storage, batch counting, packaging statistics, log-in levels and a built-in seal-help diagnostics for troubleshooting.

Your new best friend:

Speedpack Bags-on-Roll is budget friendly, user friendly and nature friendly. You win in every way!

Wide availability of SpeedBags:

Our home-made SpeedBags converter guarantees the supply of bags for your Speedpack.

Get noticed, take the lead:

Only the best is good enough. Show who you are and what you stand for by using an Audion Speedpack, designed from high-quality components only. Environmentally friendly (packaging) materials customized to your needs.

High connectivity:

Interface port to integrate counters, scales and robotics.

Compact and mobile design:

The compact body has only a minimal footprint in the packaging area, is easy to maneuver and ready to be placed in almost every place.

Attractive pricing and fast ROI:

Increasing output, more revenue and fast ROI making the Speedpack Bags-on-Roll very attractive.
Options
The fastest and easiest way to fill and seal with ready-made SpeedBags is only one push away. Speedpack Bags-on-Roll.
Easy Load System:

The easy load clamps hold your bag wide open, so you can fill easy and fast. Especially recommended for wider bags.

Discharge and Transportation:

Ease the workload of your employees by adding discharge and conveyor belts to your machine.

Connectivity en Communication Sensors:

Choose a handshake or other innovative technology options to work with feeding-, robot arms or conveyor systems.
Making it possible to help you to get your package to its next destination. Suits also within your existing system.

Funnels / Hoppers:

This stainless steel funnel is attached to the Speedpack and guides the product into the bag. It can be used for manual and automatic filling. Various sizes and shapes are available.

Print and Labelling:

Printing directly on the bag via thermal printer, or applicating a printed label. There are several options available to stand out from your customers or to meet product information requirements.

Automatic product detection:

A product detection sensor detects the product falling into the bag, activating the seal bar to close and seal the bag.

Air expeller:

For removing excess air out of the bag before sealing.

Extra safety options:

A light curtain or dual touch start button is available to optimize operator safety.
Specifications
With Speedpack Bags-on-a-roll, you can work faster and more easily with a (semi-)automatic packaging machine than ever before. Let's explore some of the specifications. 
Film Type:

Ready-made SpeedBags / Pre-opened bags on roll

Cycling speed:

Up to 60 bags/minute

Bag width:

50 - 400 mm

Bag length:

110 - 800 mm

Opening between sealing bars:

150 mm

Thickness of film:

40-125 micron

Working height:

875 mm (adjusted height is possible and optional)

Recipe storage:

Max. 50 recipes

Dimensions (L x W x H):

1100 x 900 x 1100 mm / with roll: 1275 x 845 x 1065 in highest position

Branche/Application:

Backery, Cheese, Coffee & Tea, Food, Fruit & Vegetables, Industrial Parts, Meat & Poultry, Office Supplies, Packaging & Logistics, Pet Food, Shop, Accessory packaging, Automotive, Fasteners, Household products, Pet products, Toys

Required external air pressure:

6 bar

IP value:

IP20

Voltage:

230 V-1ph-50 /60 Hz (different voltages available)

Consumption:

3000 W

Directives/norms:

EMC Directive, Standards 2006/95/EC, 2004/108/EC, EN-ISO-12100
Everything-under-one-roof, match the Speedpack 400 with Audion film
Click here
Explore your Options
Customize your Speedpack Bags-on-Roll packaging solution. Make it work to fit your process. At Audion we are always willing to help and advise you.
More Models and Versions - Hybrid and Stainless Steel
Speedpack is available in several versions. Besides this fast bagger, Audion has also designed a Hybrid and High-Speed version. Both work with tubular film, allowing bag lengths to be created for any product on demand. All machines are optionally available in stainless steel, to meet the hygienic and safety requirements in the Food and Medical markets.
Print and Label options
Both thermal printer and label printer are available to provide your packaging with product information, barcodes, addresses or a colored logo. With a label printer or thermal transfer printer you can print via a label or directly on the bag. Set it up for a unique print and application or go for a batch. The printer's display and menu are intuitive and easy to use.
Table Optiweigh Counter - Make it Count
A counting and filling system allows you to fill and pack at the same time. While real-time image processing of the products enables fast, accurate and reliable counting and packing in bulk. The Table Optiweigh Counter consists of a table from which the products are pushed into the bucket with built-in counting and weighing system. Once the required weight is reached, the sealing process is started and the operator can prepare the next bucket, saving operational time.
Optimizer - to Optimize your Flexibility
Ideal for packing sets of parts: a quick sorting and bagging of large batches of parts. Parts to be packed are placed at the sorting table as a bulk and next sorted by the operator and moved onto the conveyor which has been equipped with dividers to separate each set of parts to be packed. The conveyor moves the products to the Speedpack which automatically seals the loaded bag. Speed and timing of the optimizer and conveyor can be adjusted. As well as the direction and the working height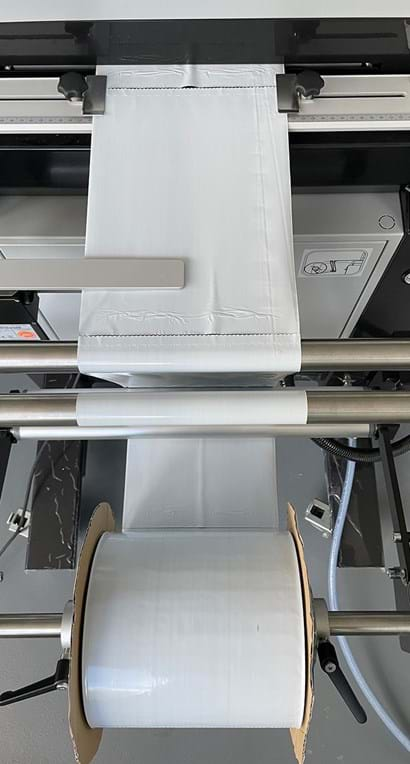 Our Speedpack 400 Bags-on-roll in use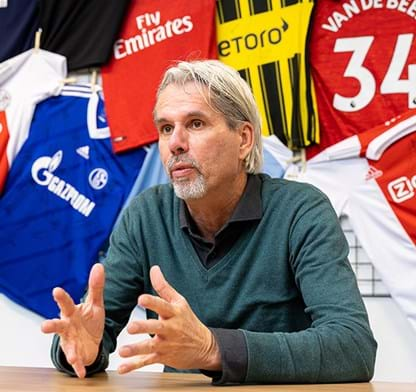 To grow to a million orders or more, we needed a streamlined packaging process.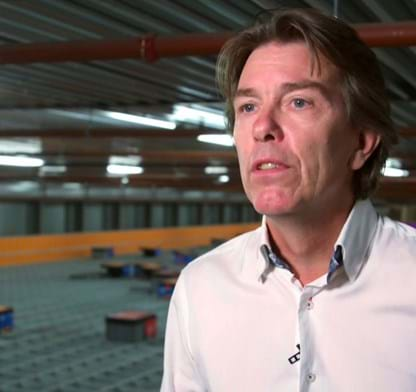 Was looking for a way to automate the labor-intensive manual packaging process of web orders.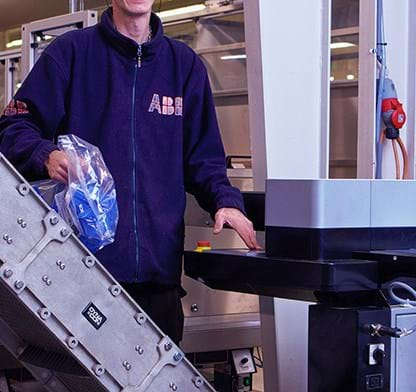 How to pack several installation boxes in a LDPE perforated bag printed with a white square.
Let's have a chat
Do you want to know what the Speedpack Bags-on-Roll can offer for your company? Please feel free to contact us as we are looking forward to exploring together which packing solutions benefit you most.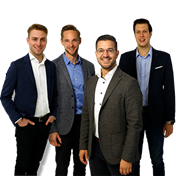 International Sales
Audion
This may also interest you: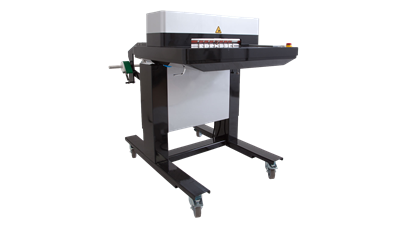 Speedpack 400 Hybrid
Most flexible and innovative bagger creating variable bag length, optimizing existing labour and warehouse space
Type of machine:

Floor standing

Seal length:

50 – 400 mm

Type of film:

Tubular film/ bags-on-roll

Cycling speed:

up to 20 bags/min (tubular)/ up to 60 bags/min (bags-on-roll)

Bag length:

50 – 800 mm

Powered:

Pneumatic air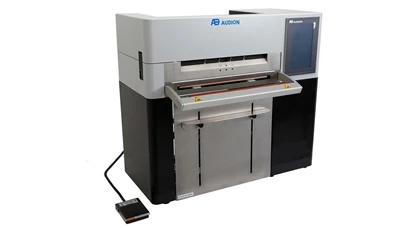 Speedpack 300 Tabletop
Industrial all-electric tabletop bagger designed for high productivity bagging, optimizing labour and warehouse space
Type of machine:

Table top

Seal length:

300 mm

Type of film:

Bags-on-roll

Cycling speed:

up to 40 bags/minute

Bag length:

80 – 500 mm

Powered:

Electric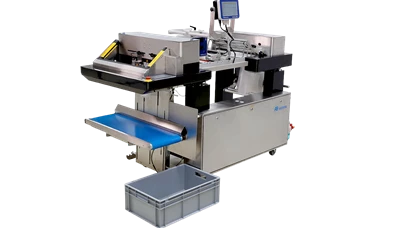 Speedpack 400 Hybrid High Speed
Advanced automatic bagger creating bags of any length at exceptional speed, quadrupling packaging output from tubular film
Type of machine:

Floor standing

Seal length:

50 – 400 mm

Type of film:

Tubular film/ bags-on-roll

Cycling speed:

up to 40 bags/minute (tubular)

Bag length:

110 - 800 mm

Powered:

Pneumatic air