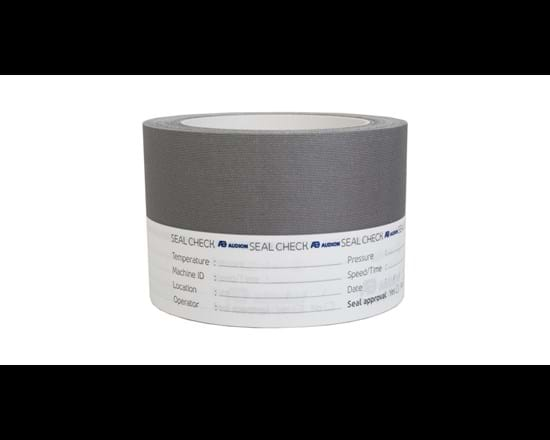 Seal Check Roll
In order to ensure safety of your product packed, the seal integrity should be regularly tested. This Seal Check Roll is designed to facilitate routine seal tests.
Product information
Seal Check Roll
Seal indicator material for routine checking of seal integrity
The Seal Check Roll is partly black coated and partly pre-printed with data to collect in order to identify each seal. The black coated material simply identifies any defective areas in the seal.
The seal check indicator should be placed between the film layers during sealing. By sealing the black coating along with the film, the seal becomes clearly visable and imperfections can easily be detected with the naked eye. The lower part of the Seal Check allows you to register data about the seal (serie number machine, seal temperature, seal pressure, seal speed, operator, date, location, etc).
The Seal Check sheet can be cut according to the sealing bar length, to inspect the full length of the seal.
Suitable for:
Transparent films: PA/PE film laminates, PE, paper/PP medical bags used on Power Sealers, MSIDV, Audionvac and Speedpack
Sheets from the Seal Check Roll comply with EN 868-3 and ISO 11607-2 .
It allows you to track every seal to ensure product safety.