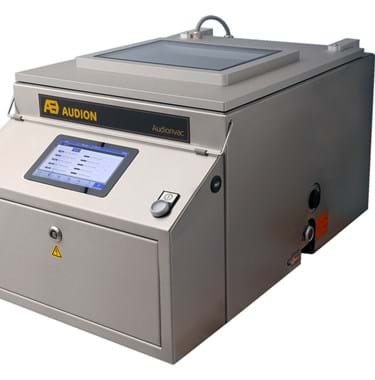 Products
Validatable VMS 163B
Compact tabletop validatable vacuum packaging machine with bi-active sealbars and easy-to-use touch screen control panel
Interested in our Validatable VMS 163B?

We are more than willing to support you with your request or run a demo with your packaging.
Fully controlled process variables & consistent reliable seals
The VMS 163B is a unique validatable vacuum packaging machine from the Audionvac range. This compact tabletop solution is equipped with patented technology and offers full control over the process variables: vacuum/gas pressure, seal temperature, seal time and seal pressure.
To guarantee the required vacuum conditions are consistently met, the vacuum pressure and gas pressure are controlled and monitored by sensors to ensure the safety, quality and prolonged shelf life of your products. An alarm function automatically aborts the sealing cycle when a deviation in the process variables occurs during monitoring. All critical seal data can be recorded and exported to a PC for traceable storage/further analysis using a USB stick.
To prevent inconsistencies due to heat build-up in the sealing bars the count of the seal time will start when set temperature is reached. Therefore each seal cycle produces reliable and high quality seals. 
The powerfull bi-active pneumatic 8 mm seal bars enable high pressure sealing for a wide variaty of packaging materials including medical sterilization pouches used in demanding industries that require utmost seal intergrity.
The validatable VMS 163B is compliant to ISO 11607-2 that is applicable to industry, life science, and medical sterilized device packaging operations. 
To sum up:
Compact tabletop design with easy to clean deep chamber
Bi-active 8mm impulse seal bars
Complies to ISO 11607-2 validation requirements for sealing
Adjustable parameters - to guarantee a high quality seal and consistent required vacuum level continuously
Accurate Audion Temperature Controller (ATC) 
User friendly touchscreen interface (ADC) with memory feature to store up to 50 process parameter recipes and data storage which can be exported via USB 
Alarm function with cycle stop
Various configurable options/accessories available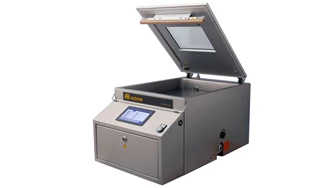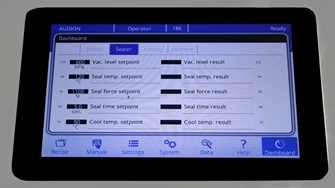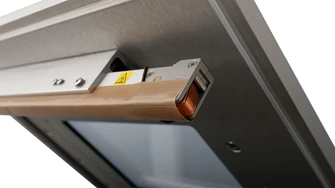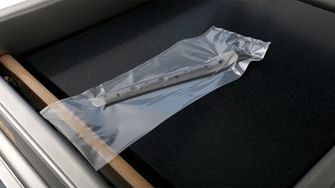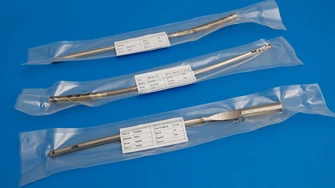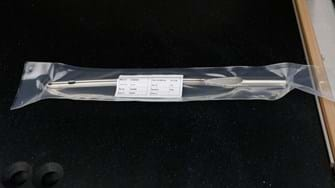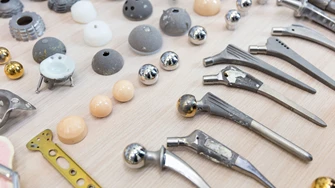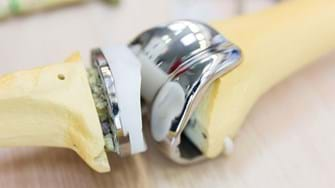 This makes our machine unique
We work together with you in providing the best quality packaging machines to help you grow your business.
User-friendly Audion touchscreen control panel
The user-friendly Audion Touch Techware control panel can store up to 50 different recipes of process variables that contain the optimal settings for each of your products. Therefore, the right settings are always at hand to optimize your workflow and prevent production errors. This allows you to easily switch from one batch to another, control your production at a high level and increase your efficiency. The easy-to-read display visualizes your settings and process variables to analyze during the sealing process. 
Alarm function
Sensors activate the alarm function and abort the seal cycle in case the seal bars are overheated or when vacuum/gas pressure deviates. The acceptable tolerance can be set individually for each process parameter. Once the relevant parameter deviates from its set tolerance the machine will stop operating. This feature actively supports the packaging process by preventing errors and ensuring the packaging standards for your product are met continuously.  
Cleanroom Compatible
The validatable Audionvac VMS 163 B is implementable in sterile environments and clean rooms by configuring the machine with a dry vacuum pump or by installing the standard oil-pump outside the clean room. To further ensure product safety, all data with the critical process variables can be exported and logged by means of a USB stick. The data content can then be transferred to a PC to be analyzed for various purposes.
Customized integration
This standard richly equipped validatable vacuum chamber with robust housing, validatable seal bars and Audion Touch Techware make this vacuum packaging solution the most advanced in its segment. In addition a wide selection of options and accessories is available to ensure seamless integration into your packaging process and guarantee your products always meet the highest quality standards.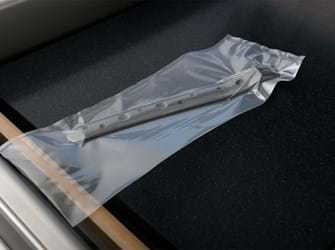 Validatable vacuum chamber for packaging medical, pharmaceutical or high tech products.
Verification of process variables
The Audion VAL VMS 163 B is a validatable tabletop vacuum chamber that requires verification of all process variables on a regular basis. Audion offers a wide range of verification instruments that enable companies to verify their process variables. 
Available verification instruments include:
ATM (Audion Temperature Meter) measures and verifies the sealing temperature
ASPM (Audion Seal Pressure Measurement) measures and verifies the sealing pressure
AVLM (Audion Vacuum Level Measurement) measures and verifies the vacuum pressure
Seal Integrity Test (SIT) as a service which includes seal check, dye penetration test and peel test
Calibration as a service (incl. Calibration Certificate) certifies the preciseness of the process variables of the packaging machine
Validation documents:
Installation Qualification (IQ) ensures that the machine is in good condition and functionality, and is calibrated 
Operational Qualification (OQ) optimizes the machine to create quality seals with customers packaging materials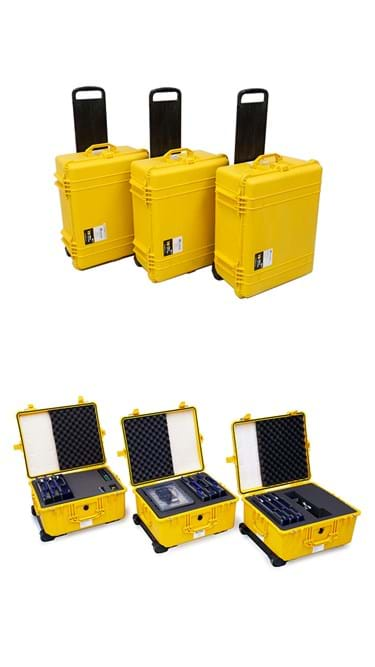 Benefits
The Audion VAL VMS 163 B gives you as an end-user the following benefits:
Optimum hygiene:

Standard bi-active 8 mm impulse sealbars.

Validatable:

The validation function integrated in the Audion Touch Techware ensures the highest accuracy of validation. It most precisely monitors and controls all critical process variables: vacuum/gas pressure, seal temperature, seal time and seal pressure. Tight tolerance settings make validatable Audionvac models unmatched when compared to other packaging solutions.

Alarm function:

Generates an alarm and stops the operation when a process variable deviates from the pre-set acceptable tolerance.

50 program memory:

Quick selection of the correct program for your products.

Soft air:

To pack fragile or sharp products without damaging the products and the bag.

Multicycle:

Alternate vacuum and gas flush (max 5 cycles) in order to reduce the residual oxygen level. Supplied with gas flush option.

Vacuum pump:

21 m3/h vacuum pump for a fast packaging cycle.

Maintenance friendly:

Seal bars are easily removable for cleaning and maintenance.

Lid:

Aluminum flat lid with convenient peek-through window.

Chamber:

Stainless steel easy to clean deep chamber - for medium sized packages.
Options
The following options are available on the VAL VMS 163 B: 
(Re-)Calibration service:

Audion provides calibration services for our validatable sealers. The critical process parameters (seal temperature, seal force, seal time/speed, etc.) are measured with traceable measuring devices and a calibration certificate will be issued.

Operation panel on extended arm:

For ergonomic operation and easy check of the process.

Gas flush:

Enables Modified Atmosphere Packaging (MAP): a gas or nitrogen can be added for optimizing shelf life or realizing extra protection of your product.

External exhaust:

Avoid evaporation of particles by connecting a hose to the pump exhaust. Air can be exhausted in a different room while having the vacuum pump remain inside the housing.

External pump:

Vacuum pump and vacuum chamber are separated from each other to avoid evaporation of particles by the vacuum oil pump in the same room. Used in cleanrooms where small particles can affect the manufacturing and quality of a product or assembly.

User administration:

Personal login ID, password, and user level assignment.

Barcode scanner:

Quick recipe change by scanning a barcode.

Label printer:

For printing tracing information on labels and apply on bags.
Equipment to measure performance of your seal or packaging machine.

Power supply:

115V-1P-60Hz | 220V-1P-60Hz | 200V-3P-50/60Hz
Specifications
Please see below more specifications of the Audionvac VAL VMS 163 B: 
Required external air pressure:

0,3 MPa

Seal bar front:

400 mm

Seal width:

8 mm bi-active

Effective chamber size (LxWxH):

460 x 400 x 120 mm

Controlled process variables:

Vacuum/gas pressure, seal temperature, seal time, seal pressure

Audion Touch Techware:

High-end validation software with integrated Audion Temperature Controller (ATC), uniquely designed by Audion to meet the most stringest requirements in validatable packaging environments

50 program memory:

Pre-set critical process variable recipes

Pump capacity:

21 m3/h

Machine cycle:

20 - 45 sec

Chamber material:

Deep drawn stainless steel chamber and flat aluminum lid with sight glass

Housing material:

Stainless steel

Type of film:

PA/PE, vacuum bags, aluminum laminated bags

Thickness of film:

20 - 400 micron

Power supply:

230V-1P-50Hz (standard)

Power consumption:

0,75 – 1,0 kW

Weight:

72 kg

Machine dimensions (LxWxH):

800 x 500 x 420 mm
Everything-under-one-roof, match the Audionvac VMS with Audion film
Click here
Explore our options
Customize your VAL VMS 163 B to fit your needs
User-Administration
User level registration, access rights and user registration can be protected by passwords to keep full control over the seal integrity of your packing processes. Includes: Personal login ID, password, and user level assignment
Barcode scanner
A barcode scanner can be connected to the machine. By scanning a barcode linked to a recipe, easily switch from one recipe template to another with pre-saved settings and process specifications.
Label printer
Print important batch information and operator data on labels via a label printer. Once the content is printed on the label, the operator applies the label manually on the packed pouch.
Validation documentation (IQ/OQ)
Installation qualification (IQ) and Operational qualification (OQ). Our team of experts will conduct multiple tests with different scenarios with your pouches to determine that our machine meets the required packaging standards.
Pump options for cleanroom use
The oil-pump is placed outside the cleanroom in order to avoid contamination of the sterile environment. As an alternative you can also replace the standard oil pump for an optional dry vacuum pump.
External exhaust
Via the external exhaust you are able to connect an additional hose which will discharge the used air outside of the cleanroom. This feature is suitable for sterile environments in the pharma/medical industry.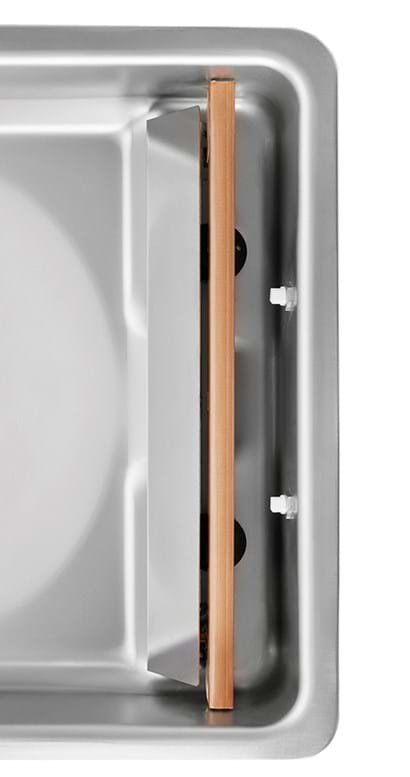 Let's have a chat
Do you want to know what the Audion Validatable models can offer for your company? Please feel free to contact us as we are looking forward to explore together which packaging solution will benefit you most.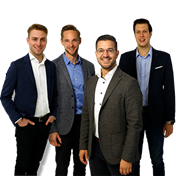 International Sales
Audion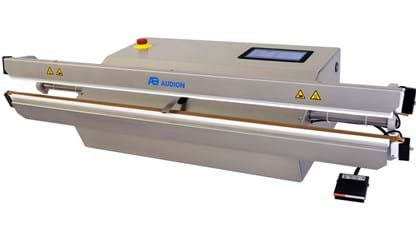 Power Sealer PLUS
High-end industrial validatable impulse sealer designed for most critical and heavy duty packaging applications
Seal width:

8 mm

Seal length:

520 | 720 | 1020 | 1320 mm

Type of seal:

Temperature-, time- and pressure controlled impulse seal

Powered:

Pneumatic (air)

Operating:

Touchscreen /50 pre-set recipes

Validatable:

Yes

Vacuum & gas flush system:

Yes, optional

Compatible with:

EN 868-5 | DIN 58953 | part 7 norms | ISO 11607-2 | ISO/TS 16775

Accuracy:

++++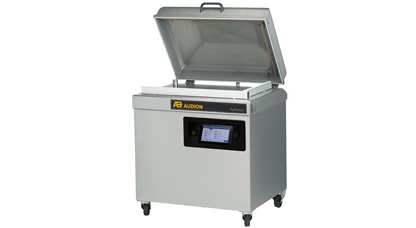 VMS 333 Validatable
Validatable single chamber with a flat plate
Pump capacity:

100 m3/h

Seal length:

790 mm (front) + 475 mm (right)

Chamber size:

475x 790 x 200 mm

Chamber type:

Flat (Stainless steel)

Housing:

Stainless steel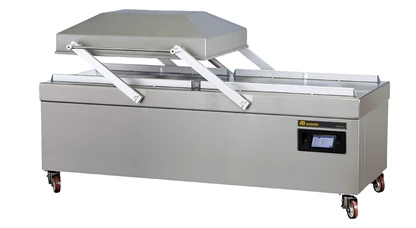 VMS 503 Validatable
Validatable double chamber with a flat plate
Pump capacity:

300 m3/h

Seal length:

1080 mm (front) + 1080 mm (back)

Chamber size:

(2x) 730 x 1080 x 280 mm

Chamber type:

Flat (stainless steel)

Housing:

Stainless steel