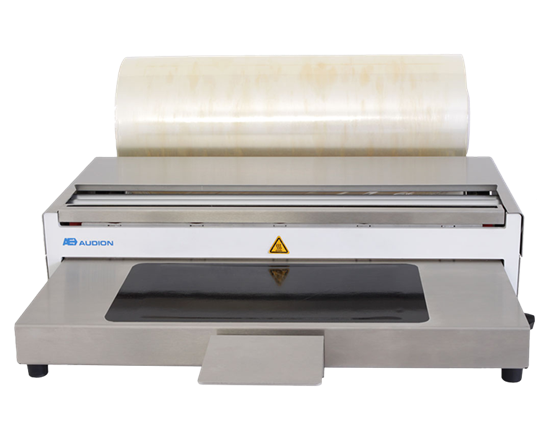 ASW 450
The Audion Stretch Wrapper is a compact and easy-to-use wrapper for packaging food products with an attractive and presentable end result. This wrapper distinguishes itself on the market for its solid and high quality. The adjustable temperature, heated cutiing wire and film roll brake ensure an effortless wrapping process with high quality end results. Ideal for use in fresh food stores, supermarkets, butcher and deli shops, enabling you to easily produce up to 4 packages per minute.
Product information
ASW 450
The Audion Stretch Wrapper 450 offers you a low-maintenance packaging solution that is easy to use and allows for an ergonomic working position.
Placing a roll of stretch film is very easy and guiding it through the machine is effortless due to the convenient built-in guide roller. An adjustable brake actively avoids that the film continues unwinding. The temperature of the sealer plate can by adjusted to best suit the material and thickness of your film. A heated cutting wire enables you to swiftly cut the film to the ideal size, while minimizing production waste. Due to the simplicity of the wrapping process, only minimal operator training is required. As a result, your products will always have well-protected and presentable packaging.
To sum up:
Compact lightweight design
Easy to maintain and use
Adjustable seal temperature
Heated cutting wire 
Adjustable film roll brake
Ideal for packing a variety of fresh foods
Well-protected and presentable packaging result