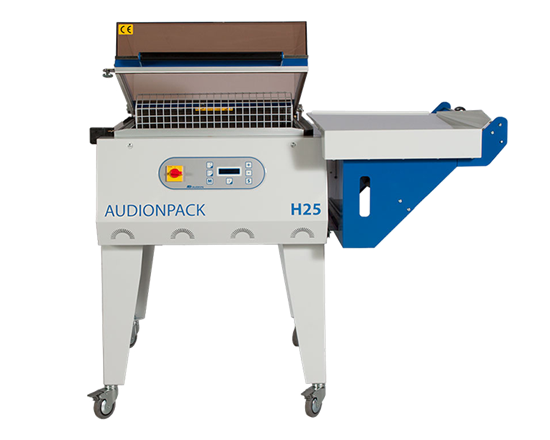 Audionpack H25
The Audionpack H25 hood shrink packer is the big brother of the Audionpack H20. With a seal length of 560 mm larger products can easily be packed. It combines the latest technology with a smart construction in order to go for the perfect package!
Product information
Audionpack H25
With the Audionpack H25 hood shrink packer you can easily shrink films over your product to create a better presentation and protect your product during transport. In one step the Audionpack H25 will seal and shrink at the same time. Although it has a large sealing length of 560 mm, it is still compact and mobile for versatile use.
The Audionpack H25 is ideal for small/medium production quantities (up to 300 packs per hour). This semi-automatic hood shrink packer can seal various thickness of films. Seal-, shrink- and delay time can easily be stored for your product. Film perforators and worktop are adjustable to your product - you basically can't go wrong.
The hood is closed by an electronic hold-down magnet during the seal and heat-shrink wrapping operations. Almost any product can be shrink wrapped in this clever machine. The Audionpack H25 has - due to an accurate temperature control - a better seal quality and longer wire lifetime compared to most other similar machines in this market segment.
The Audionpack H25 has a 520 x 380 mm chamber size, accomodates up to 260 mm high product dependent on total size, and can use a shrink film up to 600 mm wide.
Watch our shrink film list for selecting high quality shrink film for your product.