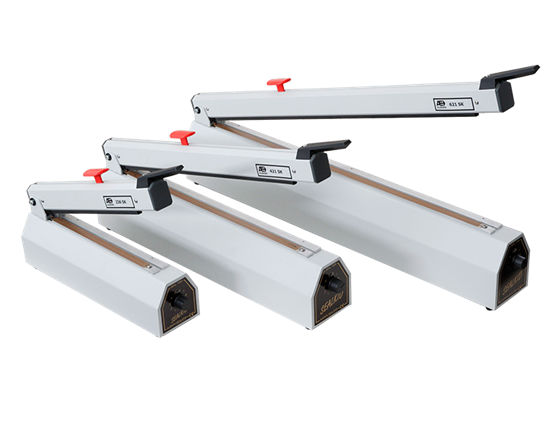 Sealkid
Robust tabletop impulse sealer with an integrated knife, producing a 3 mm seal. The sealer is made in the Netherlands from high quality materials, featuring a 2 years warranty. The clever design and solid quality makes it stand out from other suppliers, as for the extra long seal (20/30 mm more). A cost-effective seal solution, offering a long durability and reliable easy to use packaging solution.
Product information
Sealkid
Robust tabletop impulse sealer made in the Netherlands from high quality materials. Clever design, 20-30 mm longer seal length when compared to other suppliers so enabling you to seal a wide variety of bag widths*.
The smart design starts with the shape of the Sealkid's body. The shape is constructed in such a way that it has an optimal grip and can withstand the force when the sealing arm is closed. The quality level of each part used in the Sealkid is high, resulting in optimum durability and cost-effectiveness. 2 Year warranty is included (except for wearing parts).
This impulse sealer is equipped with a timer enabling you to accurately set the sealing time adjusted to the thickness of the film. An indicator light shows when the sealing time is completed, after which you can cut the eventual rest film above the seal by using the integrated knife. 
Thanks to its knife, it is possible to create bags at the desired length from tubular film.
The Sealkid is equipped with a fixed (not removable) sealbar. Maintenance can be done by replacing the PTFE, sealwire and rubber which are available in a convenient set of spare parts.
*Tip: In order to work fast & efficiently, the seal length should be about 10% longer than the bag opening.