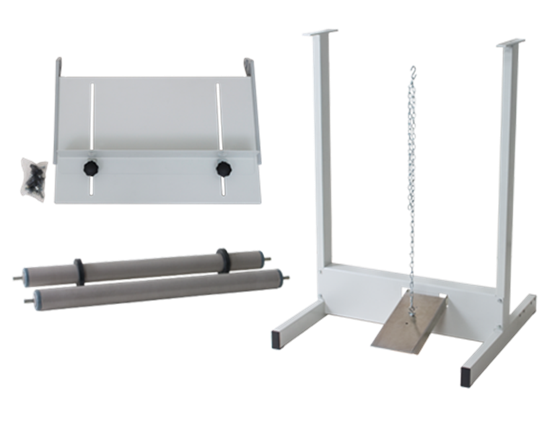 Accessory set for Magneta
Get the most out of your Magneta. Audion composed this complete set of accessories for the Magneta to maximize the customer's advantage of combining all accessories together. The set includes a work table with adjustable bag holder, support stand with foot pedal and a Set of Rolls & Polylock.
Product information
Accessory set for Magneta
Get the maximum advantage by combining all accessories designed specifically for Magneta.
The Audion Accessory set for the Audion Magneta consists of: 
Work table + bag support

The work table & bag support is adjustable in various angles and heights, which ensures that it can be properly adapted to your product. You keep your hands free to position the bag properly over the seal bar, thus increasing efficiency.

Support stand + foot pedal

Support stand to mount the Audion Magneta impulse sealers, accomodating an ergonomic working height. Ideal to adapt to your specific workspace and products. When more flexibility is needed to pack larger items or in the absence of available/suitable table space. Includes mechanical foot operation.

Set of Rolls & Polylock 

Place the film on the rolls to unwind the film in a smooth and stable manner. The Polylock axe included should be mounted onto the Magneta to prevent the film from rolling back. The set of Rolls & Polylock are ideal to combine with the Audion Support stand.