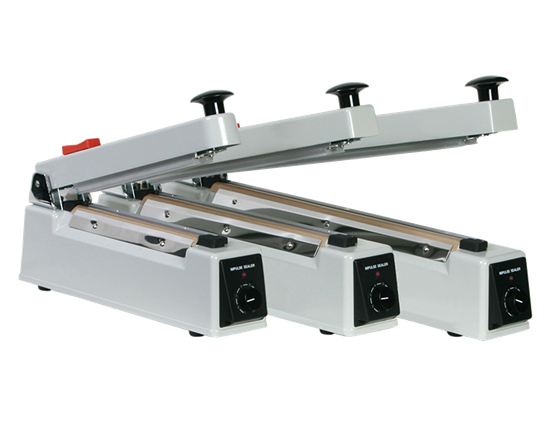 Eco sealer
A basic impulse sealer generating a 2 mm seal on PE/PP bags or tubular polyethylene film. The optional knife allows you to make your own customized bags at any length. Designed for low-volume sealing (not suitable for industrial production or repetitive use). Maximum available seal length 400 mm.
Product information
Eco sealer
This practical impulse sealer is suitable for sealing PE/PP bags and tubular films up to 400 mm seal length*.
To operate the Eco sealer the pressure arm needs to be closed manually after which the sealing cycle starts. After the preset sealing time, the sealing cycle is complete and the excess film can easily be cut off with the optional knife, parallel to the 2 mm seal. When using film rolls (film tube), you can create bags of any length with the integrated knife, ideal for packaging parts, chocolates, gifts and much more.
This table sealer is equipped with a fixed (not removable) sealbar. Maintenance can be done by replacing the PTFE and sealwire which are available in a convenient set of spare parts.
*Tip: In order to work fast & efficiently, the seal length should be about 10% longer than the bag opening.