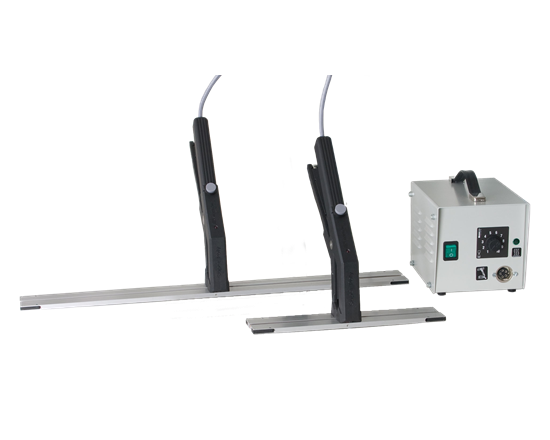 Super Poly
Handheld bi-active impulse seal tong. Ideal for sealing polyethylene bags up to 2 x 0,3 mm and most laminate bags (a simple test will tell you if the Super Poly will be adequate to seal your film). 460 cm power cable for mobile purpose. Only operational in combination with Transformer (TPS), to be ordered separately.
Product information
Super Poly
The Audion Super Poly is a handheld bi-active impulse sealer designed facilitate mobile use. When closing the jaws an impulse heat will seal the film.
The Super Poly seal tong needs to be connected to a transformer (TPS) at which the seal time can be set accordingly to the film you are using. Once the jaws are closed the button can be pressed to start the seal cycle, indicated by a control light. After the sealing time has passed (max. 1-3 sec.) the sealing stops automatically, the control light will switch off and you can open the jaws to take out the sealed film.
Due to its portable character the Super Poly is particularly suitable for sealing different types of shaped products. The bi-active seal bars (meaning both upper and lower seal bar are heated-up during the seal cycle) allow you to seal thicker film.
Advantages of using impulse sealers over heat sealers: no warm-up time needed and no need for a cool-down time neither. As a result, maximum safety and minimum energy consumption.
Length power cable : 460 cm
Note: Transformer (TPS) needs to purchased separately
An extra extension cable (5 meter) is optional to extend your mobility range.
The use is very simple. Once released, the sealing tong closes with a pressure spring. A simple pressure on a push button activates the sealing process, indicated by a control light. Once the sealing time has ended (1 to 3 seconds maximum), the power is automatically stopped and the indicator light goes out. After a few seconds of cool down, the tongs can be opened and the sealed bag can be released.