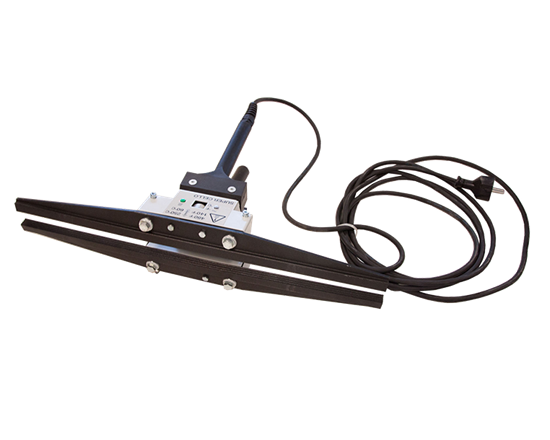 Super Cello
Portable heat sealing tong for sealing complex film materials on site. Very suitable for sealing paper and aluminium laminate bags (f.i. coffee packaging). 420 Mm sealing length, profiled PTFE coated 10 mm width heat seal. Note: this heat sealer is not suitable for sealing Polyethylene!
Product information
Super Cello
These heat sealing tongs can be used for a variety of applications requiring a constant heat sealer that can be used at the location of the item to be sealed. The 4,5 metre long power cable enables the user to walk around with the sealing tong and seal packages on site. The comfortable insulated grip of the sealing tong keeps the handle cool even when the temperature of the jaws rises to 250°C.
Super Cello can be used for sealing paper and aluminium laminates. The temperature of the sealing bars can be adjusted from 60°C to 250°C to suit the type and thickness of the material to be sealed. Both sealing bars are heated providing efficient heat distribution.
The Super Cello is equipped with PTFE coated seal bars.
Note: Super Cello is not suitable for sealing Polyethylene.