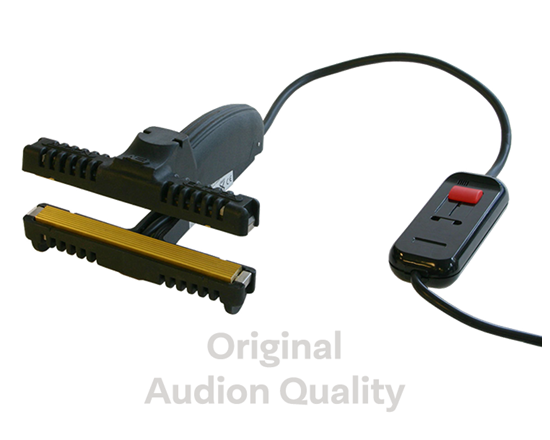 Futura Portable Seal Tongs
Handheld heat sealing tong available in two versions: Single seal jaw, covered with PTFE for sealing Poyethylene, or bi-active serrated jaws for sealing cellophane, waxed paper or other laminates. These hand held sealers can be easily adapted for table use by means of two clamps and a foot pedal. Note: Only the 150 P tong is appropriate for sealing polyethylene.
Product information
Futura Portable Seal Tongs
The Audion Futura Portable handheld heat sealers are compact bag sealers designed for sealing low volumes of small bags. These tongs can easily be attached to a table with the optional foot pedal and clamps.
The Audion Futura Portable handheld sealers are continuously heated and available in two different versions, for sealing different films:
Futura Portable Poly (150 P) equipped with 1 sealing bar, for sealing thin polyethylene (PE) films.
Futura Cello (150 C) with 2 profiled sealing bars (bi-active) for sealing cellophane, paper, aluminium and other laminated films. The 150 C model is equipped with a 3-position switch for adjusting the seal temperature to your film. Note: this 150C is not suitable for sealing polyethylene.