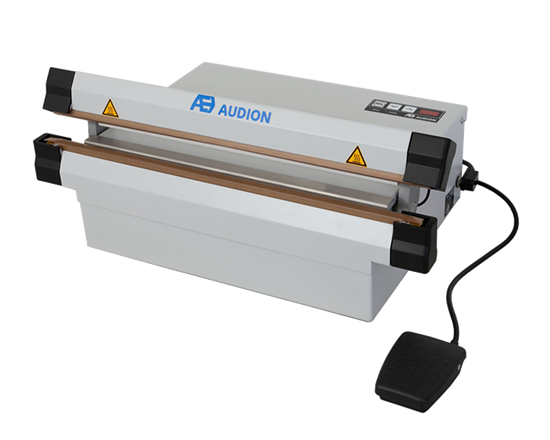 Industrial Sealmaster ISM
The Master among the smaller tabletop sealers: industrial, but electrical driven. Producing a powerful and strong (bi-active) 5 mm seal, enabling to seal thicker materials as well. Sealing and cooling time can precisely be set in the digital control panel. Designed for packaging parts and food, provided with a heavy duty covering and seal wire tensioners which accomodate intensive sealing. 3 Years warranty.
Product information
ISM - Industrial Sealmaster
A reliable electrically powered industrial sealer suitable for heavy-duty packaging operations.
The digital control panel easily allows you to set the ideal sealing and cooling time for each film. The sealing bars are closed by means of a light pressure on the electric foot operation after which the ISM will produce a powerful and strong 5 mm seal, driven by the electromotor. Special sealwire tensioners ensure the sealwire remains optimally tight during the seal process and enable a continuous high quality and reliable 5 mm seal as well as actively preventing early wear of PTFE strips, even during intensive heavy-duty packaging operations.
The Industrial Sealmaster is suitable for sealing practically all modern film types e.g. PE/PP and even laminated film materials are effortlessly sealed to ensure a safe and reliable packaging of your products.
Extra advantages:
Operational as tabletop or mounted on an optional support
3 year limited warranty (excluding wearing parts)