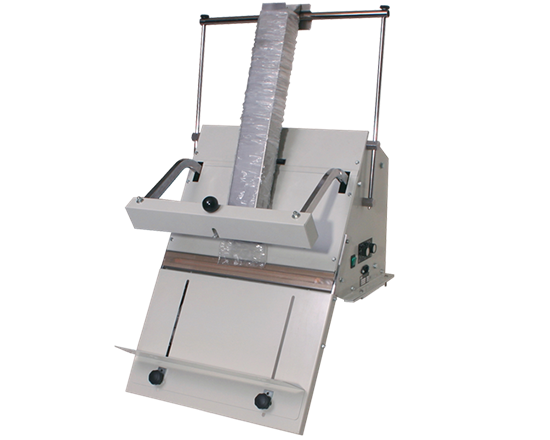 Pandyno
The most simple manual bagging machine. Equipped with a support for mounting your desired filling chute. The filling chute needs to be covered with tubular film to produce quick and efficiently filled bags. Easy and light-weight operation by pressing the seal arm to start the cycle.
Product information
Pandyno
The Audion Pandyno packaging machine uses a magnetic locking mechanism and is designed to operate in a wide range of industries. Multiple chutes in different sizes are available and can be mounted to the Pandyno to increase productivity.
The Pandyno has a large sealing arm opening which allows you to pack more and larger sized products. The sealing arm is equipped with a cold cutting wire making a straight 5 mm seal and cutting the bags in the middel of the 5 mm seal to separate the filled bag from the new bag. By this operation both the upper side of the filled bag and the bottom side of the next bag are sealed simultaneously, resulting in less action from the operator side and a higher packing output.
The Pandyno is standard supplied with a seal timer, cool timer, cutting wire and adjustable work table. Only a well sized chute for your product needs to be selected.