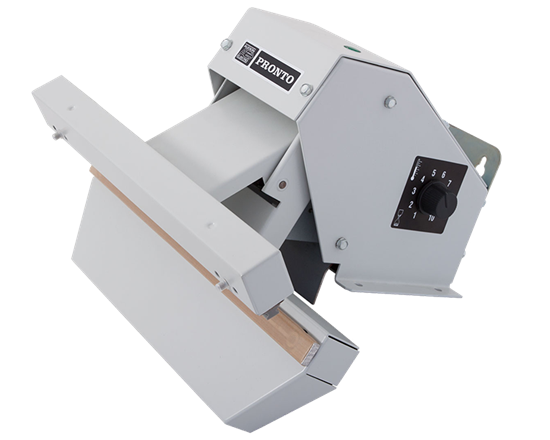 Pronto Impulse sealer
Wall mounted / workbench impulse sealer for sealing polyethylene or polypropylene bags of maximum 255 mm width. Equipped with a timer to adjust the seal time up to the film thickness. Easy operation: by manual pushing down the sealing arm the sealing process is started.
Product information
Pronto Impulse sealer
The Audion Pronto impulse sealer is a plastic bag sealer that can be mounted to a wall or workbench (separate support available for mounting on table). This bag sealer can be used in areas where space is limited or where the bag needs to be held upright during sealing (such as with liquids). Sealing width: 2 mm
The Pronto sealer has been designed to close plastic bags while being mounted on a wall or workbench. The construction is especially developped to optimize ergonomic aspects and safety for the operator during operation.  
The seal time can be set accordingly to the film you are using by adjusting the timer on the side of the sealer. The Pronto sealer is easy to operate: once the bag is filled and it is placed between the sealing bars you can simple push the sealing bar, the bar will close and the sealing cycle will start. The control light turns off when the seal cycle has finalized.