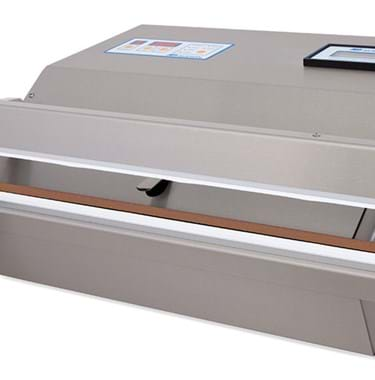 Products
Validatable Power Sealer
Powerful and solid impulse sealer to control critical seal parameters and make consistent 8 mm seals
Interested in our Validatable Power Sealer models?

We are more than willing to support you with your request or run a demo with your packaging
Validatable Power Sealer customized to your needs
Critical sealing parameters, such as sealing force, sealing temperature and sealing time are monitored with the Validatable Power Sealer to ensure end-to-end safety of your products during transport within the supply chain.
The care-free nature of these validatable impulse sealers contributes to an efficient and reliable workflow. The powerful pneumatically driven sealbars provide a reliable validatable 8 mm seal, even during intensive use.
The Power Sealer is fully configurable to make the ultimate fit to your market. Optionally the machines comes with integrated vacuum and gasflush system which can be enriched with several specialized options. Every option is smartly engineered by Audion with one objective: creating the perfect package for your securely protected product, meeting all requirements in your market.
Your Power Sealer advantages:
Uncompromised product protection for both (long-term) storage and transportation
Monitored and controlled critical seal parameters (1 recipe)
Expert in-house (re)-calibration services and replacement parts available from stock
Data logging available
Increased ease of work and reduction of product waste
All our Validatable Power Sealer models are compatible with EN 868-5 and DIN 58953, part 7 norms. Our Val PSR / Val Vac PSR series also fully comply with the ISO 11607-2 and ISO/TS 16775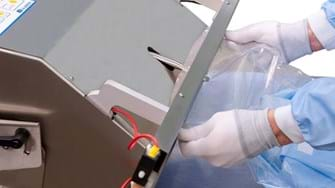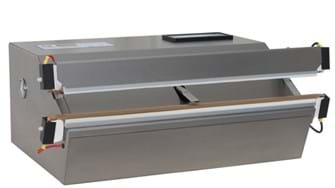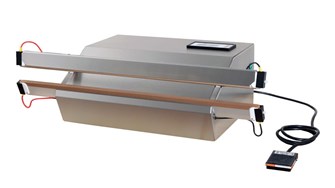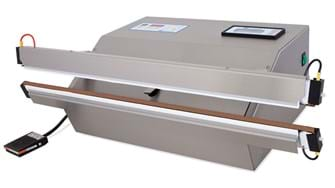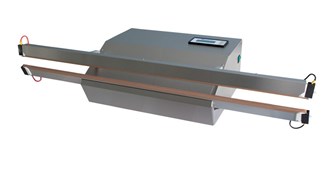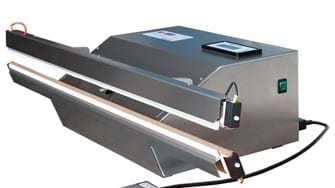 This makes your machine unique
We work together with you in providing the best quality packaging machines to help you grow your business
Reduces the package size + extends the shelf life of your product
Configurable with integrated vacuum and gas flush system enabling MAP (Modified Atmosphere Packaging)
Continuous high seal quality
Sealing temperature, sealing time and seal force are controlled and monitored, ensuring a consistent seal quality, even during higher sealing intensity.
Engineered to maximize your product safety
Select from countless standardized configurable options
Easy-to-use
User-friendly digital control panel (calibratable temperature controller)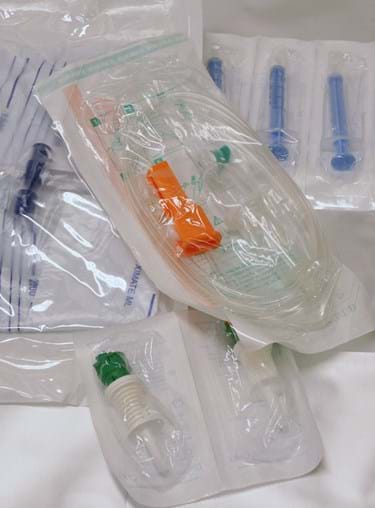 An integrated Vacuum and/or Gas flush system
All Validatable Power Sealers can be configured for 'sealing only' or with an integrated vacuum system.
Audion's Validatable Vacuum Power Sealers (VAL VAC PSR) are equipped with a venturi pump generating a powerful vacuum, ideal for operating in a continuous packaging process, reducing production time. The venturi pump is virtually maintenance free (operating without oil). The vacuum system can be combined with gas flush to create modified atmosphere packaging (MAP).
An integrated vacuum system can be used for:
Volume reduction of the package to save storage and shipment costs
Applying a modified atmosphere (MAP) to extend the shelf-life of food products
Prevention of oxidation of, for example, printed circuit boards or other delicate products.
Benefits
The Audion Validatable Power Sealers give you the following benefits
Integrated Validation:

Your impulse sealer can be controlled and monitored on critical seal parameters like seal temperature, seal time and seal pressure.

Powerful Venturi pump:

All vacuum sealers are constructed with a powerful and practically maintenance free Venturi pump.

Reliability on every seal:

Bi-active validatable sealing bars guarantee a strong and reliable seal even for thicker bags.

Every sealer custom-fit:

The wide selection of available options ensures the best fit packaging machine for your market.

Full safety:

Care-free packaging solution that fully complies with the ISO 11607-2 and ISO/TS 16775 validation requirements.
Options
The following options are available on the Audion VAL PSR 
Clean room solutions:

In order to meet with the stringent requirements of your cleanroom classification Audion offers several solutions like silicone poor, ESD, external exhaust, various filters etc.

Vacuum and gasflush system:

Vacuum and/or MAP packing, even multi-cycle is possible to reduce the volume and safeguard the packed product.

Nozzle configurations:

Wide, single, multiple and extended nozzles are available to accommodate your specific packing requirements and to efficiently create the best vacuum/MAP packaging for your products.

Mobile support:

To optimize sealing height, sealing angle and maximize ergonomic advantages. Various extra support options are available to suit your need.

Calibration service:

Audion has her own certified calibration service to guarantee that your packaging solution is always performing at calibrated values. Take advantage of first-hand factory knowledge and expertise, parts readily available from stock and fast processing to get your machine returned in the best possible state and ready for production resumption.

IQ / OQ:

The purpose of the Installation Qualification and Operational Qualification is to establish documented evidence that the packaging equipment is correctly installed, operates according to requirements, and performs safely.

Set of wearing parts:

Convenient set for quickly replacing the PTFE, rubber and seal wire to do easy maintenance. To guarantee an optimal sealing result, also after regular use.
Specifications
More specifications of the Audion Validatable Power Sealer 
Seal length:

520, 720 or 1020 mm

Seal width:

8 mm

Type of seal:

Temperature-, time- and force controlled impulse seal

Validation feature:

Seal temperature, seal time and seal force (tolerance per 10N) can be controlled.

Operation:

Digital control panel, 1 recipe

Covering:

Stainless steel

Pedal operated:

Yes

Type of film:

PE (Polyethylene), Aluminum Laminated Bags

Required air pressure:

> 6 Bar

Thickness of film:

2 x 200 micron

Classification:

2014/35/EU Low Voltage Directive; 2006/42/EC Machine Directive; 2014/30/EU EMC-Directive; RoHS 2 2011/65/EU, EN-ISO 11607-2; EN-ISO 12100, EN-ISO 4414, EN-ISO 14118, EN-IEC 60204-1
Everything-under-one-roof, match the Power Sealer Validatable with Audion film
Click here
Explore your options
Customize your Validatable Power Sealer to your unique requirements
Monitor all critical seal parameters
Visualization software to export and investigate the seal data.
Optimize your vacuum process
A powder filter or liquid separator is available to prevent contamination and ultimately protect your product.
Comply with the regulations
Especially designed (cleanroom) solutions are available to guarantee the safety and quality of your products, such as exhaust options or an electrostatic discharge function
Calibration certificate by Audion
Our experienced service engineers apply their in-house expertise to calibrate both your new and operational Power Sealers to safeguard and maintain the highest standard of seal integrity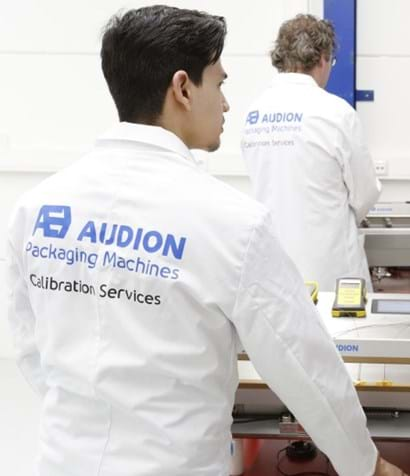 Discover our Power Sealer line:
This no-nonsense Power Sealer forms the solid basis of the renowned Power Sealer line. The outstanding 5 mm sealing performance is achieved by a pneumatic bi-active and time-controlled impulse sealing system. Standard vacuum feature integrated. Also available in Heat Seal configuration.
On top of the already outstanding performance of the Power Sealer, this model is validatable and generates an 8 mm temperature- and time controlled seal. The validation enables that critical seal variables like seal force, seal temperature and seal time are being controlled. 
The next step in the Power Sealer line is the Plus version. With its unique and most precise system of validation it meets todays' most stringent packaging requirements. 8 mm temperature- , time- and force controlled seal. Includes Audion Touch Techware.
Our flagship model in the Power Sealer line. Especially developed for dusty, humid or regulated (clean room) production environments. Highly advanced validatable impulse sealer. An 8 mm temperature-, time and force controlled seal. Includes Audion Touch Techware. Also available in Bag-in-box configuration.
The Power Sealer XL has the largest sealing length of the Power Sealer range. With a sealing length up to 2500 mm it can effortlessly provide your largest products with customized packaging or protective covers by means of an 8 mm seal. Optional validation: temperature-, time- and force controlled sealing. Also available in Bag-in-box configuration.
Unique steamsealer enabling bags to be sealed without electrical power supply. Instead, it uses pressurized steam to operate. suitable for explosive environments. 8 mm temperature controlled seal.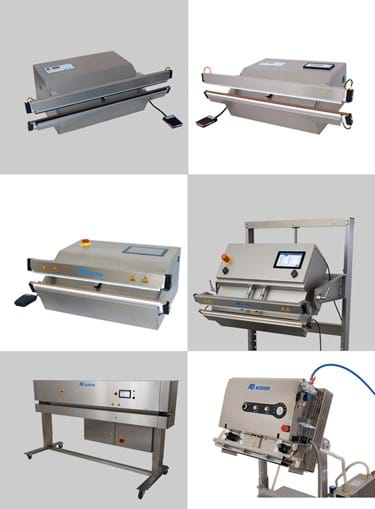 Let's have a chat
Do you want to know what the Audion Validatable Power Sealer - VAL PSR can offer for your company? Please feel free to contact us as we are looking forward to exploring together which packing solutions benefit you most.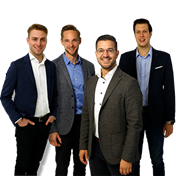 International Sales
Audion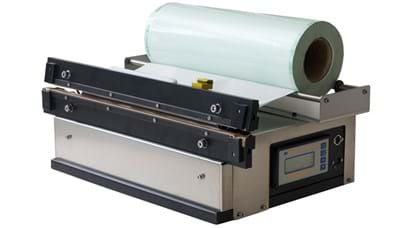 MEDSEAL® - MSIDV
Electrically driven medical industrial validatable impulse sealer
Seal width:

8 mm

Seal length:

460 | 610 mm

Type of seal:

Temperature-, time- and pressure controlled impulse seal

Powered:

Electric

Operation:

Digital control panel / 1 pre-set seal recipe

Validatable:

Yes

Vacuum & gas flush system:

No

Compatible with:

EN868-5, section 4.3.2. and DIN 58953 part 7 and ISO 11607-1

Accuracy:

++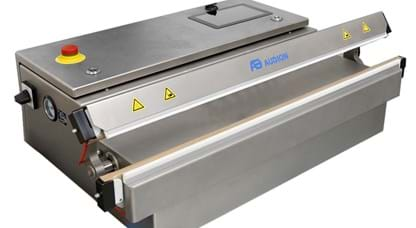 Power Sealer PLUS IP65
High-end industrial validatable IP65 impulse sealer, designed for demanding packaging in dusty or humid environments
Seal width:

8 mm

Seal length:

720 | 1020 mm

Type of seal:

Temperature-, time- and pressure controlled impulse seal

Powered:

Pneumatic (air)

Operating:

Touchscreen /50 pre-set recipes

Validatable:

Yes

Vacuum & gas flush system:

Yes, optional

Compatible with:

EN 868-5 / DIN 58953 / part 7 norms / ISO 11607-2 / ISO/TS 16775

Accuracy:

++++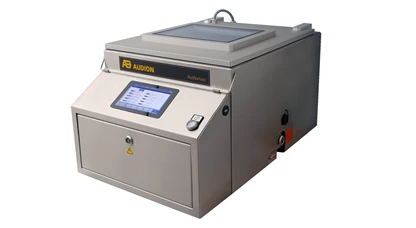 VMS 163B Validatable
Tabletop vacuum packaging machine
Pump capacity:

21 m3/h

Seal length:

420 mm (front)

Chamber size:

460 x 420 x 120 mm

Chamber type:

Deep (stainless steel)

Housing:

Stainless steel chamber and flat aluminum lid